Summer is officially here!  Rosé season is in full bloom, although truth be told, it's Rosé season for me pretty much year-round for me!  With that in mind, I'm cranking up my annual series of weekly "Drink Pink!" Rosé tastings.  It's my quest for the best Pink Porch Pounders! This week's rosé is the 2013 François Chidaine Touraine Rosé.
The Winery
François Chidaine is one of the Loire Valley's great success stories.  After finishing viticultural school in the mid-1980s, François, born in Montlouis,  went to work alongside his father, Yves.  At that point, the family had only four hectares of rented vineyard land in the appellation of Montlouis, in the Touraine.  When Yves retired in 1989, he passed the torch to François. Since then François and his wife Manuéla have dramatically expanded their holdings and set up La Cave Insolite, a tasting room and wine shop.
François was certified in both organic and biodynamic farming in 2003.  Their vineyards are managed biodynamically,  with ultra low yields and 'hands off' winemaking approach.
The majority of the Domain's vineyards, which now encompass 37 hectares, are situated in Montlouis, with more in neighboring Vouvray, and additional land in the Touraine appellation.  The majority of their vineyards are 40- to 80-years-old.
I have a bit of a personal connection with François Chidaine because the first Chenin Blanc I ever tried was their 2005 François Chidaine Montlouis-sur-Loire Les Tuffeaux.  That was some time ago, and the memory still makes me smile!
The Wine
Grapes for this wine were sourced from several parcels from within the Touraine. They were hand harvested and gently pressed, then vinified on wild yeasts in stainless steel. It's a blend of 50% Pinot Noir, 50% Grolleau.
12.5% alcohol.  Retail – $12.99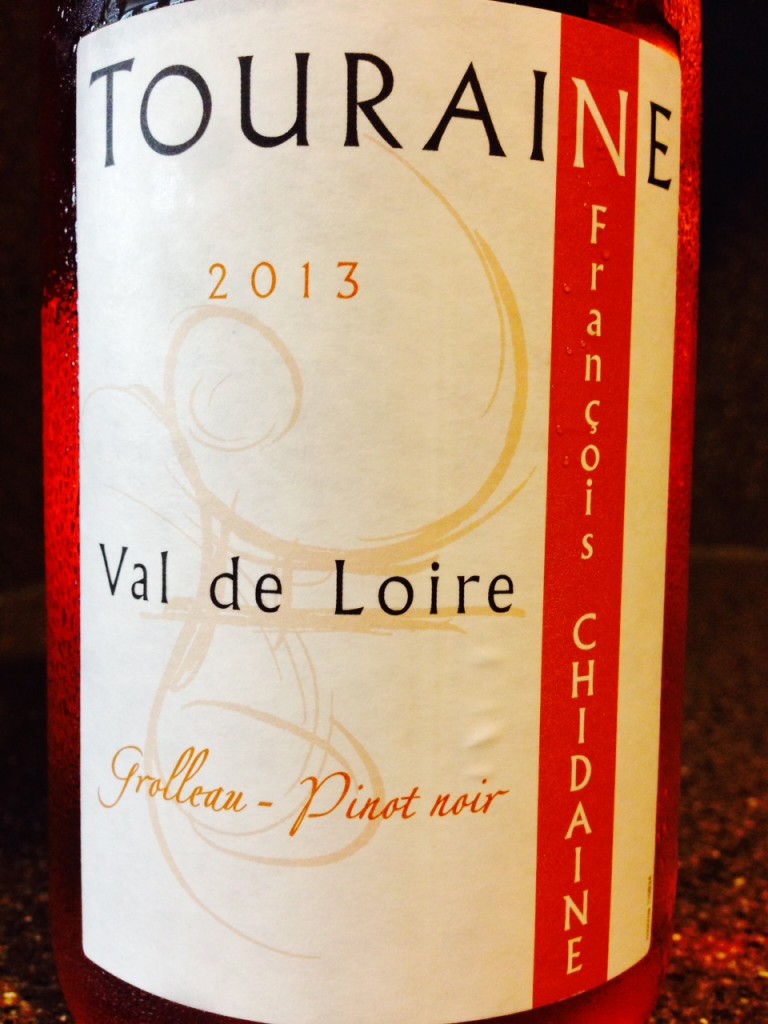 My tasting notes follow:
Pretty vivid pink red color with lovely floral, gooseberry, and wild strawberry aromas. On the palate it's medium bodied, fresh and mineral driven with very good depth, especially for the price. It shows tart strawberry, raspberry flavors and a lingering finish.
Rating: A-:  This is a delightful, food friendly and pocket-friendly rosé!
Ratings Key:
(A+) – 95-100/Extraordinary
(A) – 92-95/Outstanding
(A-) – 89-91/Very Good to Outstanding
(B+) – 86-88/Very good
(B) – 80-85/Good
(C) – 70-79/Bleh
(D) – 50-69/#Fail
__________________________________________________________________
Martin Redmond is a Financial Executive by day, and a certified wine geek with latent foodie tendencies the rest of the time. In addition to the wine lifestyle and food he enjoys family, fitness and traveling. He likes to get thoughts of wine off his mind by sharing experiences on his ENOFYLZ Wine blog, which features wine reviews, wine country travel, and wine and food pairings.
Follow me on Twitter @martindredmond for all things wine, and since I'm a wino, with latent foodie tendencies, you'll also find food and wine pairings, and food related stuff! Become a fan and join ENOFYLZ Wine Blog on Facebook. Cheers!
This article is original to ENOFYLZ Wine Blog.com. Copyright 2014 ENOFYLZ Wine Blog. All rights reserved.