According to Days of the Year, tomorrow, July 23rd is Hot Dog Day.  Though I love hot dogs, I must confess they  are a guilty pleasure.  So, I don't eat them often.   But when I do eat a hot dog, I want to make it worth the calories and fat.
And by hot dog, I mean all manner of sausage crammed in a hot dog bun. While I enjoy fairly traditional dogs like beef franks, kielbasa, bratwurst, hot links, or linguiça, I also love exploring new flavors, so I'd try the mango habanero hot dog on the menu at Top Dog in a heartbeat.
As much I as love hot dogs, I love wine even more!  And, if possible, I  prefer to enjoying them together.
I don't think wine and hot dogs is "top of mind" for most folks who eat hot dogs, and that's a shame.  It should be. Hot dogs go great with wine!
Pairing a wine to a hot dog is mostly driven by what is slathered on the hot dog. Of course there are exceptions such as if the dog itself is quite spicy. I'll get to that…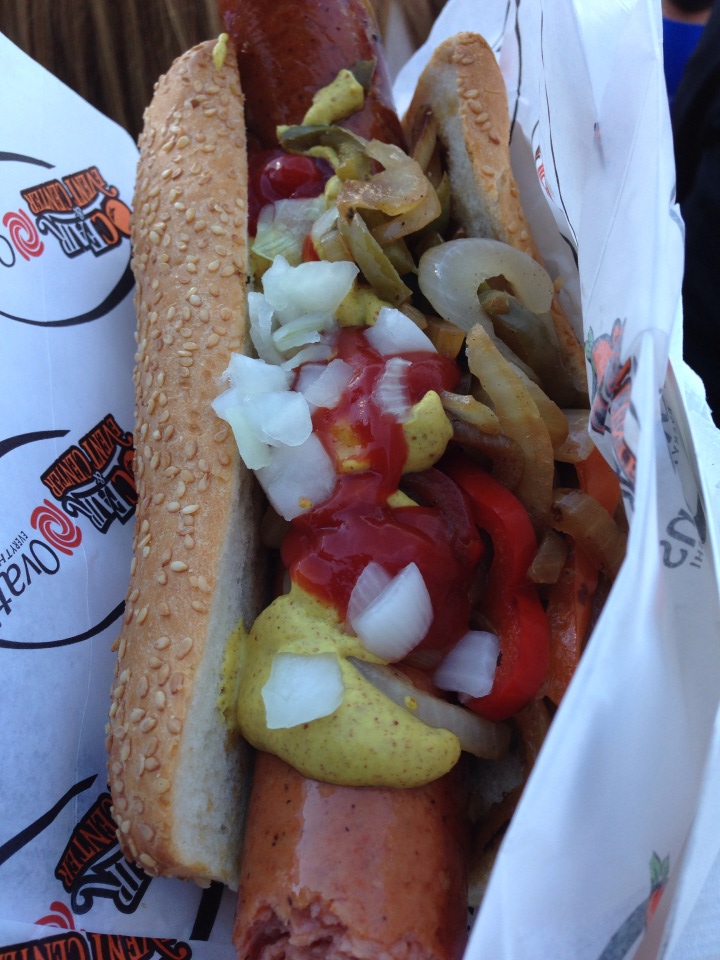 Here are some of the most popular styles of hot dogs and my wine pairing recommendations:
New York Style Hot Dogs (kraut & deli mustard) – Pair with Gewürztraminer or Pinot Gris. Either will stand up to sourness of the kraut,and the spice of the mustard.  Look for the Dr. Konstantin Frank Gewürztraminer from the Finger Lakes region of NY or the Navarro Vineyards Pinot Gris.
Chicago Style Hot Dogs (tomato, pickle, onion, mustard, picked sport peppers & celery salt on a poppy-seed bun) – Pair with a dry to off-dry Riesling.  Look for the 2013 Kung-Fu Girl Riesling from Washington State.  Its acidity gives it a tangy character that will match well with the tangy, salty, sweet profile of the dog.  This would also be my wine of choice for a Louisiana style hot link based dog.
The Classic (mystery meat, mustard, ketchup, relish) – Enjoy with a glass of dry Rosé.  Look for the 2013 Cline Cellars Mourvedre Rosé. It sports ample cherry, watermelon, vanilla and spice flavors that'll be a good match.
Chili Cheese Dog (chili, and melted cheese) – Putting chili on a dog means it's time to think red wine.  I recommend a full-bodied red wine. The tannins will cut through the fat  of the chili and cheese.  Syrah would be my wine of choice.  Look for the 2012 Andrew Murray Vineyards Tous Les Jours Syrah.
Coney Island Dog (all-beef hot dog, chili, chopped onion and yellow mustard) – This dog, ironically has nothing to do with Coney Island, New York's. It's a staple in Detroit where it originated instead at a restaurant called Todoroff's Coney Island in Jackson, Michigan. The addition of mustard, and the lack of cheese  changes this one up a bit for me.  It's a bit leaner, so I recommend a lighter bodied red.  Look for the Michele Chiarlo Barbera d'Asti from Italy.  I bet it would be a good match with the Cline Cellars Mourvedre Rosé too. 
Corn Dog – Pair with a glass of sparkling wine.  Sparkling wines go well with deep-fried foods.  Opt for a glass of Prosecco or Cava. Look for the Kirkland Prosecco or Segura Viudas Brut Reserva Cava.
And last but not least?  What wine to pair with the World's Most Expensive Hot Dog – New York's 230 Fifth's $2,300 creation made out of 60-day dry-aged wagyu and topped with Vidalia onions, caramelized in Dom Perignon, sauerkraut braised in Cristal, and caviar?
I say "bridge" the wine to the Cristal used to braise the sauerkraut, and pair it with a bottle of Cristal.  Hey- If you've got the coin to drop $2.3k on a hot dog – what's another couple hundred buck for a bottle of Cristal?
What's your favorite style of hot dog?  Ever had it with a glass of wine?
Happy Hot Dog Day!
__________________________________________________________________
Martin Redmond is a Financial Executive by day, and a certified wine geek with latent foodie tendencies the rest of the time. In addition to the wine lifestyle and food he enjoys family, fitness and traveling. He likes to get thoughts of wine off his mind by sharing experiences on his ENOFYLZ Wine blog, which features wine reviews, wine country travel, and wine and food pairings.
Follow me on Twitter @martindredmond for all things wine, and since I'm a wino, with latent foodie tendencies, you'll also find food and wine pairings, and food related stuff! Become a fan and join ENOFYLZ Wine Blog on Facebook. Cheers!
This article is original to ENOFYLZ Wine Blog.com. Copyright 2014 ENOFYLZ Wine Blog. All rights reserved.