Summer is officially here!  Rosé season is in full bloom, although truth be told, it's Rosé season for me pretty much year-round for me!  With that in mind, I'm cranking up my annual series of weekly "Drink Pink!" Rosé tastings.  It's my quest for the best Pink Porch Pounders! This week's rosé is the 2013 Donkey & Goat Isabel's Cuvée Grenache Gris.
The Winery
Donkey and Goat Winery is a family owned and operated urban winery located in Berkeley, California.  The winery is owned by Jared and Tracey Brandt.  Theirs is a story we've heard before, but with a "natural" twist.  They left tech careers to pursue their dreams of making wine. They got started making wines in the Rhône Valley, and returned to California to apply what they learned in France.
The "natural" twist is their focus –  no make that obsession, with making wines as naturally as possible.  While "natural" wine-making has become more and more en vogue  these days, the Brandts have been doing it since day one.  You can read their complete manifesto here, but suffice it to say they take minimal intervention to the next level.  This includes using native yeasts, fermenting their wines in used oak barrels or concrete (most wineries use plastic bins), using no machines for crushing the grapes, and not filtering or fining of their wines.
They also make it a point to mention their wines are made "for the table not the cocktail glass"  That means having their fruit picked sooner than most, with the decision on when to pick driven by flavor and structure rather than brix.  As a result their wine are lower in alcohol (also trending these days it seems – but my sense is that's another thing the Brandts were doing long before the pendulum started to swing toward lower alcohol wines)
Donkey and Goat produces wines from white, and red Rhône varieties, Chardonnay and Pinot Noir grown in the Anderson Valley, Mendocino Ridge and the unappreciated El Dorado appellation in the Sierra Foothills.
Donkey and Goat owners Jared and Tracey Brandt were named one of 5 Winemakers To Watch by Jon Bonné of the SF Chronicle in 2011.  They produce about 3,000 cases of wine annually.
The Wine
Donkey and Goat uses an unusual  and rare grape variety for this wine – Grenache Gris. Grenache Gris, a pink-hued grape that yields white juice, is related to the more common Grenache Noir and Grenache Blanc.  It's not officially recognized as an official grape variety in California and precious little is grown in France.
Made from a field blend of 99+ year old Grenache Gris from a special old Mendocino vineyard in McDowell Valley. Made 50% like a white wine (whole cluster press to neutral French Oak barrels) and 50% was de-stemmed and left to soak on the skins for 44 hours in an open top wood vat before pressing and then on to neutral barrels. Spontaneous fermentation occurred in barrel followed by a naturally occurring malolactic fermentation. We bottled unfined and unfiltered.  As a result, you may find pink sediment in the bottle, particularly as you get to the bottom. The sediment isn't indicative of a fault of any kind or otherwise adversely affect flavor of the wine.
I like what Alder Yarrow of Vinography says about it…Sediment is a sign of many good things. First and foremost, it is a likely sign that a wine has not been filtered or fined to oblivion. These processes strip things from the wine, and while sometimes that can be good (especially if those things would cause the wine to spoil) most of the time it's unnecessary and (in my opinion) damaging to the complexity and personality of the wine. Unfined and unfiltered wines taste more honest, and more interesting, all things considered…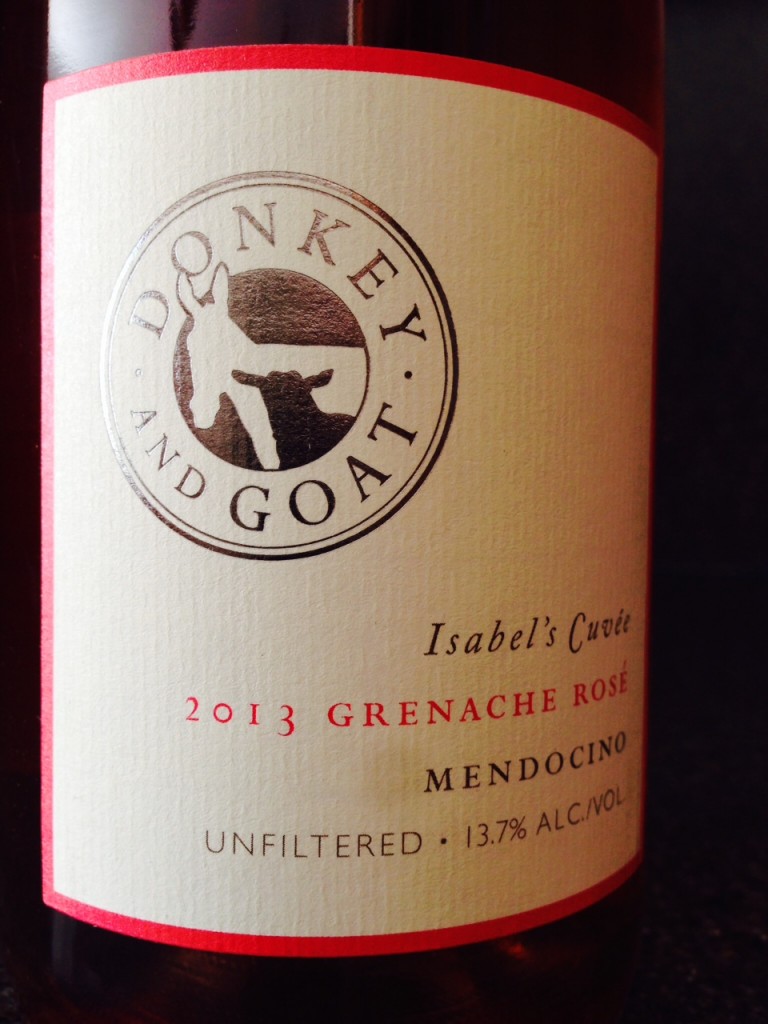 My tasting notes follow:
Slightly hazy orange tinged pink color with red fruit, tangerine, watermelon rind, mineral and hint of floral aromas. On the palate it's medium-bodied with wonderful acidity and a hint of effervescence with strawberry, ripe fresh cherry, a bit of red plum, spiced blood orange, and mineral flavors. Lingering finish.  Retail – $22; 13.7% Alcohol >>Find this wine<<
Rating: A-:  An outstanding,and oh-so food friendly Rosé.  This is a  Rosé I buy every year and it's always delivered – big time!
Ratings Key:
(A+) – 95-100/Extraordinary
(A) – 92-95/Outstanding
(A-) – 89-91/Very Good to Outstanding
(B+) – 86-88/Very good
(B) – 80-85/Good
(C) – 70-79/Bleh
(D) – 50-69/#Fail
__________________________________________________________________
Martin Redmond is a Financial Executive by day, and a certified wine geek with latent foodie tendencies the rest of the time. In addition to the wine lifestyle and food he enjoys family, fitness and traveling. He likes to get thoughts of wine off his mind by sharing experiences on his ENOFYLZ Wine blog, which features wine reviews, wine country travel, and wine and food pairings.
Follow me on Twitter @martindredmond for all things wine, and since I'm a wino, with latent foodie tendencies, you'll also find food and wine pairings, and food related stuff! Become a fan and join ENOFYLZ Wine Blog on Facebook. Cheers!
This article is original to ENOFYLZ Wine Blog.com. Copyright 2014 ENOFYLZ Wine Blog. All rights reserved.