One of the things I love most about living in the East Bay.  It's a wine-lovers paradise.  Napa Valley, Sonoma, the Santa Cruz Mountain, and Livermore Valley wine regions are all within a 90 minute or so drive.  Even so, I frequently find myself also taking advantage of the East Bay's Urban Wine Country, which includes a dozens of family-owned wineries in Oakland, Berkeley, Alameda and Emeryville.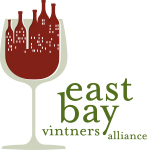 That's because the East Bay features some of California's finest urban wineries.  In fact, the East Bay is California's largest urban winemaking region.
Once a year, the East Bay Vintner's Alliance (EBVA), an association representing more than 20 urban wineries, hosts The Urban Wine Xperience.  It's a great opportunity to taste all the best artisanal wines made in the Bay Area all at the same time.
The Ninth Annual Urban Wine Xperience will be held  on August 2nd on the Ferry Lawn at Jack London Square in Oakland, CA.   Member wineries will pour a wide array of their white, rosé, red, dessert wines, and mead.  Local eateries and food purveyors will create delicious bites that pair perfectly with the EBVA's wine portfolio.  Wine, food and live music can all be enjoyed in the outdoor setting of vibrant Jack London Square on the shore at the Ferry Lawn.
The event promises to be  bigger and better than ever – a testament to the rise of Oakland and urban wine making in the East Bay.
The participating wineries include:
Aubin Cellars, Campovida, Carica Wines, Cerruti Cellars, Chouinard Cellars, Dashe Cellars, Ehrenberg Cellars, Eno Wines, Irish Monkey Cellars, Jeff Cohn Cellars,  Mead Kitchen,  Lusu Cellars,  Paradox Wines,  Periscope Cellars, R&B Cellars, Rockwall Wine Company, Rosenblum Cellars,  Stage Left Cellars,  Two Mile Wines,  Urban Legend Cellars  and Urbano Cellars
Each the participating wineries will be pouring three wines, so there will be plenty of wine!
Scheduled participating restaurants offering bites include:
Venga Paella, Pacific Fine Foods, alaMar, Tay Ho, Nido,  Acapulco, Bocanova, Café Jolie Scolari, Chop Bar, Mockingbird, Tribune Tavern, Haven and Lungomare.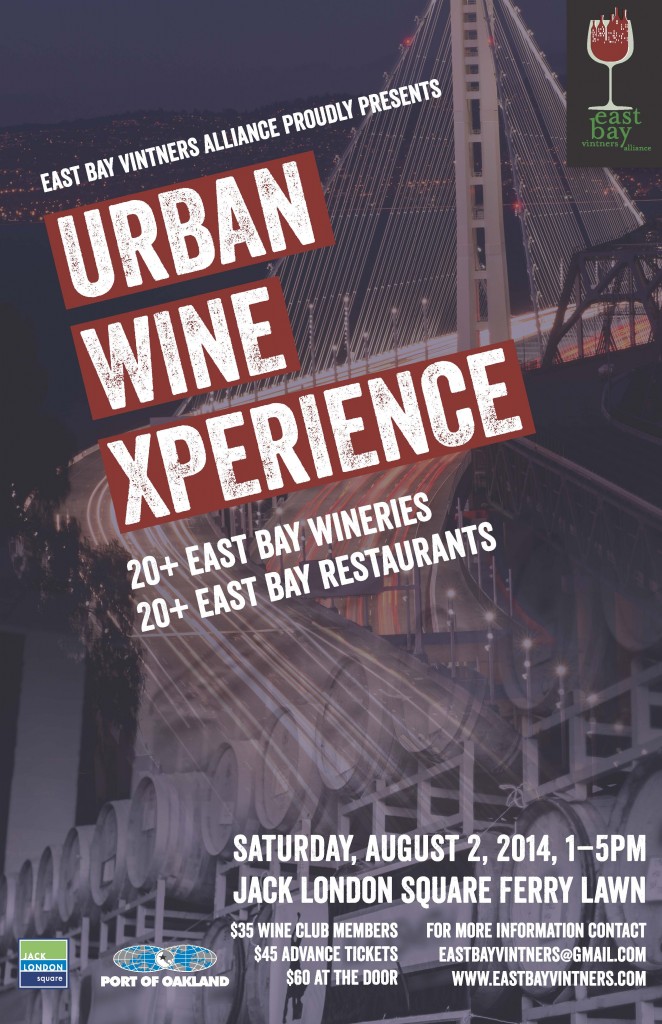 The Urban Wine Experience
August 2 @ 1:00 pm – 5:00 pm
Ferry Lawn at Jack London Square
Oakland, CA ( map )
Advance tickets are $45 per person (Designated drivers are $15) and are available for purchase online. Any remaining tickets will be sold at the door for $60 per person.
Attendees are strongly encouraged to take public transportation to the event.  Both the  Lake Merritt and 12th Street/Oakland City Center BART stations are  close to Jack London Square.
Remember to maximize your enjoyment and learning at public tastings:
Wear dark, comfortable clothes
Hydrate
Spit
Skip the perfume and cologne
Hope to see you at The Urban Wine Xperience!
__________________________________________________________________
Martin Redmond is a Financial Executive by day, and a certified wine geek with latent foodie tendencies the rest of the time. In addition to the wine lifestyle and food he enjoys family, fitness and traveling. He likes to get thoughts of wine off his mind by sharing experiences on his ENOFYLZ Wine blog, which features wine reviews, wine country travel, and wine and food pairings.