Every Thursday I feature a wine I particularly enjoy, whether it's something new and different, is a great value, or from a producer worth checking out.  For this week, my Wine Of The Week is the 2010 Tercero Verbiage. 
The Winery
Tercero Vineyards is located in Los Olivos, California.  Larry Schaffer is the owner/winemaker.  Schaffer left a successful career in publishing to pursue his dream of becoming a winemaker.  He earned a degree in Viticulture and Enology from UC Davis.  Thereafter he got winemaking career started as an enologist at Fess Parker Winery.  While at Fess Parker he started Tercero.
I first meet Larry a couple of years ago at one of my favorite events – Dark & Delicious. Initially, he caught my attention because he was aerating his wines in Erlenmeyer flasks rather than traditional decanters.  I thought – How cool is that (note to self – buy some lab beakers; they cost less and work as well!)?
I tried his wines, and came away impressed.
Since then, I've tasted his wines at a few other events, and continued to be impressed. The wines are worthy of attention, and reasonably priced (the reds are $30, the whites are $22!). On top of that, Larry is hard-working, down-to-earth, passionate, and very affable guy in my book.  And that matters to me.
Tercero Wines offers a range of wines including varietal bottlings of Syrah, Grenache, Mourvèdre, a red Rhône blend, Grenache Blanc, Viognier, Rosé, and a dry Gewürztraminer. All wines are bottled under screwcap (extra points in my book!) Annual case production is about 1,250 cases.
The wines are worth seeking out, and if you get a chance, I heartily recommend a visit to the winery!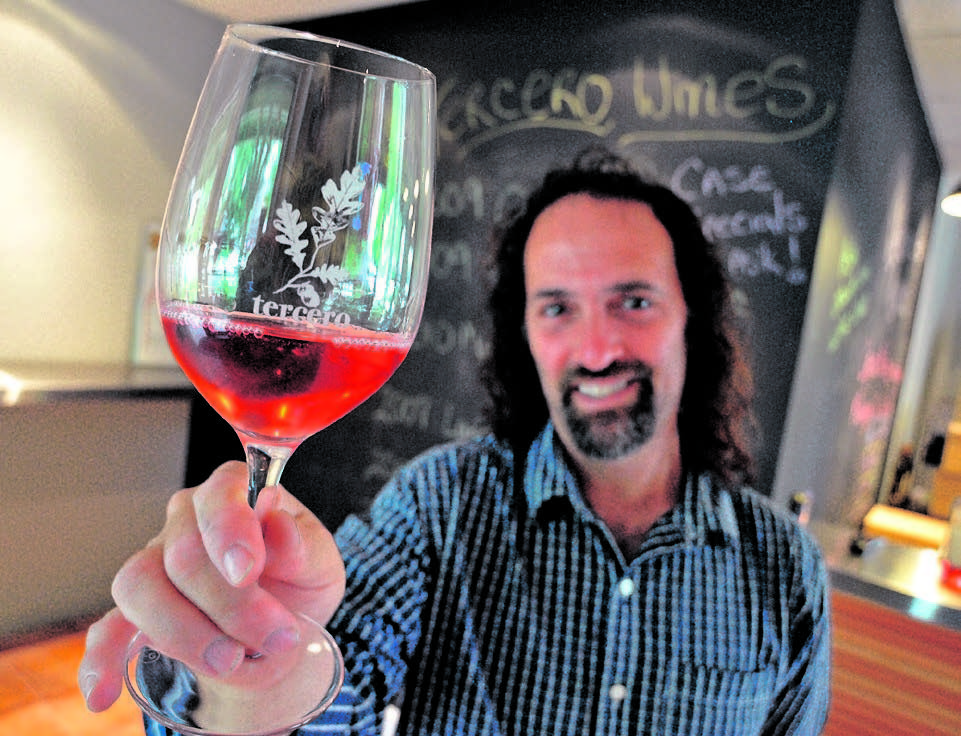 The Wine
The wine is labeled "Verbiage" because according to Larry – "I love to talk – a lot! I also love to make wine – a lot! so this label pays homage to the fact that every wine tell a story".
It's a blend of 62.5% grenache – from the Camp 4 and Watch Hill vineyards, 25% syrah – from the White Hawk and Larner vineyards, and 12.5% Mourvedre – from the aforementioned Camp 4 vineyard.
Each component fermented and pressed off separately, ,then barreled down for approximately 34 months.
Retail – $30; 14.5% alcohol;  Screwcap closure.
My tasting notes follow:
Nearly opaque violet color with enticing, perfumed mixed black and red fruit, smoked meat, and baking spice, and white pepper aromas. On the palate, it's medium-bodied, and fresh with blackberry compote, strawberry, black currant, and sweet spice flavors. Long sweet finish. 
Rating: A-:  This is a wonderful GSM from an area more well know for Pinot and Chardonnay.  It's ready to drink now, but will improve with age!

Pair with: Glazed Asian Chicken Breasts or Grilled or Braised lamb, or Grilled Sausages.
Sample provided for review
Ratings Key:
(A+) – 95-100/Extraordinary
(A) – 92-95/Outstanding
(A-) – 89-91/Very Good to Outstanding
(B+) – 86-88/Very good
(B) – 80-85/Good
(C) – 70-79/Bleh
(D) – 50-69/#Fail
__________________________________________________________________
Martin Redmond is a Financial Executive by day, and a certified wine geek with latent foodie tendencies the rest of the time. In addition to the wine lifestyle and food he enjoys family, fitness and traveling. He likes to get thoughts of wine off his mind by sharing experiences on his ENOFYLZ Wine blog, which features wine reviews, wine country travel, and wine and food pairings.
Follow me on Twitter @martindredmond for all things wine, and since I'm a wino, with latent foodie tendencies, you'll also find food and wine pairings, and food related stuff! Become a fan and join ENOFYLZ Wine Blog on Facebook. Cheers!