Every Thursday I feature a wine I particularly enjoy, whether it's something new and different, is a great value, or from a producer worth checking out.  For this week, my Wine Of The Week is the 2008 Iron Horse Vineyards Classic Vintage Brut.
The Winery
Iron Horse Vineyards is a small, independent, estate, family owned wineries located in cool, foggy Green Valley in western Sonoma County. The founding partners, Audrey and Barry Sterling first saw it in the pouring rain in February 1976. Driving down Ross Station Road, they were sure they were lost until they crested the knoll and the view opened up to 300 acres of gentle rolling hills and a wall of trees behind that looked like Camelot to them. Incurable romantics, and having extraordinary vision, they bought the property in just two weeks.
Iron Horse is truly a family affair. Audrey and Barry's daughter Joy Sterling is the CEO and lives at the foot of the vineyard.  The Sterlings' son Laurence, his wife Terry and their children moved to Iron Horse in 1990 and built their home on the far southwest corner of the property. Laurence is Director of Operations. Audrey and Barry are retired, but still reside at the heart of the estate in the original Victorian built in 1876
Iron Horse is best known for their sparkling wines, but they also produce elegant estate-bottled Chardonnay and Pinot Noir.
Green Valley in the coolest, foggiest part of the Russian River Valley, just 13 miles from the Pacific as the crow flies. There are approximately 160 acres in vine, planted exclusively to Chardonnay and Pinot Noir – with gentle, rolling hills, and a spectacular view from the winery clear across Sonoma County to Mount St. Helena.  The land was once under water many millions of years ago, and the soils is full of marine sediment and fossil. In this regard the area is similar to Chablis and Champagne in France. And the soils are perfectly suited to growing Pinot Noir and Chardonnay, which dominate the AVA.
The Iron Horse name came from a train that cut across the property in the 1890s. The logo, the rampant horse on a weather vane, came from a 19th century weather vane found while clearing away the rubble to build the winery.
Whenever, we're in Sonoma County Iron Horse is on our short list of "must visit" wineries. It's a beautiful property, with what is essentially an outdoor tasting room.   We love to grab of glass of bubbly, or one of their still wines, and sit on one of the benches that overlook the property, and simply savor the view.   Drop by on a Sunday if you can, the Oyster Girls will be serving up Tomales Bay oysters shucked to order raw or barbecued.
The Wine
Fruit for the base wine was hand-harvested.  It's a blend of 72% Pinot Noir and 28% that was aged, sur lie for over almost four years.  The dosage includes 2007 Rued Clone Chardonnay and 2010 Thomas Road Pinot Noir.
Retail – $38; Alcohol – 13.5%; Production – 2,300 cases; Disgorged – April 2013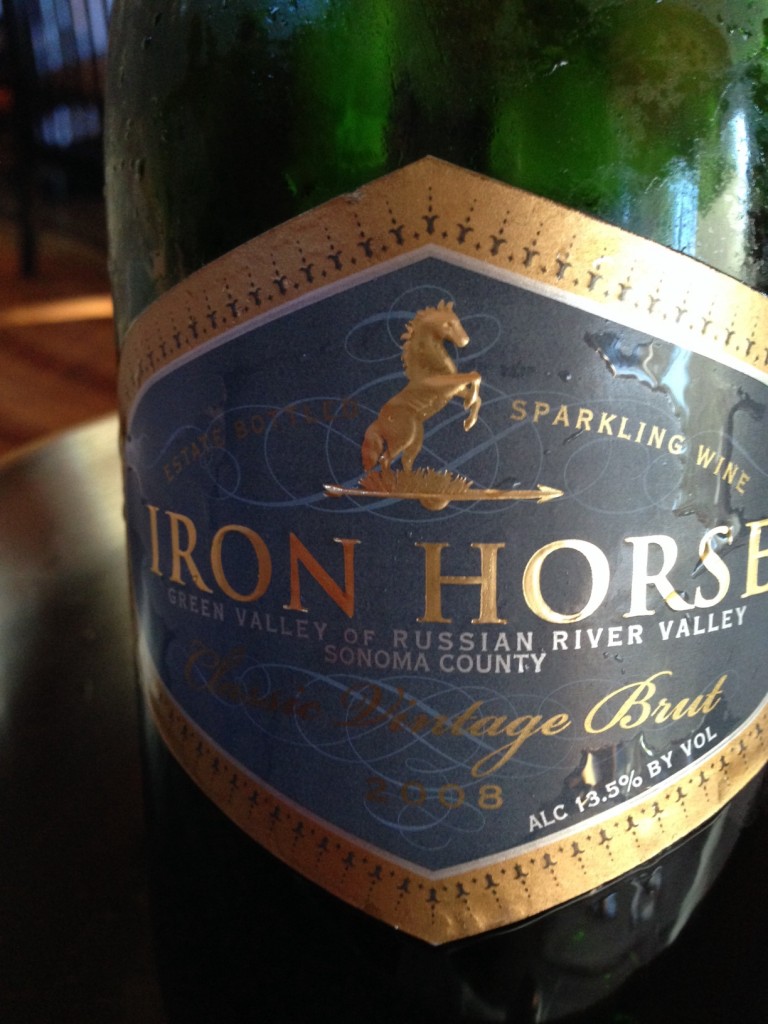 My tasting notes follow:
Very pale straw color with very active pin prick sized bubbles, and brioche, citrus zest, and a bit of hazelnut aromas. On the palate it sports a delicate mousse, explosive freshness, and tart apple, citrus, and ginger flavors, with an appealing minerality I've come to associate with Green Valley fruit. Lengthy satisfying finish.  >>Find this wine<<
Rating: A-:  An outstanding bottle of sparkling wine that world class!
Pair with: Raw oysters with mignonette or course!  But this is a the quintessential sparkling wine for food. Why not try with  Buttermilk fried chicken and biscuits, or a savory Mushroom and Gruyere Cheesecake!
Sample purchased for review
Ratings Key:
(A+) – 95-100/Extraordinary
(A) – 92-95/Outstanding
(A-) – 89-91/Very Good to Outstanding
(B+) – 86-88/Very good
(B) – 80-85/Good
(C) – 70-79/Bleh
(D) – 50-69/#Fail
__________________________________________________________________
Martin Redmond is a Financial Executive by day, and a certified wine geek with latent foodie tendencies the rest of the time. In addition to the wine lifestyle and food he enjoys family, fitness and traveling. He likes to get thoughts of wine off his mind by sharing experiences on his ENOFYLZ Wine blog, which features wine reviews, wine country travel, and wine and food pairings.
Follow me on Twitter @martindredmond for all things wine, and since I'm a wino, with latent foodie tendencies, you'll also find food and wine pairings, and food related stuff! Become a fan and join ENOFYLZ Wine Blog on Facebook. Cheers!