As a wine writer, from time to time, I receive sample from wineries, or PR firms that represent wineries for review.  When I received my first samples of wines from Stinson Vineyards, located in the great state of Virginia, I was excited.  That's because I've heard good things about Virginia wine, and  have been looking forward to trying them myself.
Now, while I'm aware there are vineyards in Virginia, and the fact that there are very good wines being made there, I'm wine geeky like that. Most folks are not, including many wine enthusiasts.
Consider this discussion with my wife, who knows here way around a wine glass and wine regions, when we sat down to taste the wines:
Wife: Where's the wine from?
Me: Virginia
Wife: Where's the fruit from?
Me: Virginia – they do grow grapes there
I suspect my wife isn't alone in her perception of wine in the state of Virginia.  You might be surprised to know…
Virginia currently ranks fifth in the number of wineries in the nation and is also the nation's fifth largest wine grape producer. As of 2012, the Virginia wine industry employs more than 4,700 individuals and contributes almost $750 million to the Virginia economy annually. More importantly, Virginia wines are surprising critics, winning awards and fans across the globe. – Katie Kelly Bell
It's appears that Virginia is a state whose wine fortunes are on the rise. And I expect to hear more good things and more importantly taste some great wine from Virginia in the years to come.
The Winery
Stinson Vineyard is a family-owned estate winery in Virginia's Blue Ridge Mountains, specializing in small-batch wines with a distinct French influence. The father-daughter team of Scott and Rachel Stinson take their inspiration from the "garagiste" wineries of France.  Not only in terms of their winemaking techniques, but also because the winery is built in an old three car garage. The wines of Stinson Vineyards are enjoying growing critical acclaim, and the winery has become a visitor destination for its fine wines, stunning views, and artisan farm store.
Their wines are produced from a combination of estate and locally sourced fruit.  The estate vineyard is 5 acres, and is planted to carefully selected clones of Sauvignon Blanc, Petit Manseng, Cabernet Franc, Petit Verdot, Merlot, Cabernet Sauvignon, and Tannat. Rachel Stinson is the winemaker. They produce approximately 1,600 cases/year
The Wines
I received two wines:
2012 Stinson Vineyards Mourvedre Rosé  – Sourced from Horton Vineyards – a vineyard planted to some of the first Rhone variety grapes in Virginia.
2012 Stinson Vineyards Cabernet Franc – Sourced from Benevino Vineyards located in the Northern end of the Shenandoah Valley.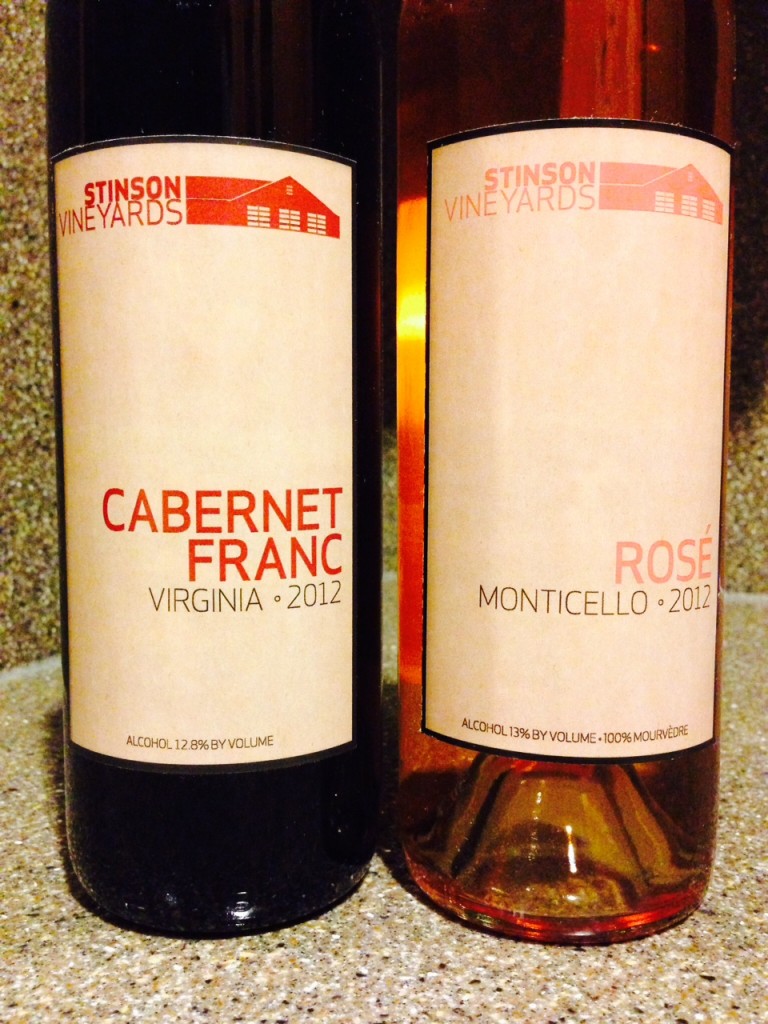 My tasting notes follow:
2012 Stinson Vineyards Mourvedre Rosé 
Pale pink color with orange highlights and intriguing red berry, earthy, and a bit of smoky aromas. On the palate it's medium-bodied and dry with medium-low acidity and strawberry, red currant, and raspberry flavors. Medium finish. 100% Mourvedre; Retail – $17; 13% alcohol; Fermented and aged in stainless steel. Aged 3 months sur lie.  Rating: B+
2012 Stinson Vineyards Cabernet Franc 
Dark nearly opaque garnet color with cassis, plum, and spice black tea leaf aromas. On the palate, it's medium-bodied with medium acid and cassis, plum, black cherry flavors. Medium finish.  It's a blend of  80% Cabernet Franc, 10% Merlot, 10% Petit Verdot; Aged 5 months in 35% new French Oak; Retail – $23, 12.8% alcohol. Rating: B+
While I really enjoyed both wines.  And if these are exemplars of the quality of Virginia wine ,then Stinson Vineyard and Virginia are contenders!
Wines provided as a samples for review.  Many thanks to Stinson Vineyards and Folsom + Associates
Ratings Key:
(A+) – 95-100/Extraordinary
(A) – 92-95/Outstanding
(A-) – 89-91/Very Good to Outstanding
(B+) – 86-88/Very good
(B) – 80-85/Good
(C) – 70-79/Bleh
(D) – 50-69/#Fail
Related posts you might enjoy:
__________________________________________________________________
Martin Redmond is a Financial Executive by day, and a certified wine geek with latent foodie tendencies the rest of the time. In addition to the wine lifestyle and food he enjoys family, fitness and traveling. He likes to get thoughts of wine off his mind by sharing experiences on his ENOFYLZ Wine blog, which features wine reviews, wine country travel, and wine and food pairings.
Follow me on Twitter @martindredmond for all things wine, and since I'm a wino, with latent foodie tendencies, you'll also find food and wine pairings, and food related stuff! Become a fan and join ENOFYLZ Wine Blog on Facebook. Cheers!
This article is original to ENOFYLZ Wine Blog.com. Copyright 2014 ENOFYLZ Wine Blog. All rights reserved.