Every Thursday I feature a wine I particularly enjoy, whether it's something new and different, is a great value, or from a producer worth checking out.  For this week, my Wine Of The Week is the 2010 Carlisle The Derivative White.
The Winery
Carlisle Winery & Vineyards is a small Sonoma County based winery  based in Santa Rosa. According their website they specialize in the..
…production of old-vine, vineyard designated Zinfandels and red Rhone varieties (Syrah, Grenache, Mourvèdre, and Petite Sirah).
Mike Officer is the Owner/Winemaker.  He caught the wine "bug" early – at age 19 – when he tasted a late-harvest Riesling (It seems like we all start with sweet wines doesn't it?) After graduating from college, he worked in software development for five years, but realized that was not his passion.  He knew the answer would involve wine, but he wasn't sure in what capacity.
He decided to try winemaking,  starting with making 5 gallons of Zinfandel in his kitchen.  Some years later, he  and his wife Kendall found themselves making 300 cases of "garage" wine.  They decided to jump in with both feet and established Carlisle Winery & Vineyards in 1998.  They've focused on old-vine Zinfandel, and red Rhône blends, until the 2010 vintage, when they made their first white wines.
In addition to their own estate vineyard, they source grapes from Sonoma County, primarily the Russian River, and Dry Creek AVAs.  Officer always been a fan of old-vine vineyards.   In fact, of the 16 vineyard sources listed on their website, half ( Gold Mine Ranch, Martinelli Road Vineyard, Montafi Ranch, Pagani Ranch Vineyard, Papera Ranch, Rossi Ranch Vineyard, Saitone Ranch, and Two Acres) are considered historic vineyards by the Historic Vineyard Society.
The Wine
From Carlisle…Back in the late 1800s and early 1900s, there was a popular style of white wine in California called "hock". It was a dry wine consisting of the white grape varieties widely planted at that time, Semillon, Muscadelle, Chasselas, French Colombard, Trousseau gris, and Putzscheere to name a few. Using 76% barrel-fermented Semillon from Monte Rosso (planted 1886) and 24% stainless-fermented Muscadelle from Pagani Ranch (planted 1920), we have created a modern-day version, a derivative if you will, of this century-old style.
Retail – $30; 13.8% alcohol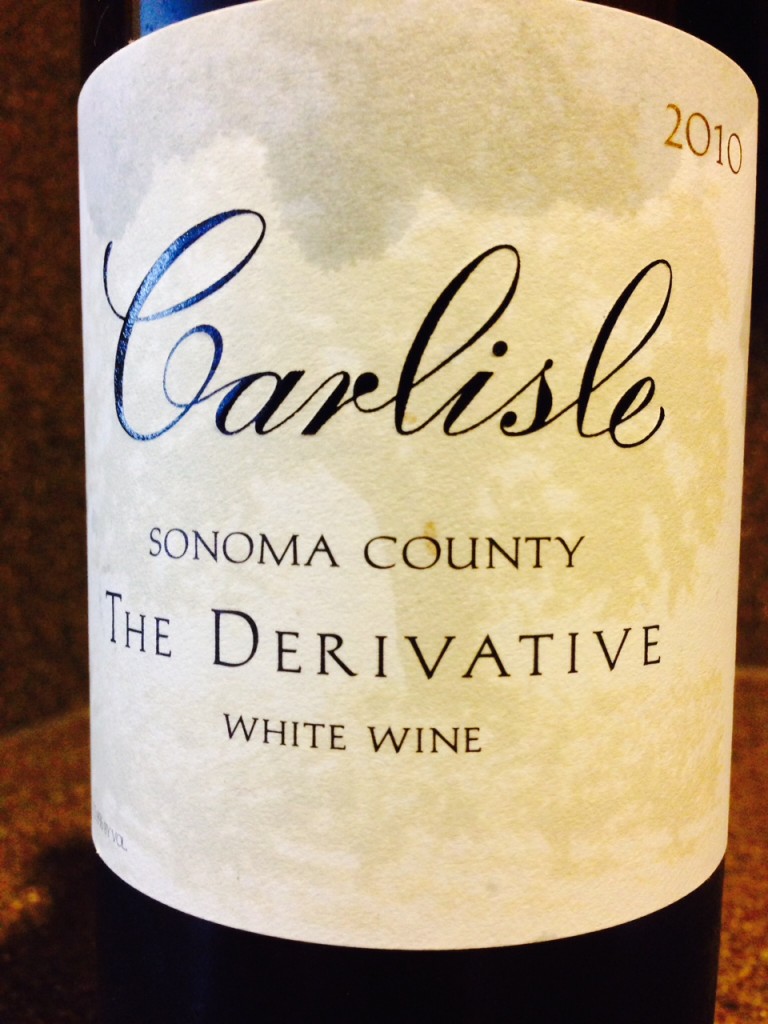 My tasting notes follow:
Light yellow color with aromatic orange blossom, apple, citrus and wet stone aromas. On the palate, it's between medium and full-bodied with bright acidity, and apple, pineapple, spice and mineral flavors. Long finish.  Drink now, but can age >>Find this wine<<
Rating: A- : This is a wonderful wine that's a refreshing change of pace!
Pair with: Seafood salad, Grilled or roasted Paiche, Fish tacos, Sole in lemon beurre blanc, or fresh crab!
Sample purchased for review
Ratings Key:
(A+) – 95-100/Extraordinary
(A) – 92-95/Outstanding
(A-) – 89-91/Very Good to Outstanding
(B+) – 86-88/Very good
(B) – 80-85/Good
(C) – 70-79/Bleh
(D) – 50-69/#Fail
__________________________________________________________________
Martin Redmond is a Financial Executive by day, and a certified wine geek with latent foodie tendencies the rest of the time. In addition to the wine lifestyle and food he enjoys family, fitness and traveling. He likes to get thoughts of wine off his mind by sharing experiences on his ENOFYLZ Wine blog, which features wine reviews, wine country travel, and wine and food pairings.
Follow me on Twitter @martindredmond for all things wine, and since I'm a wino, with latent foodie tendencies, you'll also find food and wine pairings, and food related stuff! Become a fan and join ENOFYLZ Wine Blog on Facebook. Cheers!
This article is original to ENOFYLZ Wine Blog.com. Copyright 2014 ENOFYLZ Wine Blog. All rights reserved.