Last week, I had the pleasure attending a special tasting of the House of Krug at K&L Wine Merchants. I was invited to the intimate tasting with about a dozen others by K&L's Champagne buyer, Gary Westby.
It was definitely an exciting opportunity for me.  I've tasted more than my share of Champagne, and sparkling wines, but precious little "luxury" Champagne.
In fact, the only such Champagne I can recall tasting was Dom Perignon, and that was many moons ago, before I gained an appreciation for Champagne.  I didn't care for it.  I remember almost feeling guilty because I thought  I should have enjoyed such an expensive bottle of wine.
Since then I've come to adore Champagne for the special beverage it is, but last week's tasting was essentially my first taste of high-end Champagne.
The House of Krug
Krug was established in 1843 by Johann Joseph Krug, and silent partner Hippolyte de Vivès, a member of the family of the founder of Veuve Cliquot  They produced the first Krug et Cie blend in 1845.  After Joseph's death in 1861, his son Paul was the first of five successive generations of Krugs in the business.
In 1999 Krug was acquired by the multinational luxury goods conglomerate LVMH Moët Hennessy • Louis Vuitton S.A. LVMH also owns grande marque Champagne houses Mercier, Moët & Chandon, Montaudon, Ruinart and Veuve Clicquot Ponsardin.
Despite LVMH's majority ownership, the Krug family is still actively involved in all the key decisions of the house but does not manage the day-to-day operations.  Olivier Krug, who has  been in the business since 1989, became house director in 2009, the same year that LVMH named Margareth "Maggie" Henriquez President & CEO of Krug
Krug produces about 40,000 cases annually, and 80% of that production is the Krug Grand Cuvée.  In addition to the Grand Cuvée, Krug also produces a multi-vintage Rosé, Vintage Brut, a vintage single vineyard blanc de blanc known as Clos du Mesnil, and a vintage single vineyard blanc de noir known as Clos d'Ambonnay, and older vintages release as Krug Collection series.
For an excellent more detailed deep dive on Krug, check out Richard Jennings "House of Krug and the Quest for Perfection"
The Tasting
The Krug US Brand Ambassador Garth Hodgdon presented four wines.  He is a very knowledgeable and affable fellow who did a fine job of skillfully answering the questions that came his way – frequently with a keen sense of humor, and  always in a thoughtful and focused manner.
While sharing  Krug story, Hodgdon mentioned a couple of things I found particularly interesting.
The first is that, is that as noted in the aforementioned piece by Richard Jennings…
…unlike other great Champagne producers, Krug makes only prestige cuvées. Instead of its multi-vintage Grande Cuvée being a secondary wine, created after the vintage wine is assembled, Krug has, from the beginning, turned the region's usual practice on its head by devoting its attentions to the multi-vintage Cuvée first, as the house's flagship. – Richard Jennings
Krug doesn't make any secondary, or entry-level wines.  In fact, Hodgdon noted, all other Krug Champagne is measured against the Grand Cuvée. which is their least expensive wine.
The other thing Hodgdon shared with us was the Krug ID. Since September 2011, each bottle of Krug has a six digit number on the back label .  You can type this number into a box on Krug's website to learn the makeup of that particular bottling, including the vintage(s) in the wine, the percentage of grape varieties used, and when the bottle was disgorged.  Hodgdon then whipped out his iPhone and demonstrated the very cool Krug app, which enables one to either type in or scan the code.
Most Champagne houses are very secretive about what goes into each bottle. Krug is leading the way among the great Champagne house in becoming more transparent.
As for the wines? Simple the best Champagne I've ever tasted!  But I would love to taste Krug back to back blind against other luxury Champagne such as Dom Perigon, Cristal, or Salon.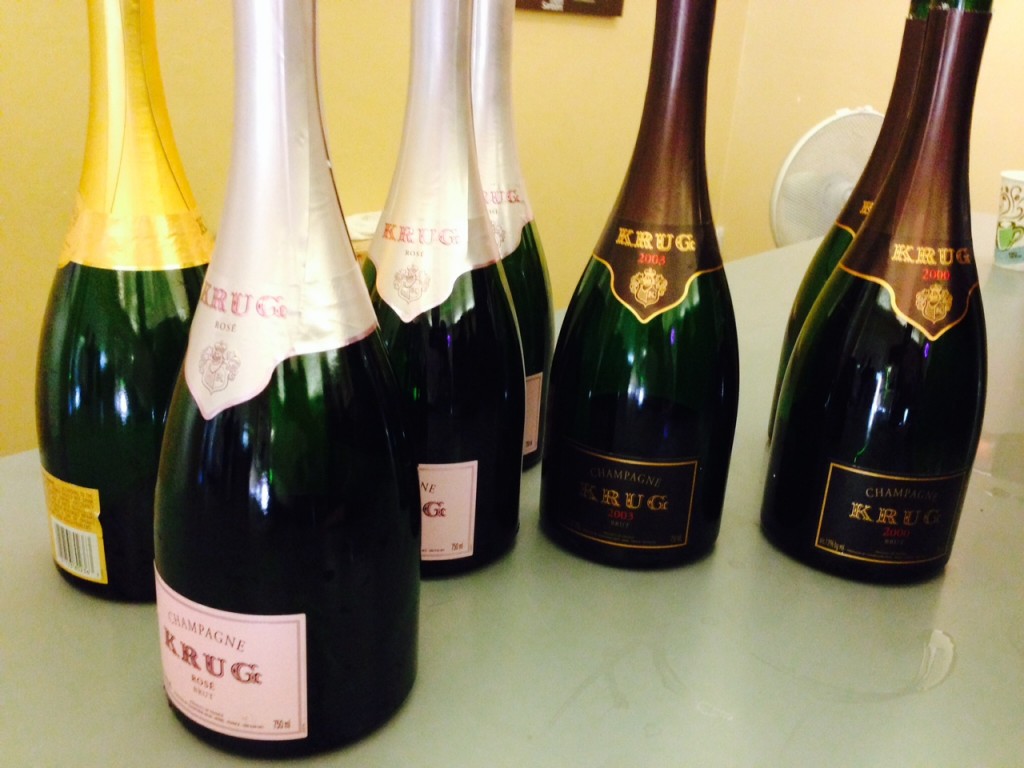 My tasting notes follow:
After the tasting, we were invited to partake of the bevy of bottles of Krug Champagne beckoning us…
Why, Yes….I will have another splash or three…
Just to see how the wines were evolving in the glass?  Of course!
Just to fine tune my tasting notes? – Um sure…if you say so…
Just because it was a transcendent tasting, and who knows when I'll be have the exquisite pleasure of passing through Krug-ville again?
Bingo!