Rosé season is in full bloom, although truth be told, it's Rosé season for me pretty much year-round for me!  With that in mind, I'm cranking up my annual series of weekly "Drink Pink!" Rosé tastings.  It's my quest for the best Pink Porch Pounders for $20 or less! This week's rosé is the 2013 Tercero Mourvedre Rosé.
The Winery
Tercero Vineyards is located in Los Olivos, California.  Larry Schaffer is the owner/winemaker.  Schaffer left a successful career in publishing to pursue his dream of becoming a winemaker.  He earned a degree in Viticulture and Enology from UC Davis.  Thereafter he got winemaking career started as an enologist at Fess Parker Winery.  While at Fess Parker he started Tercero.
I first meet Larry a couple of years ago at one of my favorite events – Dark & Delicious. Initially, he caught my attention because he was aerating his wines in Erlenmeyer flasks rather than traditional decanters.  I thought – How cool is that (note to self – buy some lab beakers; they cost less and work as well!)?
I tried his wines, and came away impressed.
Since then, I've tasted his wines at a few other events, and I finally had a chance to visit the Tercero tasting room last summer.  I continue to be impressed. The wines all very good to outstanding, and reasonably priced (the reds are $30, the whites are $22!).
On top of that, Larry is hard-working, down-to-earth, passionate, and very affable guy in my book.  And that matters to me.
Tercero Wines offers a range of wines including varietal bottlings of Syrah, Grenache, Mourvèdre, a red Rhône blend, Grenache Blanc, Viognier, Rosé, and a dry Gewürztraminer. All wines are bottled under screwcap (extra points in my book!) Annual case production is about 1,250 cases.
The wines are worth seeking out, and if you get a chance, I heartily recommend a visit to the winery!
The Wine
The fruit for wine comes from the Vogelzang Vineyard in the Happy Canyon AVA, in the extreme eastern part of the Santa Ynez Valley. The grapes were brought in, foot stomped, and then let sit on the skins for about an hour. They were then dumped into the press and let sit for another hour before starting the pressing process. The juice was then transferred to a stainless steel tank for fermentation. Upon completion, the wine was transferred to older French oak barrels for its 5 month aging process.
13.5% alcohol; Retail – $20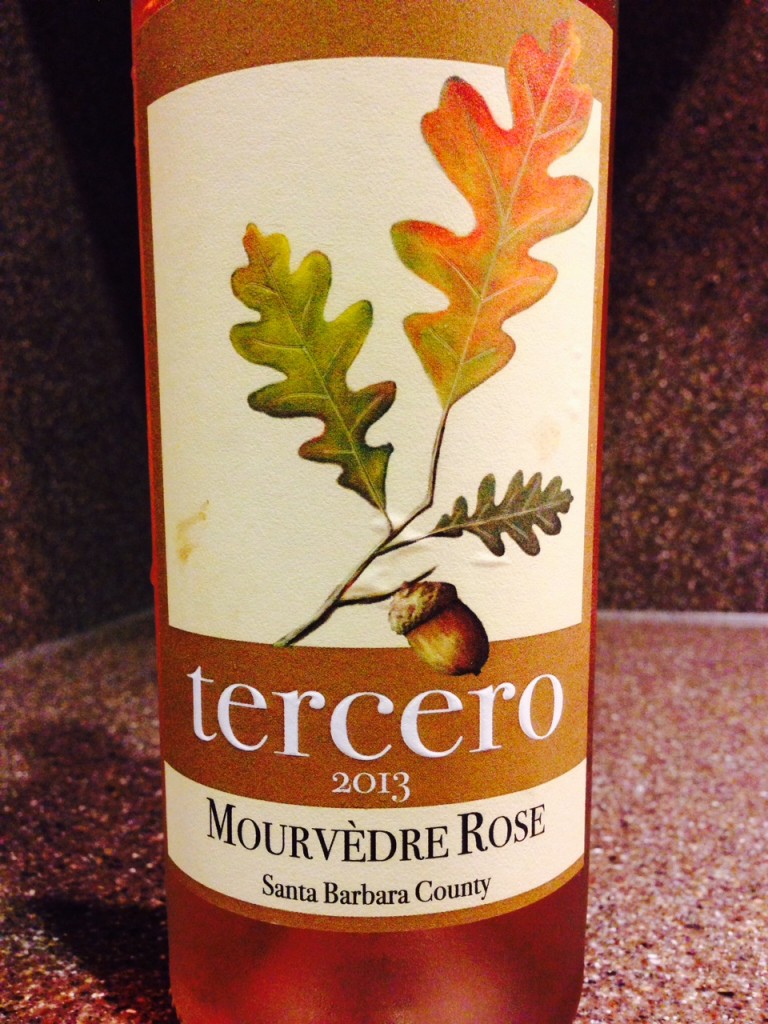 My tasting notes follow:
Pale salmon color with appealing red fruit, wet stone, and citrus peel aromas with a hint of earthiness. On the palate it's dry, and fresh and medium-bodied with mouth filling strawberry, watermelon, hints of red currant, subtle spice, and citrus flavors and a nice touch of minerality. Lingering finish. 
Rating: A-:  This is an outstanding Rosé. Highly Recommended! >>Find this wine<<
Pair with: I paired with this with an impromptu (i.e. leftover;-) surf and turf of grilled salmon and ribeye steak.  What I enjoyed about it is, that it while it paired very well with the grilled salmon, it had enough weight to stand up to the rib-eye such that the two peacefully co-existed.  Try with more substantial foods like grilled,or cedar plank salmon, Provençal Vegetable Tart, or Mediterranean Farro Salad.
Sample purchased for review
Ratings Key:
(A+) – 95-100/Extraordinary
(A) – 92-95/Outstanding
(A-) – 89-91/Very Good to Outstanding
(B+) – 86-88/Very good
(B) – 80-85/Good
(C) – 70-79/Bleh
(D) – 50-69/#Fail
__________________________________________________________________
Martin Redmond is a Financial Executive by day, and a certified wine geek with latent foodie tendencies the rest of the time. In addition to the wine lifestyle and food he enjoys family, fitness and traveling. He likes to get thoughts of wine off his mind by sharing experiences on his ENOFYLZ Wine blog, which features wine reviews, wine country travel, and wine and food pairings.
Follow me on Twitter @martindredmond for all things wine, and since I'm a wino, with latent foodie tendencies, you'll also find food and wine pairings, and food related stuff! Become a fan and join ENOFYLZ Wine Blog on Facebook. Cheers!
This article is original to ENOFYLZ Wine Blog.com. Copyright 2014 ENOFYLZ Wine Blog. All rights reserved.