Every Thursday I feature a wine I particularly enjoy, whether it's something new and different, is a great value, or from a producer worth checking out.  For this week, my Wine of the Week is the 2012 Château Pesquié "Le Paradou" Grenache.
The Winery
The history of Château Pesquié is the story of three generations of a family passionate about the Ventoux region.
In the early 1970's, Odette & René Bastide, bought Château Pesquié from an heir of the famous Provençal writer, Alphonse Daudet. They were wine pioneers, as the Appellation Côtes du Ventoux was not created until 1973. For the first twenty years of their ownership, the grapes grown on the estate were taken to two cooperative wineries.
In 1985, Paul and Edith Chaudiere, René & Odette's daughter and son-in-law left their jobs in private industry (she was a voice therapist and he was a physical therapist) to study wine at one of France's top wine universities at Suze la Rousse.
Château Pesquié founded in 1989 in Mormoiron, one of the tiny villages dotting the beautiful countryside under the Mont Ventoux.  The name "Pesquie" comes from old Provencal (which by the way is still spoken by a few people in the area) and means a "water basin" (the property is built on the site of an old pond.)
In 2003, Paul & Edith's two sons, Alexandre & Frédéric, and their cousin Renaud, took over the Domaine.
Today, Château Pesquié is one of the leading estates in the up and coming Appellation of Côtes du Ventoux and the southern Rhone Valley.
The Wine
The 2012 Côtes du Ventoux Le Paradou is sourced from 75-year old vines.  After the grapes were crushed they were macerated 10-15 day, then aged 7 months in concrete tank.
100% Grenache | 13.5% alcohol | Retail – $10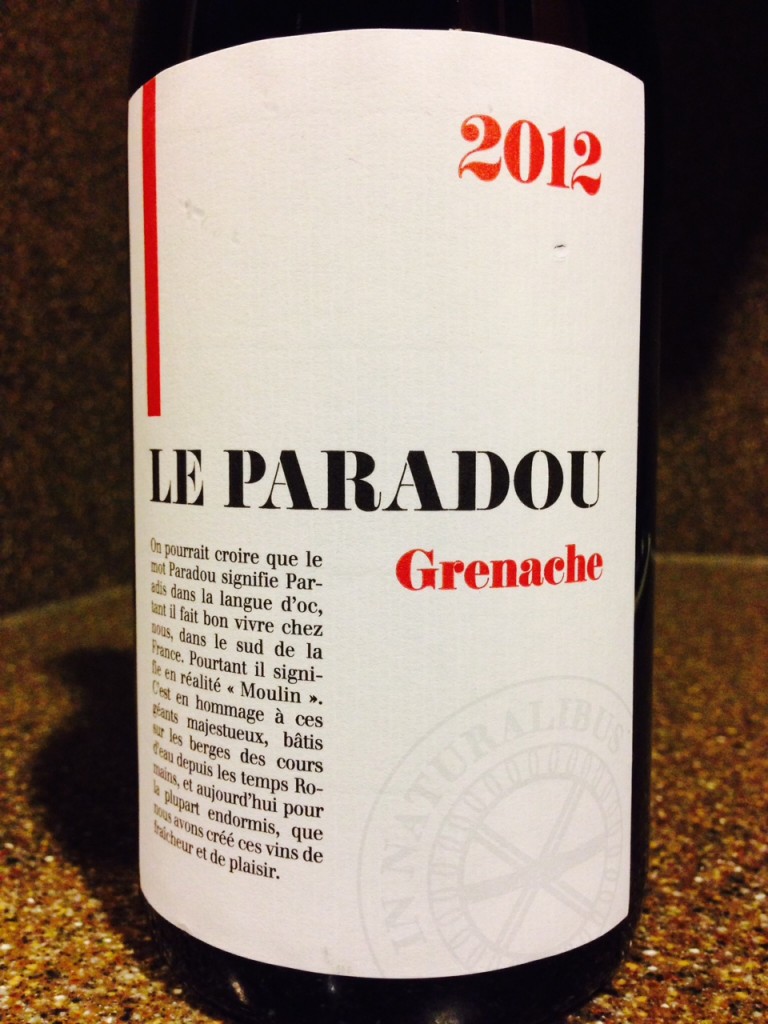 My tasting notes follow:
Dark red color with candied cherry, damp earth, pepper and a pencil lead aromas. On the palate, it's between light and medium-bodied with a supple mouthfeel, a subtle complexity and bright black cherry, cola, and a bit of spice flavors underscored with an appealing minerality. Medium + finish. 
Rating: A-: Awesome value. Hard to believe this crowd-pleaser is a $10 bottle of wine. Super every day wine! >>Find this wine<<
Pair with: Serve with your favorite grilled meats (beef, chicken, sausages)!
Sample purchased for review
Ratings Key:
(A+) – 95-100/Extraordinary
(A) – 92-95/Outstanding
(A-) – 89-91/Very Good to Outstanding
(B+) – 86-88/Very good
(B) – 80-85/Good
(C) – 70-79/Bleh
(D) – 50-69/#Fail
 __________________________________________________________________
Martin Redmond is a Financial Executive by day, and a certified wine geek with latent foodie tendencies the rest of the time. In addition to the wine lifestyle and food he enjoys family, fitness and traveling. He likes to get thoughts of wine off his mind by sharing experiences on his ENOFYLZ Wine blog, which features wine reviews, wine country travel, and wine and food pairings.
Follow me on Twitter @martindredmond for all things wine, and since I'm a wino, with latent foodie tendencies, you'll also find food and wine pairings, and food related stuff! Become a fan and join ENOFYLZ Wine Blog on Facebook. Cheers!
This article is original to ENOFYLZ Wine Blog.com. Copyright 2014 ENOFYLZ Wine Blog. All rights reserved.