My wife and I do more than our fair share of wine tasting.  We've hit all the major wine regions in California (and a few minor ones too;-), along with some tasting in Oregon and Spain.  From time to time we have a wine tasting experience that stands above the rest, and is everything we're looking for – great wine and commendable service in a relaxed unpretentious environment. It's those such experiences that are the focus of this "No Reservations" series.  Why "No Reservations"? Because I can honesty say I have "No Reservations"  about recommending the winery anyone who is looking for a great wine tasting experience.  The latest in this series features Ridge Vineyards, which has two tasting rooms – Monte Bello in the Santa Cruz Mountains, and Lytton Springs in the Dry Creek Valley of Sonoma County.

My complete review of Ridge Vineyards tasting rooms, including history, a recap of the tasting experience – including reviews of wines tasted may be found at the American Winery Guide's website (For Monte Bello click here; For Lytton Springs click here)
Here are three (among many) things to know about Ridge….
No. 1. Always on a high: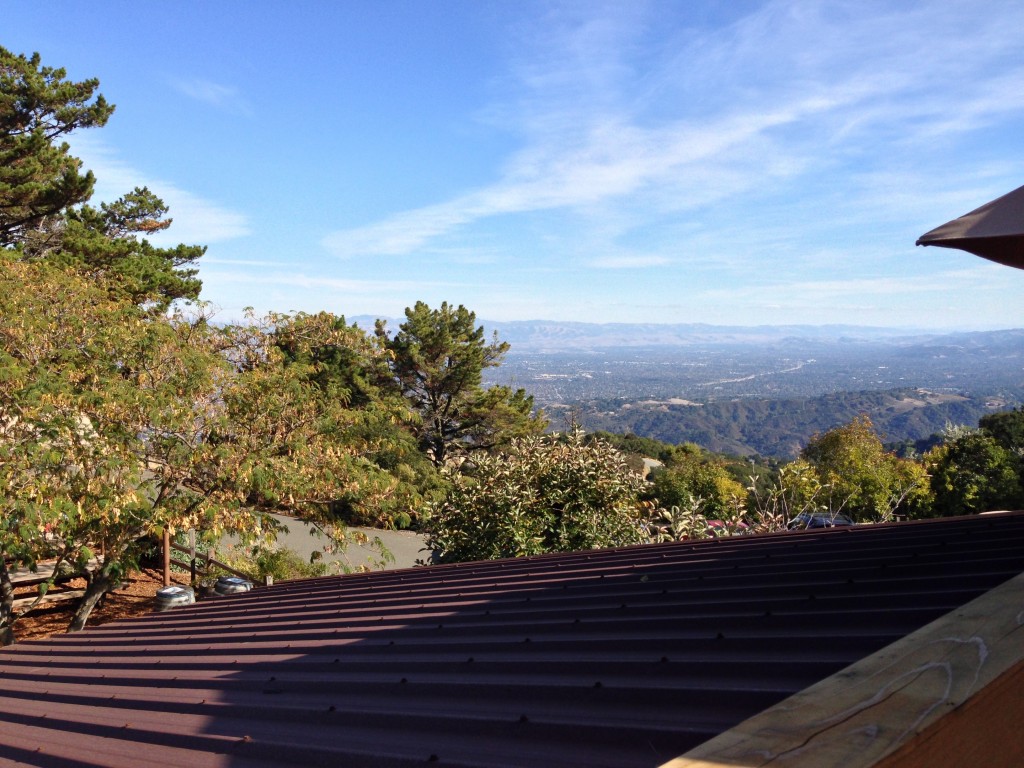 The heart of Ridge Vineyards beats just 15 miles from the Pacific Ocean, in the inhospitable Santa Cruz Mountains. The AVA is said to be the coldest Cabernet Sauvignon-producing area in California, thanks to cool maritime winds and vineyards at altitude. The original Monte Bello vineyard was planted near the top of Monte Bello Ridge in 1885. Today, the Monte Bello vineyards range from 1,300 feet all the way up to the original site at 2,700 feet above sea level.
No. 2. One producer, many sites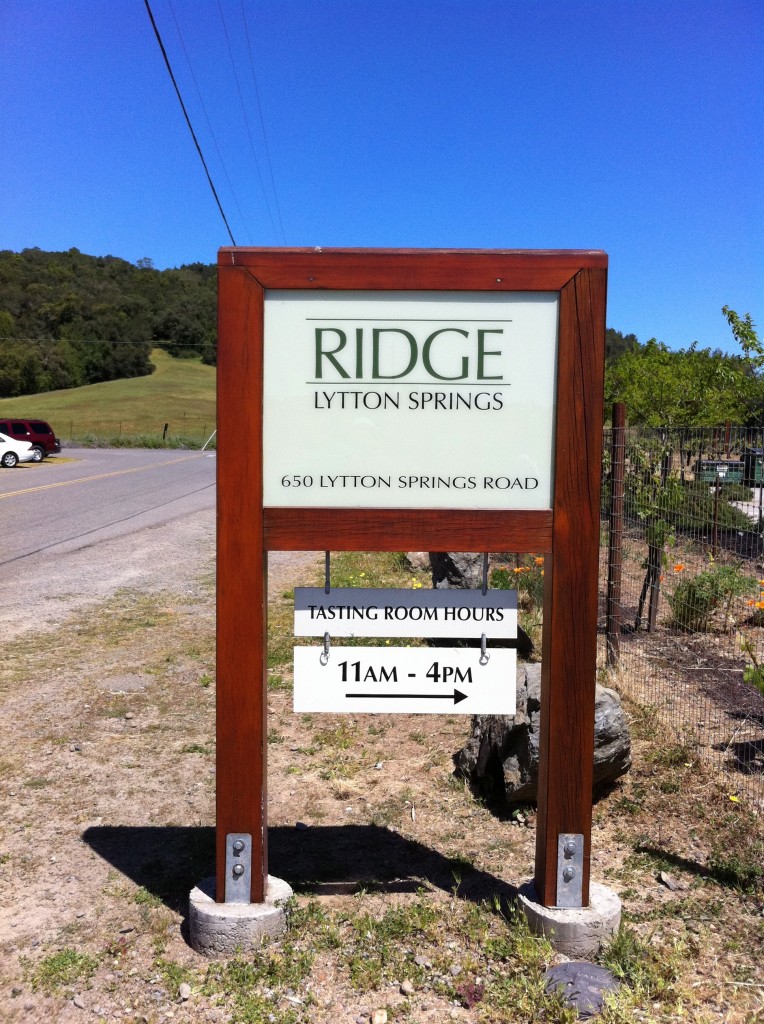 While Monte Bello is the birthplace of Ridge Vineyards – and home to perhaps the most elegant Cabernet Sauvignon in California – winemaker Paul Draper and his crew must also tend vineyards in Sonoma, the Alexander Valley and Paso Robles.

North of San Francisco lies Zinfandel-focused Lytton Springs and the 130-year-old Geyserville Vineyard. Since purchasing Lytton Springs in 1991, Ridge has built a new winery, using traditional techniques such as straw-bale insulation and clay-soil plaster sourced from the surrounding vineyards. But a solar-paneled roof puts it firmly in the 21st century.
No. 3. 50 years of bond: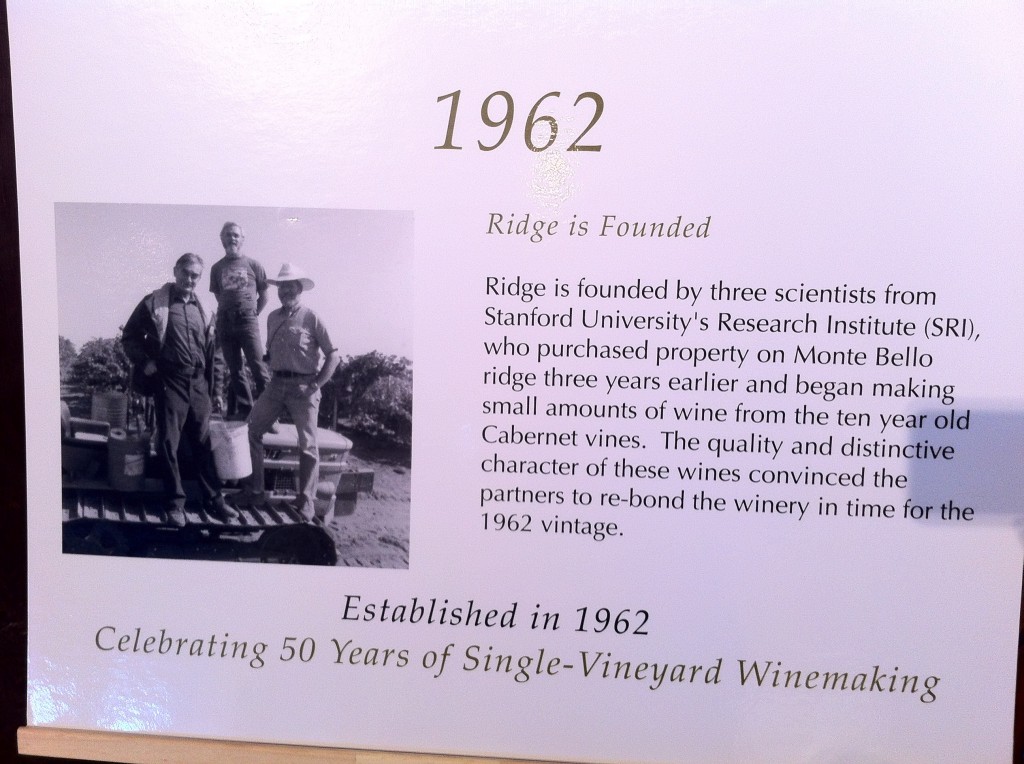 Nothing to do with 007, but rather the fact that in 2012, Ridge celebrated 50 years of being a bonded winery. While the winery made its first wine more than 120 years ago, the vineyards were abandoned under Prohibition. It took a religious intervention to get Monte Bello back on its feet. Theologian William Short, who owned abandoned vineyard land below the original property, replanted some Cabernet Sauvignon vines in 1949.

However, it would be another decade before Dave Bennion and three engineering colleagues from Stanford Research Institute produced a quarter-barrel of Monte Bello Cabernet. Astonished by the quality of the wine, the group re-bonded the winery in time for the 1962 vintage. Draper tasted the fruits of their labor and was so impressed he joined the winery in 1969.

"I'd had the opportunity to taste great Bordeauxs when they were cheap, compared to what they cost today," Draper recalls. When he sampled the 1962 and 1964 Monte Bello, "they were the most complex Cabernets I had tasted from California." Fifty years later, the winery can still justifiably make that claim.
Note: Source of quotes
Related posts you might enjoy:
__________________________________________________________________
Martin Redmond is a Financial Executive by day, and a certified wine geek with latent foodie tendencies the rest of the time. In addition to the wine lifestyle and food he enjoys family, fitness and traveling. He likes to get thoughts of wine off his mind by sharing experiences on his ENOFYLZ Wine blog, which features wine reviews, wine country travel, and wine and food pairings.
Follow me on Twitter @martindredmond for all things wine, and since I'm a wino, with latent foodie tendencies, you'll also find food and wine pairings, and food related stuff! Become a fan and join ENOFYLZ Wine Blog on Facebook. Cheers!
This article is original to ENOFYLZ Wine Blog.com. Copyright 2014 ENOFYLZ Wine Blog. All rights reserved.