Rosé season is in full bloom, although truth be told, it's Rosé season for me pretty much year-round for me!  With that in mind, I'm cranking up my annual series of weekly "Drink Pink!" Rosé tastings.  It's my quest for the best Pink Porch Pounders for $20 or less!  This week's rosé is the 2013 Bodegas Ostatu Rosado.
The Winery
Bodegas Ostatu is a family winery located in the heart of the Rioja Alavesa region in La Rioja, Spain.
The winery is owned and operated by the Saenz de Samaniego family, who have been in the area for many generations.  Most of that time they grape growers who sold their grapes to other wineries. But in the late 60s Doroteo Asunción made the decision to make and sell his own wines rather than selling his grapes on to other wineries.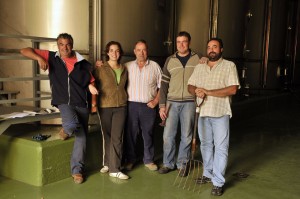 The vineyards, which are protected by the Sierra de Cantabria range, are composed of ochre coloured chalky clay soil, with an average age of 50 years. The estate is composed of over forty hectares of vines located in and around the town of Samaniego.
According to importer De Maison Selections Inc, until recently, all Ostatu wines were produced using the carbonic maceration process. Such wines are made to be consumed young and are popular with many locals.  However that philosophy changed when Frenchman, Hubert de Bouard de Laforest of Chateau Angelus saw the unique potential of the terroir of Ostatu vineyards. As a result, wines are now produced using traditional fermentation, and yields in the vineyards have been reduced in order improve the quality of the Ostatu wines.  As a result Ostatu is able to produce wines which live up to their full potential.
The Wine
This wine is one of Ostatu's latest projects.  Fruit for the wine was sourced from some of Ostatu's oldest and highest elevation vineyards, this wine is a blend of 70% Tempranillo, and 30% Garnacha (Grenache Noir). It was fermented in stainless steel vats.
13% alcohol | Retail – $14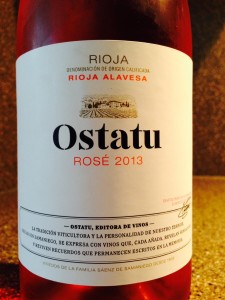 My tasting notes follow:
Deep pink color with generous watermelon, raspberry and wet stone aromas. On the plate it approaches medium bodied, and is dry, lively and refreshing with tart cherry, raspberry, and subtle spice flavors underscored by an appealing minerality. Medium finish. 
Rating: B+:  This has everything you want in a Pink Porch Pounder.  It's clean, crisp, fruity, dry, and food friendly. And  the price is right at under $15. Recommended! >>Find this wine<<
Pair with: I enjoyed this with Spinach, smoked turkey and burrata salad!
Sample purchased for review
Ratings Key:
(A+) – 95-100/Extraordinary
(A) – 92-95/Outstanding
(A-) – 89-91/Very Good to Outstanding
(B+) – 86-88/Very good
(B) – 80-85/Good
(C) – 70-79/Bleh
(D) – 50-69/#Fail
__________________________________________________________________
Martin Redmond is a Financial Executive by day, and a certified wine geek with latent foodie tendencies the rest of the time. In addition to the wine lifestyle and food he enjoys family, fitness and traveling. He likes to get thoughts of wine off his mind by sharing experiences on his ENOFYLZ Wine blog, which features wine reviews, wine country travel, and wine and food pairings.
Follow me on Twitter @martindredmond for all things wine, and since I'm a wino, with latent foodie tendencies, you'll also find food and wine pairings, and food related stuff! Become a fan and join ENOFYLZ Wine Blog on Facebook. Cheers!
This article is original to ENOFYLZ Wine Blog.com. Copyright 2014 ENOFYLZ Wine Blog. All rights reserved.