Every Thursday I feature a wine I particularly enjoy, whether it's something new and different, is a great value, or from a producer worth checking out.  For this week, my Wine of the Week is the 2011 Uproot Wines Cabernet Sauvignon.
The Winery
What happens when Manhattan meets Napa Valley?  Partner-winemaker Greg Scheinfeld, a Long Island native left Wall Street in 2006 after deciding to switch coasts to pursue his passion for wine. Gaining cellar experience at Cakebread, Joseph Phelps and Vineyard 29–Scheinfeld approached friend and Zelkova Ventures co-founder, Jay Levy with the aspirations of opening a wine business.
We're experience makers. And, yes, here in Napa, some might even say we're trouble makers. Uproot is reimagining winemaking to create a fresh, modern, energized experience for a new generation of wine drinkers.
Launched in 2013,  Uproot Wines is sourcing  fruit from top vineyards throughout California, and utilizing the best winemaking processes. Nothing new about that strategy for selling boat loads of wine.
But Uproot, with millennials clearly in their cross hairs, is doing it with a twist…starting with the label on the front of the bottle.
It's not a label, at least not in the traditional sense.  In fact, its' essentially the winemaker's tasting notes as an infographic.
Uproot's first-of-its-kind Flavor Palette, a color and taste-based visual identity system on the wine label, allows each person to understand the flavor profile even before tasting.  Each of the color blocks represents a tasting note and the size of the block tells you how dominant each note is in the flavor profile.  For example, the Flavor Palette for this wine is: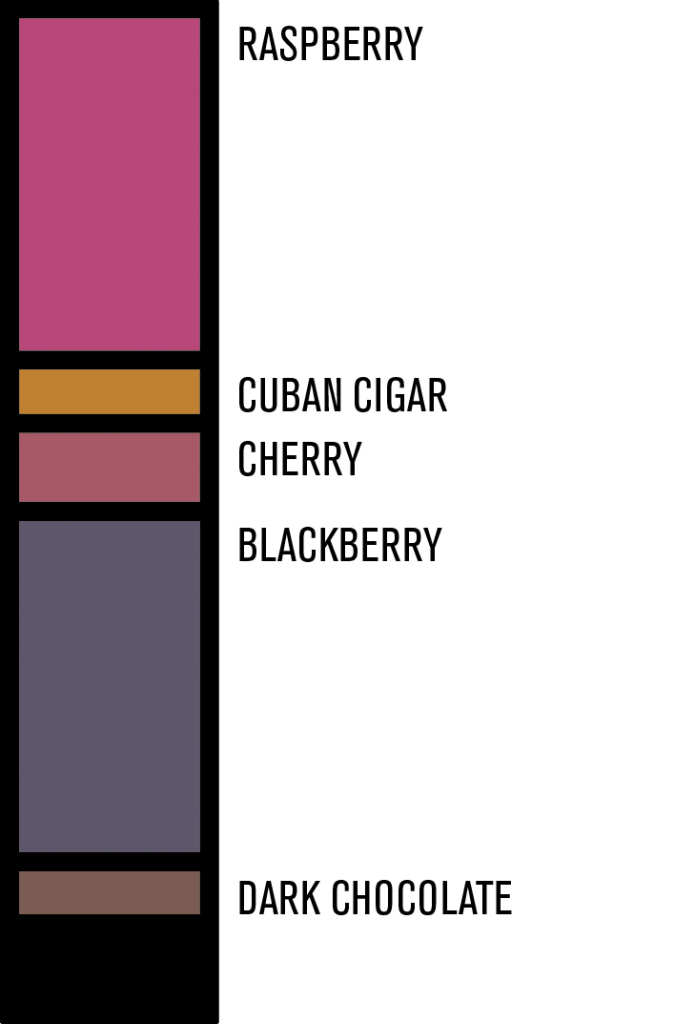 The color code isn't explained on the label, but Uproot explains the codes in social media promotions and at social sales events that are a key part of its marketing strategy.
But once the consumer become familiar with the brand, and understands the color coding, I think it's a great marketing twist that can be appealing to the targeted consumers.  And practically speaking, consumers can get a sense for the flavor profile of the wine in a glance.
In addition to this wine, Uproot also produces a Grenache, and Grenache Blanc from the Santa Ynez Valley, a Rose and a couple of Sauvignon Blancs.
The Wine
This wine was made from grapes sourced from Howell Mountain. It was fermented in 65 percent new French oak from four different coopers.
14.4% alcohol; Retail – $78; Production – 450 cases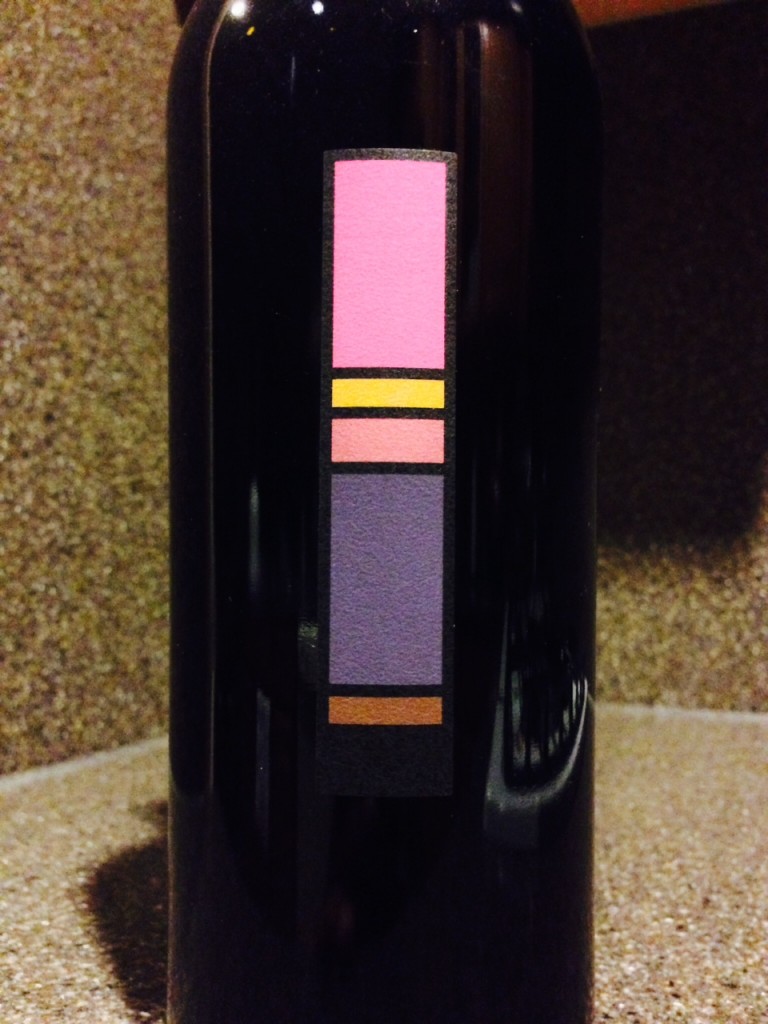 My tasting notes follow:
Garnet color with appealing cigar, black cherry, blackberry, and dark chocolate aromas. On the palate, it's medium-bodied, elegant, and focused with firm tannins, and blackberry, cassis, black cherry, dark chocolate flavors and a long finish. 
Rating: A-: This is an outstanding bottle of Cab that should continue to improve if you choose to lay it down for a few years.
Pair with: I paired this wine with grilled lamb loin chops – great pairing!  Also consider pairing with braised short ribs, or Portabello Mushroom Stroganoff.
Sample provided for review
Ratings Key:
(A+) – 95-100/Extraordinary
(A) – 92-95/Outstanding
(A-) – 89-91/Very Good to Outstanding
(B+) – 86-88/Very good
(B) – 80-85/Good
(C) – 70-79/Bleh
(D) – 50-69/#Fail
 __________________________________________________________________
Martin Redmond is a Financial Executive by day, and a certified wine geek with latent foodie tendencies the rest of the time. In addition to the wine lifestyle and food he enjoys family, fitness and traveling. He likes to get thoughts of wine off his mind by sharing experiences on his ENOFYLZ Wine blog, which features wine reviews, wine country travel, and wine and food pairings.
Follow me on Twitter @martindredmond for all things wine, and since I'm a wino, with latent foodie tendencies, you'll also find food and wine pairings, and food related stuff! Become a fan and join ENOFYLZ Wine Blog on Facebook. Cheers!
This article is original to ENOFYLZ Wine Blog.com. Copyright 2014 ENOFYLZ Wine Blog. All rights reserved.