Rosé season is in full bloom, although truth be told, it's Rosé season for me pretty much year-round for me!  With that in mind, I'm cranking up my annual series of weekly "Drink Pink!" Rosé tastings.  It's my quest for the best Pink Porch Pounders for $20 or less!  This week's rosé is the 2013 Copain Tous Ensemble Rosé.
The Winery
Copain Winery was founded by winemaker Wells Guthrie in 1999.  According to the Copain website…
Wells Guthrie discovered early on that his taste in wine gravitated toward Europe in general and France's Rhône Valley in particular. So much so, he picked up and moved with his new bride to the region to learn from the best. For two years, Wells apprenticed for esteemed winemaker and living legend Michel Chapoutier in France's Rhone Valley. During that time, Wells was deeply inspired by the traditions and practices of French winemaking, not to mention the European attitude that wine is an essential part of life.
Guthrie started the winery with an old friend, and named it Copain, which means 'friend" in French.
Copain is focused on Chardonnay, Pinot Noir,and Syrah.  They also produce this Rosé, and an interesting, food friendly and outstanding wine named "P2″ which is a 50/50 blend of Pinot Noir and Pinot Gris. They offer three lines of wines, the entry-level "Tous Ensembles", mid-level "Les Voisins", and their top of the line "Single Vineyard" Wines.
The Wine
The fruit for this Pinot Noir-based Rosé is sourced from the cool-climate Anderson Valley.  I generally prefer Rosé made from Rhone grape varieties, but this wine has been a repeat purchase for me over the years.  It's shows more finesse than most Rhone based rosé.  It doesn't reveal it's charms as quickly as many rosés, but with a bit of time in the glass it reveals a moderate complexity. It's certainly worth the wait!
100% Pinot Noir | 12.7% alcohol| Retail – $20 (I purchased for $17)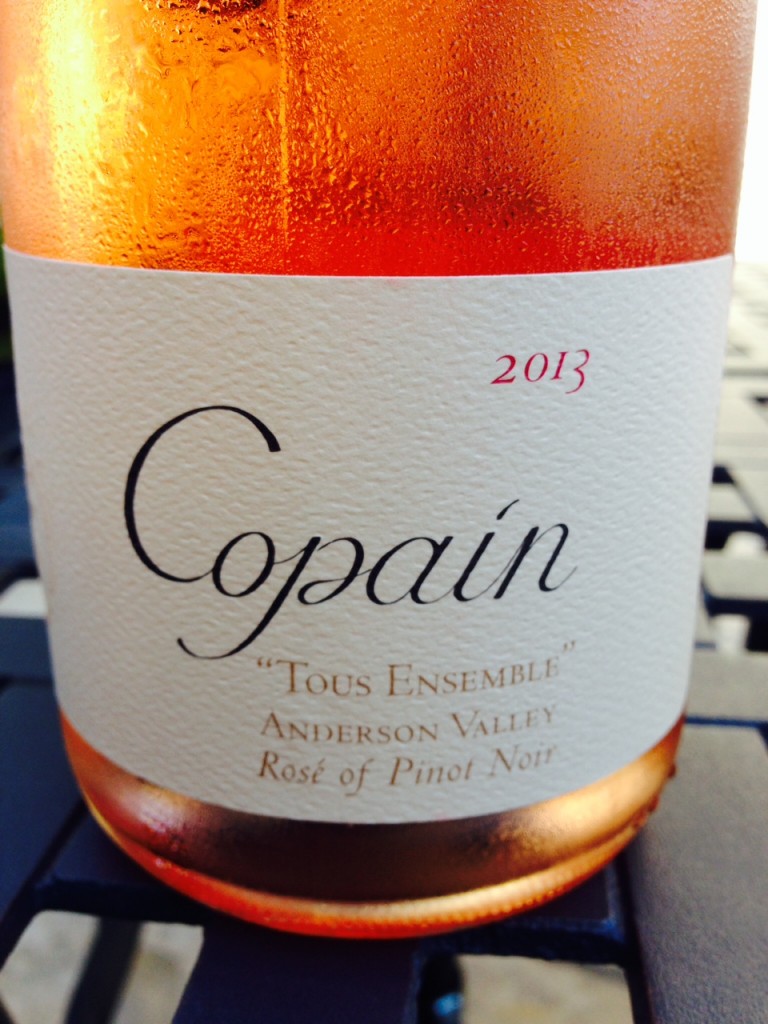 My tasting notes follow:
Pale pink with salmon highlights and aromatic cherry, watermelon, and dried rose aromas. On the palate, it's light-bodied with a supple texture, vibrant acidity and cherry, raspberry, watermelon, blood orange and mineral flavors. Lingering finish. 
Rating: A-: A perennial favorite that always delivers!  >>Find this wine<<
Pair with: This is a light-bodied wine, pair with lighter warm weather fare such as light salads, light pasta and rice dishes, and raw or lightly cooked shellfish, grilled fish and goats' cheeses.
Sample purchased for review
Ratings Key:
(A+) – 95-100/Extraordinary
(A) – 92-95/Outstanding
(A-) – 89-91/Very Good to Outstanding
(B+) – 86-88/Very good
(B) – 80-85/Good
(C) – 70-79/Bleh
(D) – 50-69/#Fail
__________________________________________________________________
Martin Redmond is a Financial Executive by day, and a certified wine geek with latent foodie tendencies the rest of the time. In addition to the wine lifestyle and food he enjoys family, fitness and traveling. He likes to get thoughts of wine off his mind by sharing experiences on his ENOFYLZ Wine blog, which features wine reviews, wine country travel, and wine and food pairings.
Follow me on Twitter @martindredmond for all things wine, and since I'm a wino, with latent foodie tendencies, you'll also find food and wine pairings, and food related stuff! Become a fan and join ENOFYLZ Wine Blog on Facebook. Cheers!
This article is original to ENOFYLZ Wine Blog.com. Copyright 2014 ENOFYLZ Wine Blog. All rights reserved.