Every Thursday I feature a wine I particularly enjoy, whether it's something new and different, is a great value, or from a producer worth checking out.  For this week, my Wine of the Week is the 2012 Glenelly "Grand Vin" Chardonnay.
The Winery
The Glenelly Estate is in the Idas Valley, located in Stellenbosch, on the southern slopes of the Simonsberg Mountain. The history of the winery dates back to the seventeenth century, The estate was purchased by a British family, the Garlicks in 1911, and was  run as a fruit farm (pears and plums) for 92 years.
In 2003 May de Lencquesaing, seeing great potential in the terroir of the 128 hectares Glenelly farm, acquires the estate from the Garlick family.  In 2006, she commenced construction on a state of the art gravity flow winery.  In 2007 she sold Chateau Pichon, a Grand Cru Bordeaux estate to Roederer Champagne to devote her time to the construction of Glenelly.   The winery officially opened in 2010.
The Wine
This wine won our wine tasting club's most recent "smackdown" against 7 worthy competitors from around the world including, Chablis, Burgundy, California, Oregon, Italy, Australia and New Zealand.
The grapes were whole cluster pressed. The juice was transferred to new and second fill 500L barrels after a brief settling. It was naturally fermented and then left for 9 months on its lees. Total time in barrel was 10 months.
13% alcohol. Retail – $20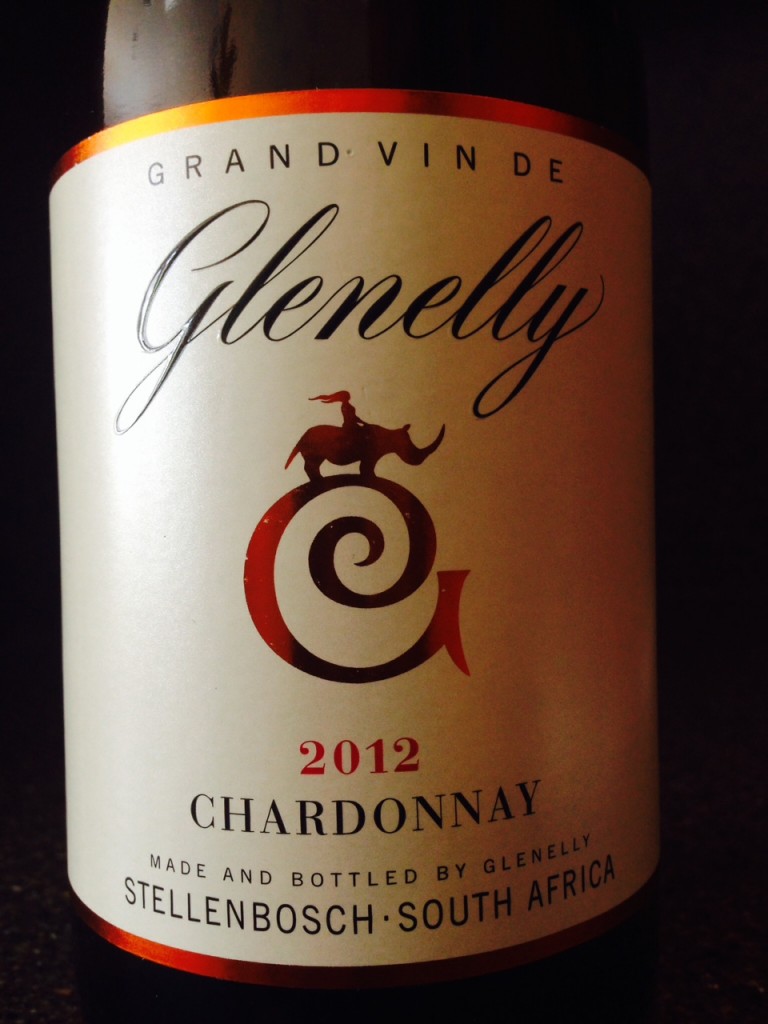 My tasting notes follow:
Pale golden color with stonefruit, citrus, butterscotch, and vanilla aromas. On the palate, it's medium-bodied, supple and layered with lively acidity and apple, citrus, vanilla, and mineral notes. Long finish. 
Rating: A-: This gem from South Africa offers a high QPR!  I've already purchased more.  Highly recommended!  >>Find this wine<<
Pair with: Ham or cheese-based salads such as caesar salad or chicken salads that include peach, mango or macadamia nuts, poached salmon, pan-fried red snapper, shellfish in a creamy sauce, or mild curries with buttery sauces (such as makhani chicken )
Sample purchased for review
Ratings Key:
(A+) – 95-100/Extraordinary
(A) – 92-95/Outstanding
(A-) – 89-91/Very Good to Outstanding
(B+) – 86-88/Very good
(B) – 80-85/Good
(C) – 70-79/Bleh
(D) – 50-69/#Fail
Related posts you might enjoy:
__________________________________________________________________
Martin Redmond is a Financial Executive by day, and a certified wine geek with latent foodie tendencies the rest of the time. In addition to the wine lifestyle and food he enjoys family, fitness and traveling. He likes to get thoughts of wine off his mind by sharing experiences on his ENOFYLZ Wine blog, which features wine reviews, wine country travel, and wine and food pairings.
Follow me on Twitter @martindredmond for all things wine, and since I'm a wino, with latent foodie tendencies, you'll also find food and wine pairings, and food related stuff! Become a fan and join ENOFYLZ Wine Blog on Facebook. Cheers!
This article is original to ENOFYLZ Wine Blog.com. Copyright 2014 ENOFYLZ Wine Blog. All rights reserved.