Rosé season is in full bloom, although truth be told, it's Rosé season for me pretty much year-round for me!  With that in mind, I'm cranking up my annual series of weekly "Drink Pink!" Rosé tastings.  It's my quest for the best Pink Porch Pounders for $20 or less!  This week's Rosé is the 2013 Tablas Creek Patelin de Tablas Rosé.
The Winery
Tablas Creek Vineyard ("TCV") is probably the best-known of all Paso Robles wineries specializing in Rhone style wines.  It is a partnership between Robert Haas, and the Perrin Family of Chateau de Beaucastel in the Chateauneuf du Pape region in France. What I find interesting about TCV is that they specifically chose to establish themselves in Paso Robles because of the similarities of the soil conditions and climate of Paso Robles to Chateauneuf du Pape.  They went as far as to import vines from Chateauneuf du Pape.  The vines were propagated and grafted in their on-site nursery and used to plant their 120 acre organic vineyard.  Check the full story here.
The Wine
Tablas Creek ("TCV") is no newcomer to Rosé.  Unlike many relative newcomers who have hopped aboard the dry Rosé bandwagon as of late, TCV has been producing a Rosé since 1999. And that's no surprise given their association with Chateau de Beaucastel in the Southern Rhone region in France – the spiritual home of Rosé.
Like most rosé wines from the Rhône Valley, it is based on the bright strawberry fruit and fresh acidity of Grenache, with additions of darker fruit, structure and spice from Mourvèdre and Counoise.
As they did last year, Tablas Creek produced two Rosés for 2013.  This bottling is part of their excellent value-oriented Patelin de Tablas line, which also includes white and red Rhone blends.
This year, it's a blend of 73% Grenache, 22% Mourvedre, 5% Counoise sourced from seven top Rhône vineyards in Paso Robles.
Retail – $20; 14.1% alcohol; 1540 Cases Produced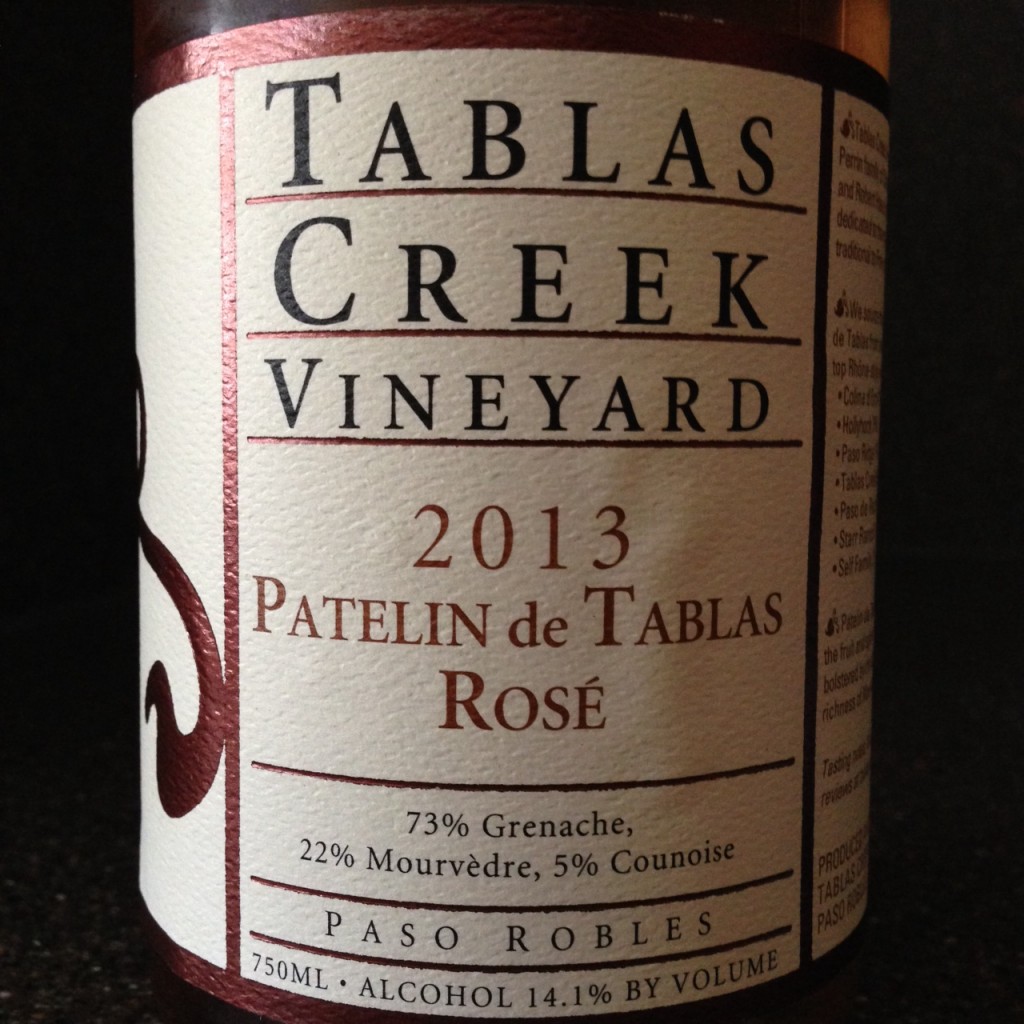 My tasting notes follow:
Pale pink color with strawberry, cherry, dried rose aromas. On the palate it approached medium-bodied, and is fresh with strawberry, cherry, and spiced citrus flavors underscored with a bit of minerality. Lingering finish. 14% alcohol. 
Rating:  A-: A perennial favorite that's on the verge of excellence, and continues to deliver! Will buy more!
Pair with: Charcuterie, pâté, salade niçoise, Andalusian Gazpacho, sausages or Barbeque Chicken Tikka Kebabs.
Sample purchased for review 
(A+) – 95-100/Extraordinary
(A) – 92-95/Outstanding
(A-) – 89-91/Very Good to Outstanding
(B+) – 86-88/Very good
(B) – 80-85/Good
(C) – 70-79/Bleh
(D) – 50-69/#Fail
__________________________________________________________________
Martin Redmond is a Financial Executive by day, and a certified wine geek with latent foodie tendencies the rest of the time. In addition to the wine lifestyle and food he enjoys family, fitness and traveling. He likes to get thoughts of wine off his mind by sharing experiences on his ENOFYLZ Wine blog, which features wine reviews, wine country travel, and wine and food pairings.
Follow me on Twitter @martindredmond for all things wine, and since I'm a wino, with latent foodie tendencies, you'll also find food and wine pairings, and food related stuff! Become a fan and join ENOFYLZ Wine Blog on Facebook. Cheers!
This article is original to ENOFYLZ Wine Blog.com. Copyright 2014 ENOFYLZ Wine Blog. All rights reserved.