Every Thursday I feature a wine I particularly enjoy, whether it's something new and different, is a great value, or from a producer worth checking out.  For this week, my Wine of the Week is the 2001 Marques de Legarda Gran Reserva Rioja.
The Winery
Marqués de Legarda is one of two labels sold by Bodegas de la Real Divisa.  Founded in 1367, Bodegas de la Real Divisa is one of Europe's oldest wineries.  It is located in  the Rioja Alta village of Ábalos.
Along with Marqués de Riscal and Marqués de Murrieta (with which I'm familiar) Bodega de la Real Divisa is one-third of the trinity of the region's most storied wineries.  In the 1860s, they were the first in Spain to age their wine in oak barrels, as the French did. They were the first winery in Rioja to receive a medal at the Exhibition of Bordeaux in 1895.  The winery is still owned by its founding family.
The Wine
Marqués de Legarda , is produced in very limited quantities. Gran Reservas, such as this wine, are only made in exceptional years and come from the very best vineyards.  In fact, the previous vintage of Marqués de Legarda was 1995.
It's a blend of 91%Tempranillo, 7% Graciano, and 2% Mazuelo 2% from estate vineyards. It spent 37 months primarily in used American oak, with about a 30% portion of used French oak, before being bottle for an addition 3 years!
Retail – $30; Drink now or hold for another 7-10 years!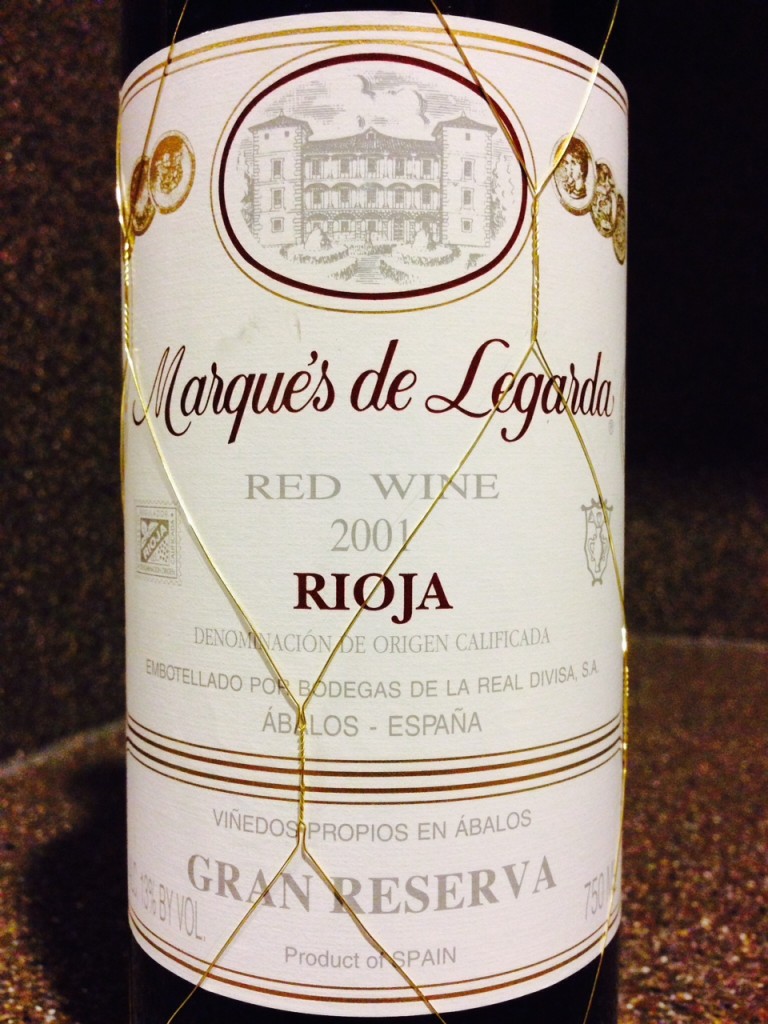 My tasting notes follow:
Ruby color with leather, red fruit, damp earth, balsamic and spiced vanilla aromas. On the palate it's light-boded and elegant, yet intense, with harmonious strawberry, mixed ripe and sour cherry, spiced vanilla and mineral flavors. Long finish. Gains complexity with time in the glass. 13% alcohol.  >>Find this Wine<<
Rating: A-: Outstanding value at $30!  This is a traditionally styled Gran Reserva from a spectacular vintage.
Pair with:  Sauteed mushroom, Duck confit, Roasted Squab or Pheasant, or fall or winter stews.
Sample purchased for review
Ratings Key:
(A+) – 95-100/Extraordinary
(A) – 92-95/Outstanding
(A-) – 89-91/Very Good to Outstanding
(B+) – 86-88/Very good
(B) – 80-85/Good
(C) – 70-79/Bleh
(D) – 50-69/#Fail
Related posts you might enjoy:
__________________________________________________________________
Martin Redmond is a Financial Executive by day, and a certified wine geek with latent foodie tendencies the rest of the time. In addition to the wine lifestyle and food he enjoys family, fitness and traveling. He likes to get thoughts of wine off his mind by sharing experiences on his ENOFYLZ Wine blog, which features wine reviews, wine country travel, and wine and food pairings.
Follow me on Twitter @martindredmond for all things wine, and since I'm a wino, with latent foodie tendencies, you'll also find food and wine pairings, and food related stuff! Become a fan and join ENOFYLZ Wine Blog on Facebook. Cheers!
This article is original to ENOFYLZ Wine Blog.com. Copyright 2014 ENOFYLZ Wine Blog. All rights reserved.