When I started this blog in July 2010, I took (ah the benefit of hindsight) the " Ready, Fire, Aim" approach.  I knew next to nothing about blogging.  All I knew is that I had a passion for wine that I wanted to share.  And that I wanted to continue to educate myself about wine, and share what I learned along the way.
Quite naturally, I checked out other wine blogs to see how it was done.  To see what a successful wine blog looked like.
One of the first that I came across that I really admired and enjoyed was Simple Hedonisms, a blog about food, wine and the wine country lifestyle created by William Allen, a.k.a. "Sonoma William".  William's "voice" resonated with me on many levels, including a love of wines made of Rhône grape varieties, and dry Rosé.  In fact, at one point William was seeking a writer for Simple Hedonisms to cover the Livermore area. Since that's the wine region closest to home, I seriously considered contacting him, but I felt I didn't have enough experience at that point.
But what was most intriguing to me was William's transition from wine writer to winemaker and establishing his Two Shepherds, which was happening during 2010. His trials, tribulations, and triumphs were laid bare in his My 2010 Rhone Harvest – Garagiste or Passion Gone Runaway? series on the blog.
Two Shepherds is a one man micro winery, committed to making old world style wines that express vintage and place.  William specializes in Rhone varieties (e.g. Grenache, Mourvèdre, Roussanne,) from cool climate vineyards and unique plantings, made with minimal intervention.
The transition wine blogger to winemaker has been a very successful (click here for the full story), including being named as one of Wine Business Top 10 Hot Brands last year.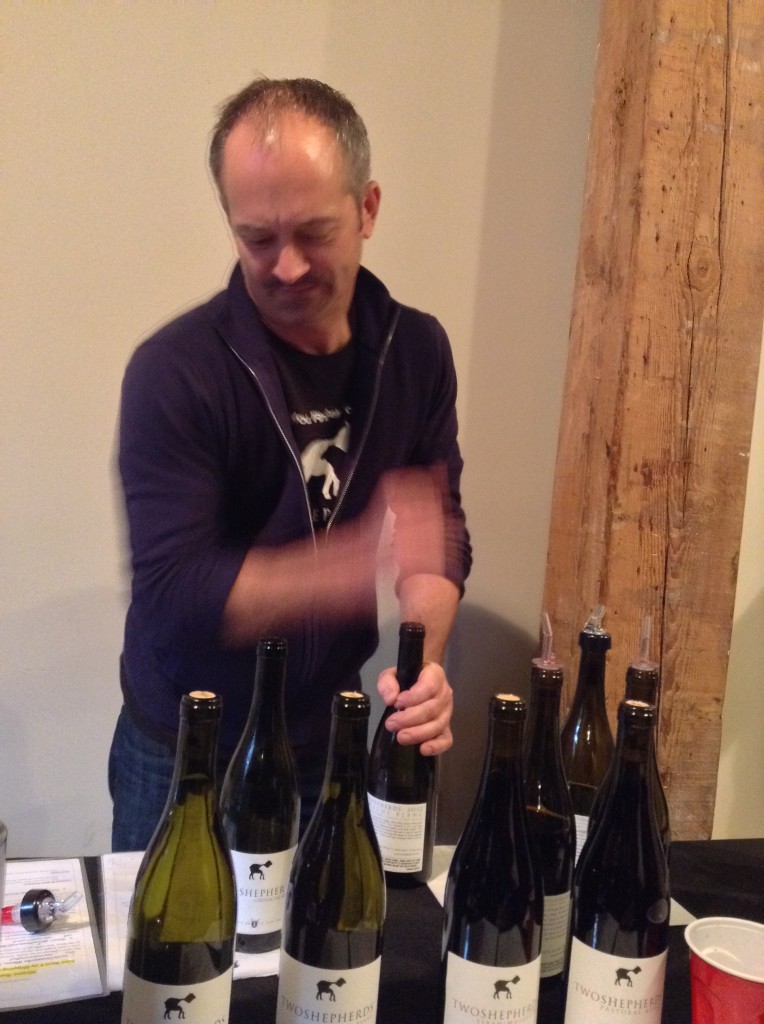 His wines have been featured in the San Francisco Chronicle, Press Democrat, Wine & Spirits Magazine, and numerous wine blogs and online publications.  Recently, Two Shepherds was one of the 125 wineries profiled in Jon Bonné's new book, "The New California Wine: A Guide to the Producers and Wines Behind a Revolution in Taste."
In addition to being a one-man show at Two Shepherds, William is a tireless advocate for Rhône wines, serving as a Board Member of the Rhone Rangers and their North Coast Chapter President.
Production has grown from 175 cases in 2010, to about 1,000 in 2013.  Ultimately he'd like to get to about 2,000 cases, but he wants to remain an "artisan" producer.
Here's what blows my mind. He's done all this while keeping his  "day job"!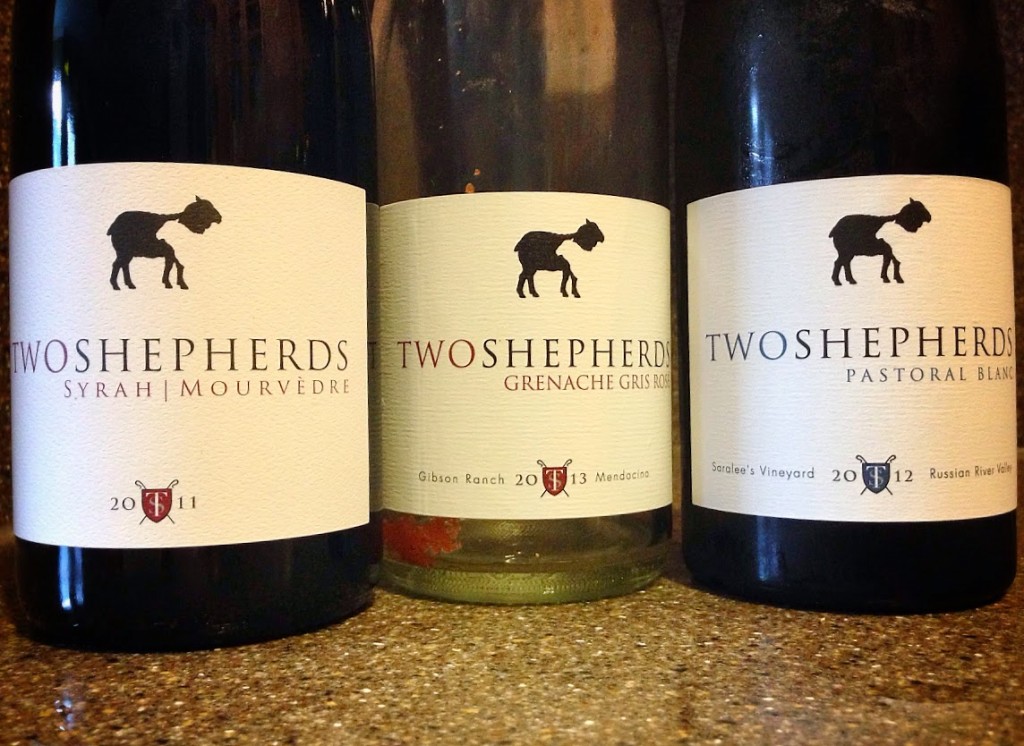 The Wines
2012 Two Shepherds Pastoral Blanc Saralee's Vineyard – California, Sonoma County, Russian River Valley – Pale yellow gold color with restrained peach, melon, and honeysuckle aromas. On the palate, it approaches medium-bodied, is well structured and fresh with an alluring creamy texture. It shows peach, apricot, spice and a hint of tropical flavors.  Long finish. Retail:$28. Serve between 50-55 to maximize enjoyment of aromas and flavors; Rating: A-
This one is a baby, but built to age.  I expect it to continue to gain complexity with further bottle aging.  Blend of 50% Roussanne, 35% Marsanne, 10% Viognier and 5% Grenache Blanc. Aged 4-8 months in neutral oak, 4 months on lees. 13.8% alcohol. 105 cases produced.
2013 Two Shepherds Grenache Gris Gibson Ranch – California, North Coast, Mendocino – Slightly cloudy coral color with delightful peach skin, citrus, wet stone and spice aromas. On the palate, it's medium-bodied, fresh, refreshing and dry on the front palate with ample white peach, tangerine, with hints or spice and mineral flavors that build with time on the palate. Lingering finish.  Retail – $24 ; Serve between 52-56 to maximize enjoyment of aromas and flavors; Rating: A-
Made from Grenache Gris, from a restored 100-year-old Gibson Ranch vineyard in Mendocino, that is dry farmed & head trained. The grapes were crushed and left on the skins for 7 days, then pressed into neutral barrel and fermented on native yeast. Atypical for rosé, it went through full malolactic fermentation, allowing it to be bottled, both unfined and unfiltered, the latter also unusual for rosé 12.5% alcohol; 33 cases produced.
As for the slightly cloudy appearance, William once wrote in review of another unfiltered and unfined Rosé – "If you are worried about cloudy white & rose' – time to put on your big boy wine pants, it can mean a superior, not inferior, wine.  It certainly means ballsy, and Parker can kiss my lees". I second that emotion!
2011 Two Shepherds Syrah | Mourvedre – USA, California – Ruby color with expansive blackberry, black currant, spice and a hint of black licorice aromas. On the palate, it's medium-bodied, and harmonious with a bit of grip that I enjoyed. It shows fresh blackberry, black raspberry, plum and spice flavors. Long finish. Blend of 55% Syrah (Saralee's Vineyard, Russian River Valley), and 45% Mourvèdre (El Dorado) Aged 10 months in neutral French oak. 13.8% alcohol. Retail – $38. 40 cases produced.  Rating: A
All the wines show an "Old World" style of finesse and balance. Highly recommended!
Disclosure: Wines were provided for review. Thoughts are my own.
Ratings Key:
(A+) – 95-100/Extraordinary
(A) – 92-95/Outstanding
(A-) – 89-91/Very Good to Outstanding
(B+) – 86-88/Very good
(B) – 80-85/Good
(C) – 70-79/Bleh
(D) – 50-69/#Fail
__________________________________________________________________
Martin Redmond is a Financial Executive by day, and a certified wine geek with latent foodie tendencies the rest of the time. In addition to the wine lifestyle and food he enjoys family, fitness and traveling. He likes to get thoughts of wine off his mind by sharing experiences on his ENOFYLZ Wine blog, which features wine reviews, wine country travel, and wine and food pairings.
Follow me on Twitter @martindredmond for all things wine, and since I'm a wino, with latent foodie tendencies, you'll also find food and wine pairings, and food related stuff! Become a fan and join ENOFYLZ Wine Blog on Facebook. Cheers!
This article is original to ENOFYLZ Wine Blog.com. Copyright 2014 ENOFYLZ Wine Blog. All rights reserved.