Every Thursday I feature a wine I particularly enjoy, whether it's something new and different, is a great value, or from a producer worth checking out.  For this week, my Wine of the Week is the 2011 JC Cellars Isabel Dusi Vineyard Zinfandel.
The Winery
JC Cellars ("JCC") is an award-winning urban winery located in Oakland, CA.  Jeff Cohn is the winemaker and president. His wife Alexandra Cohn is the CFO. The winery was founded in 1997.
JCC is best known for their single vineyard Zinfandels, and Rhone blends. Their impressive portfolio of wines includes white and red Rhône blends, Syrah, Petite Sirah, a few other "red blends" (most notably, the Imposter and Smoke and Mirrors) Pinot Noir, a Rosé, a newly release single vineyard Cabernet Sauvignon, and a dessert wine. Annual production is about 5000 cases.
Jeff has access to some prime fruit, including renowned vineyards such as Rockpile in Sonoma, Stagecoach in Napa, and Dusi in Paso Robles. And Jeff certainly knows how to make great fruit into great wine. JCC has earned boatloads of 90+ point wines from major wine publications like Wine Spectator, and the Wine Advocate.
I think it's fair to say Jeff likes to "tinker", or as the JC Cellars website put it… "Jeff fuses his passion for classic French winemaking with New World innovation". He released his first Pinot Noir last summer, and sells a Viognier that is a collaboration with a French winery –  Domaine François Villard of Condrieu.  As if his gig at JC Cellars/Jeff Cohn Wines weren't enough, Jeff is also a consulting winemaker.
The Wine
The fruit for this wine is sourced from the Isable Dusi Vineyard in Paso Robles.  Here's what Jeff says about the vineyard…..
The Isabel Dusi Vineyard sits along Highway 101 in Paso's Templeton Gap – which means that is gets some cooling influence from the Pacific.  The vines here are 60 to 80 years old, dry farmed, the zin interrupted by an occasional vine of carignane.
Retail – $35; Alcohol – 15.5%; Drink now to 2019.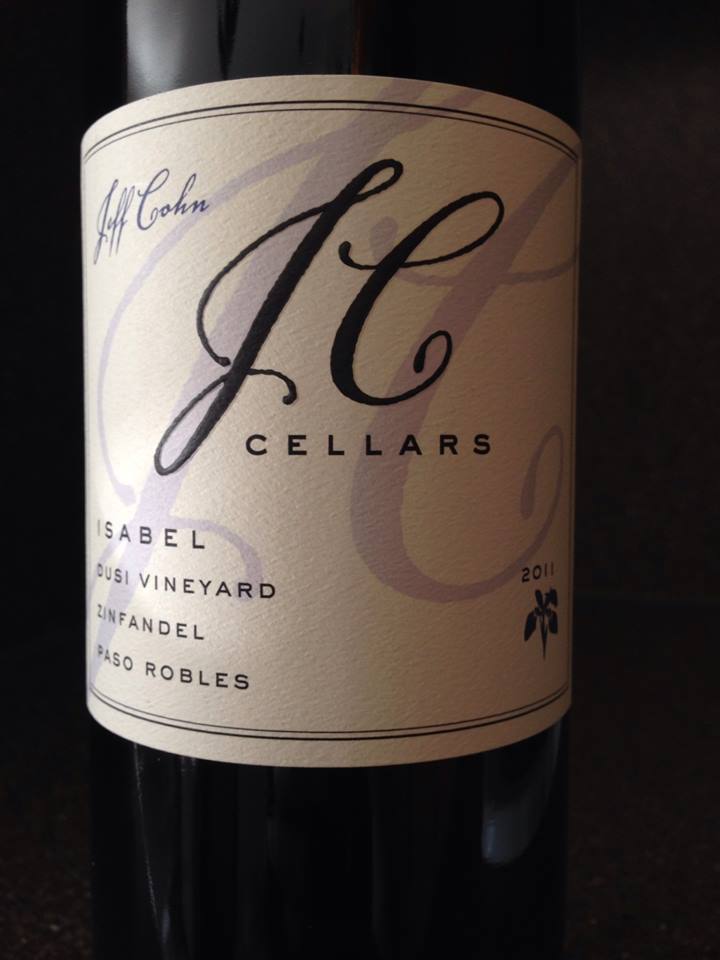 My tasting notes follow:
Garnet color with pleasing blackberry, black cherry, pepper, bramble, spice and a hint of smoke aromas. On the palate, it's medium bodied, focused,  and well structured, with silky texture, supple well-integrated tannins and blackberry, black cherry, a bit of raspberry, and spice flavor with a delicious long finish. 
Rating: A-: This is an excellent example of how elegant Zinfandel can be!
Pair with:  Smoked baby back ribs!  But don't stop there…try with smoked or barbecued chicken, Asian mahi mahi
Sample purchased for review
Ratings Key:
(A+) – 98-100/Extraordinary
(A) – 94-97/Outstanding
(A-) – 90-93/Excellent
(B+) – 86-89/Very good
(B) – 80-85/Good
(C) – 70-79/Bleh
(D) – 50-69/#Fail
__________________________________________________________________
Martin Redmond is a Financial Executive by day, and a certified wine geek with latent foodie tendencies the rest of the time. In addition to the wine lifestyle and food he enjoys family, fitness and traveling. He likes to get thoughts of wine off his mind by sharing experiences on his ENOFYLZ Wine blog, which features wine reviews, wine country travel, and wine and food pairings.
Follow me on Twitter @martindredmond for all things wine, and since I'm a wino, with latent foodie tendencies, you'll also find food and wine pairings, and food related stuff! Become a fan and join ENOFYLZ Wine Blog on Facebook. Cheers!
This article is original to ENOFYLZ Wine Blog.com. Copyright 2014 ENOFYLZ Wine Blog. All rights reserved.