A friend of mine,  who adores sparkling wine, especially Prosecco,  IM'd me last week. The message said "Martin go get yourself 2 bottles of Costco brand prosecco…….it will blow your mind for the price….I was just shocked".
He drinks a lot of Prosecco.  That's high praise.
Since my wife and I were hosting a wine tasting a couple of days hence, I figured I'd give it a try.  Sparkling wines make a great aperitif, and go with just about anything.
I headed over to my local Costco.  The Kirkland Prosecco sells for $7.49!
The packaging immediately reminded me of another popular Prosecco that I'm quite fond of and have purchased many times…La Marca Prosecco which also sports a blue label. It sells at Costco for $10.99.  In fact, the two were sold side by side….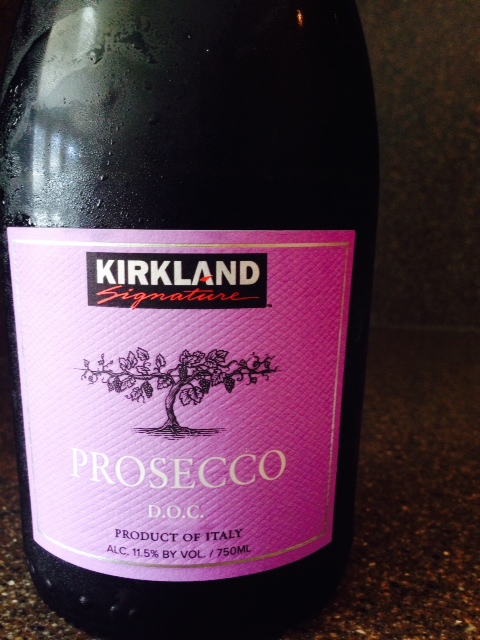 When I looked at the back label, I noticed two things:
The first thing is that the fruit was sourced from the Friuli region, rather than the more typical Veneto region.
The second thing, I noticed is that it's imported by Cameron Hughes ("CHW").  I recalled CHW also, relatively recently, released a Prosecco.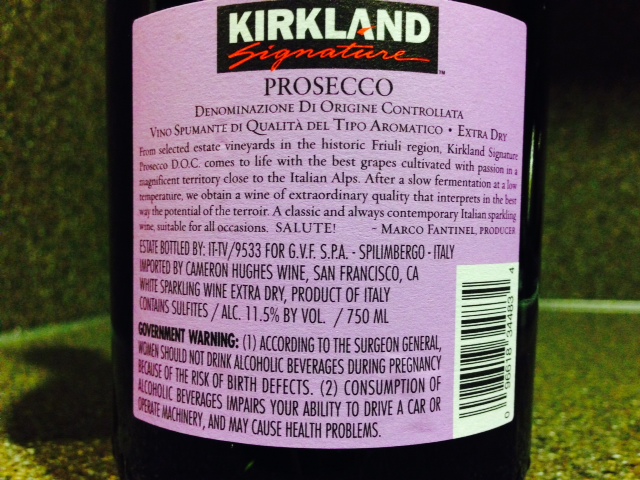 I started feeling all investigative journalist – ish, so I popped over to the CHW website and checked out their Prosecco.
Hmmmm…their Prosecco is also sourced from Friuil…
Could it be the same Prosecco sold by Cameron Hughes for $14 is packaged differently and sold at Costco for $7.49?
I don't know, but here's what I do know…This Prosecco is flat out delicious!
Here are my detailed tasting notes…Very pale straw color with apple, citrus, brioche and honey aromas. On the palate, light-bodied and between dry and off-dry with a prickly mousse and crisp refreshing apple, mandarin orange and honey flavors. This is my new house bubbly! 11.5% alcohol| Retail – $7.49

Rating: B+: Mind blown…This one is a charmer with an amazing QPR.  Will buy (much) more. You should too!
Pair with: Great an an aperitif, it's also versatile at the table – Some of my favorite foods to pair with Prosecco include tamales, moderately spice Asian cuisine, fish 'n chips, and fish tacos. Works wonderfully with a wide variety of finger foods like potato chips and popcorn too. In fact, try it with Sriracha Popcorn!
Sample purchased for review
Ratings Key:
(A+) – 98-100/Extraordinary
(A) – 94-97/Outstanding
(A-) – 90-93/Excellent
(B+) – 86-89/Very good
(B) – 80-85/Good
(C) – 70-79/Bleh
(D) – 50-69/#Fail
__________________________________________________________________
Martin Redmond is a Financial Executive by day, and a certified wine geek with latent foodie tendencies the rest of the time. In addition to the wine lifestyle and food he enjoys family, fitness and traveling. He likes to get thoughts of wine off his mind by sharing experiences on his ENOFYLZ Wine blog, which features wine reviews, wine country travel, and wine and food pairings.
Follow me on Twitter @martindredmond for all things wine, and since I'm a wino, with latent foodie tendencies, you'll also find food and wine pairings, and food related stuff! Become a fan and join ENOFYLZ Wine Blog on Facebook. Cheers!
This article is original to ENOFYLZ Wine Blog.com. Copyright 2014 ENOFYLZ Wine Blog. All rights reserved.