One of the things I enjoy most about writing this wine blog is that I get a chance to discover exciting wines, and/or a wine tasting regions.  I had a chance to discover
both
 exciting wines and an exciting wine region when I invited by 
Charles Communications Associates
 to participate in an online tasting of the latest spring releases from
Casey Flat Ranch
, located in the
Capay Valley
A.V.A. in Yolo County, California.
The Winery
Casey Flat Ranch ("CFR") is just that.  A working ranch (complete with a modest purebred Longhorn cattle operation) and vineyard.  The property has been owned by  Robert and Maura Morey for nearly 30 years, and was primarily a weekend retreat, until the family decided to plant a vineyard and make wine  (Take a
virtual tour
 of the property).
The CFR vineyard which is planted to Bordeaux, Rhone, and Sauvignon Blanc is planted at 2000 feet elevation is sits on a ridge between Black Mountain and the top of the
Blue Ridge
.
Once the family decided to get into the winemaking business, they consulted renowned viticulturist, 
Tom Prentice
, the highly respected and unassuming founder and Chairman of Crop Care Associates.  It was Prentice, who made recommendations for which grapes would do best on the property, which clones to use, and the layout of the vineyard.
The first vines were planted in 2004 and the vineyard is sustainably cultivated, using materials and farming techniques that emphasize water and soil conservation. The growing season brings warm days and cool nights, creating climate conditions similar to the St. Helena appellation, just 22 miles to the West.
The best vineyard sites are found in the mountains surrounding the valley, where the higher altitude is responsible for a more significant drop in temperature overnight… these mountain vineyards tends to be slightly longer than on lower elevations, and the wines produced are typically more restrained and elegant in style. 
CFR has two labels. In addition to the Casey Flat Ranch label, their second label is "Open Range". The CFR wines are all sourced from estate fruit, while the Open Range (priced between $15-$18) wines are sourced from various trusted vineyard sources throughout Northern California and de-classified CFR vineyard fruit.
The Capay Valley
Prior to this tasting, I wasn't familiar with the Capay Valley.  It's located along the north-western edge of Yolo County, on the border with Napa County.  Here's a visual…
According to Winesearcher.com…
The first settlements in Capay Valley sprung up in the 1850s, following the discovery of gold in California. It wasn't long before the mostly European settlers began to plant grape vines and produce wine. Despite this long history, the area didn't become an AVA until 2003, after a campaign by the region's most prominent winery, Capay Valley Vineyards. The Cache Creek that flows south into Yolo County from Clear Lake (home to the Clear Lake AVA) lends its name to the Capay Valley – capay means 'stream' in the local Native American dialect.
Read more
here
While the Capay Valley is huge at over 100,000 acres, very little is planted to grapes.
The Tasting
The online tasting was led by  
Alison Morey Garrett
, Managing Partner and
Laura Barrett
, Winemaker. The participating wine bloggers were all sent the following wines from Casey Flat Ranch to discuss and taste along:
2013 Estate Sauvignon Blanc (SRP $18)
2013 Estate Viognier (SRP $20)
2013 Estate Syrah Rose (SRP $18)
2010 Estate Red (SRP $35)
If you are interested in the details of the tasting, you can view the recorded video stream at the 
Brandlive link
. It lasts about an hour and is full of information.  
Below are my tasting notes for the wines tasted and discussed
: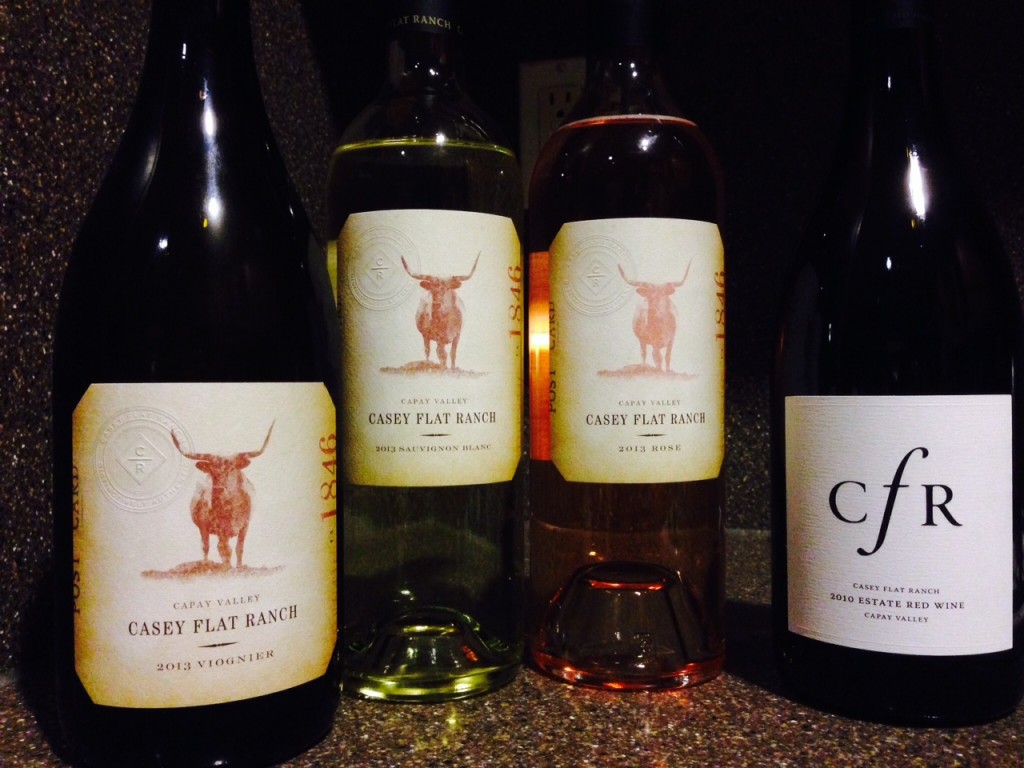 These are wonderful wines. They show the hallmark intensity of mountain fruit, and a compelling minerality that reflect a distinctive sense of place.  And the price is right too at between $18-35.
I encourage you to check out them out!  Of course, you can purchase the wines direct from the winery. But if you're looking to try before you buy, you can check out their wines at Rootstock a co-op tasting room in Winters, or they'll be pouring at Tiburon Wine Festival on May 17th!
Many thanks to Charles Communications Associates and Casey Flat Ranch for the opportunity to discover these exciting wines and putting the Capay Valley on my radar! .
Related posts you might enjoy:
__________________________________________________________________
Martin Redmond is a Financial Executive by day, and a certified wine geek with latent foodie tendencies the rest of the time. In addition to the wine lifestyle and food he enjoys family, fitness and traveling. He likes to get thoughts of wine off his mind by sharing experiences on his ENOFYLZ Wine blog, which features wine reviews, wine country travel, and wine and food pairings.
Follow me on Twitter @martindredmond for all things wine, and since I'm a wino, with latent foodie tendencies, you'll also find food and wine pairings, and food related stuff! Become a fan and join ENOFYLZ Wine Blog on Facebook. Cheers!
This article is original to ENOFYLZ Wine Blog.com. Copyright 2014 ENOFYLZ Wine Blog. All rights reserved.