Every Thursday I feature a wine I particularly enjoy, whether it's something new and different, is a great value, or from a producer worth checking out.  For this week, my Wine of the Week is the 2011 Thierry & Pascale Matrot Bourgogne Blanc.
The Winery
Domaine Matrot is one of the oldest estate-bottlers in Burgundy. It has been distributed in the U.S. for more than 30 years.  The Domaine is owned by Thierry Matrot and his wife, Pascale.  Thierry and Pascale's daughters represent the sixth generation of this wine-growing family.
They farm about 75% of its 45 acres in some of the best vineyard sites in the heart of Burgundy, in the Cote d'Or, just outside of  Meursault, a large village in the Cote de Beaune.  The average age of the vines farmed is about 30 years.
They produce a wide range of other Chardonnay including many premier cru bottlings, along with Aligote and a hand-full of Pinot Noir.
The Wine
I was introduced to this wine at a  La Paulée tasting at my favorite wine store, K&L Wine Merchants, last month (For more on that tasting click here).  Up to that point, my experience with Burgundy was fairly limited.  I felt as if something was missing from my oenophile resume.  After all, Burgundy is one of the most historic and respected  wine regions in the world!  And let's not forget, it can be crazy expense (which why my experience was limited).  However, more reasonably priced gems may be found in Burgundy.  It just takes a bit of effort, and you'll be rewarded handsomely.
This fabulous buy is a rare find from the super-premium world of Burgundy
This wine is 100% Chardonnay,  sourced from vineyards averaging 30 years of age.  It was fermented on native yeast for 8 to 10 weeks in oak barrels, 15 to 20 % of which are new. It was aged for 11 months and undergoes complete malolactic fermentation.
Interestingly, Matrot uses this wine to break in new oak casks for his more expensive and prestigious Meursault.
Retail – $18; Alcohol – 12.5; Drink now to 2016.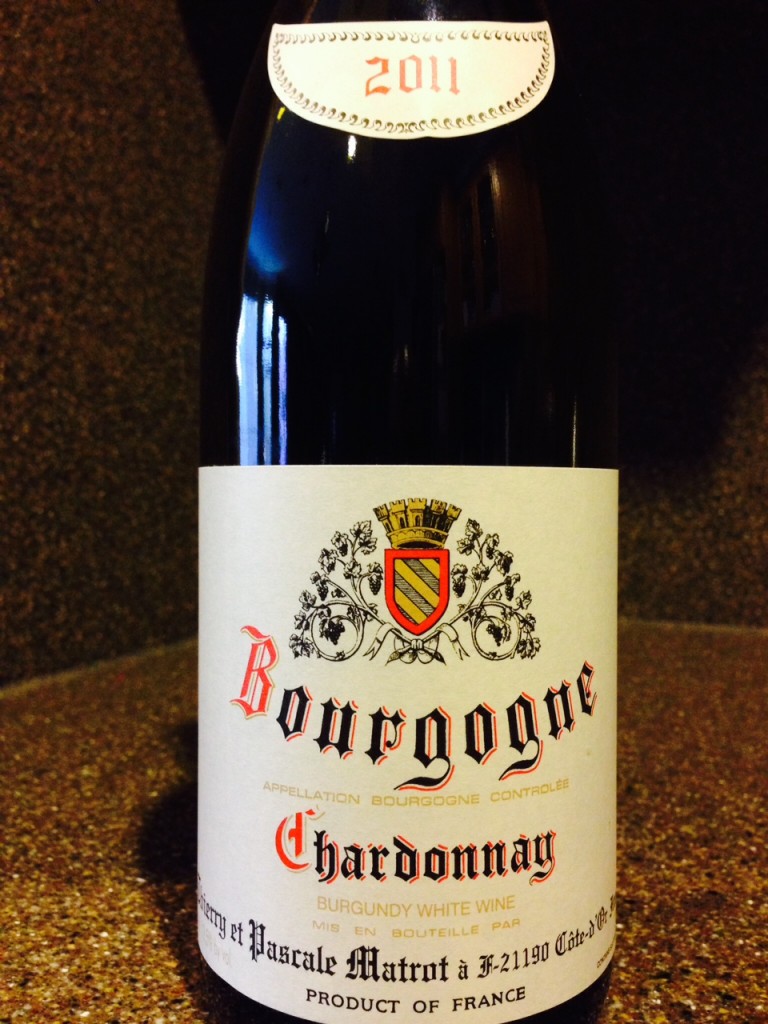 My tasting notes follow:
Pale lemon yellow color with pear, citrus and a hint of white flower aromas. On the palate, it's medium-bodied, focused, and fresh with a rich, wonderful mouth feel and apple, pear and citrus flavors and an appealing minerality. Medium+ finish. >>Find this wine<<
Rating: B+: On the verge of Excellent, this wine offered the best value in the tasting, especially considering the bottles I enjoyed marginally more were $65-$70!.  I just had to pick up some more!
Pair with:  Enjoy as an aperitif or as an accompaniment to charcuterie, chicken and grilled fish.
Sample purchased for review
Ratings Key:
(A+) – 98-100/Extraordinary
(A) – 94-97/Outstanding
(A-) – 90-93/Excellent
(B+) – 86-89/Very good
(B) – 80-85/Good
(C) – 70-79/Bleh
(D) – 50-69/#Fail
__________________________________________________________________
Martin Redmond is a Financial Executive by day, and a certified wine geek with latent foodie tendencies the rest of the time. In addition to the wine lifestyle and food he enjoys family, fitness and traveling. He likes to get thoughts of wine off his mind by sharing experiences on his ENOFYLZ Wine blog, which features wine reviews, wine country travel, and wine and food pairings.
Follow me on Twitter @martindredmond for all things wine, and since I'm a wino, with latent foodie tendencies, you'll also find food and wine pairings, and food related stuff! Become a fan and join ENOFYLZ Wine Blog on Facebook. Cheers!
This article is original to ENOFYLZ Wine Blog.com. Copyright 2014 ENOFYLZ Wine Blog. All rights reserved.