It's April and for me that means, it's the unofficial opening of Rosé season (truth be told it's Rosé season for me pretty much year-round)!  With that in mind, I'm cranking up my annual series of weekly "Drink Pink!" Rosé tastings.  It's my quest for the best Pink Porch Pounders $20 or less!  This week's Rosé is the 2012 Prieuré de Montézargues Tavel Rosé.
The Winery
Prieuré de Montézargues, located near the village of Tavel in the eponymous  AOC, has a rich history dating back to ancient Roman times.  It is sheltered by a forest of oaks, Scots pine and hundred year-old strawberry trees, while also being protected from the strong, cold and northwesterly wind  that blows through Southern France, known as the Mistral, by the Montagne Noire ("Black Mountain").  Grapes in the 33 hectare vineyard are planted on sandy slopes that run down to Pujaut Pond. Eight grape varieties flourish in the Provencal sunshine: Grenache Noir, and Grenache Blanc, Cinsault, Syrah, Mourvèdre, Carignan, Clairette and Bourboulenc  It is owned by the renowned Châteauneuf-du-Pape estate Château La Nerthel.
The Tavel AOC is across the Rhône River from Châteauneuf-du-Pape AOC, and is unique in its specialization of dry Rosé wine.  It's been my experience that the Rosés from Travel tend to be a bit more robust than its many of its other French cousins.
The Wine
First, I want to dispel a myth about Rosé.  I can't tell you how many times, I've heard that a Rosé must be consumed within a year of vintage.  That's simply not true for a quality Rosé such as this.  Granted they're not intended to lay down for years.  On the other hand, you'll find it will still represent itself well within a year or two of the vintage date.
This one is a blend of 55% Grenache Noir and Grenache, 30% Cinsault, 13% Clairette, and 2% Other (Syrah, Mourvedre, Carignan, Bourboulenc).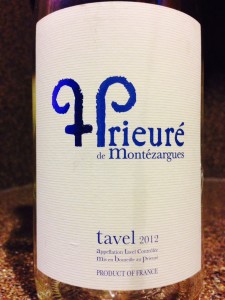 My tasting notes follow:
Light red color with fruity cherry, strawberry, and a hint of Herbes de Provence aromas. On the palate it's pleasingly medium-bodied, with solid acidity.  It shows ample red fruits on entry, but is drier on the back palate with cherry, and peach flavors underscored by an appealing minerality.  Medium finish.13.5% alcohol.   Imported by Pasternak Wines. 5,800 cases produced;  Retail – $18
Rating:  B+:  I have to admit I prefer my Rosé a bit drier, but this is a great example of a more robust fruit forward style of Rosé and it's just damned tasty!
Pair with: Since this wine is a bit more robust, consider pairing with Salad Nicoise, Chicken Teriyaki, grilled poultry, pulled pork sandwiches, or moderately spicy curry dishes.
Sample purchased for review 
(A+) – 98-100/Extraordinary
(A) – 94-97/Outstanding
(A-) – 90-93/Excellent
(B+) – 86-89/Very good
(B) – 80-85/Good
(C) – 70-79/Bleh
(D) – 50-69/#Fail
__________________________________________________________________
Martin Redmond is a Financial Executive by day, and a certified wine geek with latent foodie tendencies the rest of the time. In addition to the wine lifestyle and food he enjoys family, fitness and traveling. He likes to get thoughts of wine off his mind by sharing experiences on his ENOFYLZ Wine blog, which features wine reviews, wine country travel, and wine and food pairings.
Follow me on Twitter @martindredmond for all things wine, and since I'm a wino, with latent foodie tendencies, you'll also find food and wine pairings, and food related stuff! Become a fan and join ENOFYLZ Wine Blog on Facebook. Cheers!
This article is original to ENOFYLZ Wine Blog.com. Copyright 2014 ENOFYLZ Wine Blog. All rights reserved.