Every Thursday I feature a wine I particularly enjoy, whether it's something new and different, is a great value, or from a producer worth checking out.  For this week, my Wine Of The Week is the 2009 Justin Vineyards & Winery Justification.

Justin Winery is a family owned and operated winery making estate grown and produced wines. The property was founded in 1981 by Justin Baldwin when he planted the 160 acre property to the major Bordeaux varietals and created their Estate vineyard.
It was probably the first true "destination" winery in Paso.  Besides the winery there is the JUST Inn B&B, and Restaurant on site.
The winery is located in the Paso Robles appellation of California's Central Coast. The region's first grapes were planted in 1779 by Franciscan missionaries and today are home to the third highest concentration of wineries in the United States
The Wine
I picked up this wine during a trip to Paso Robles a couple of years ago.  Blend of 67% Cab Franc, and 23% Merlot. Aged for 16 months in 100% French Oak Barrels (45% New French oak). 14.9% alcohol.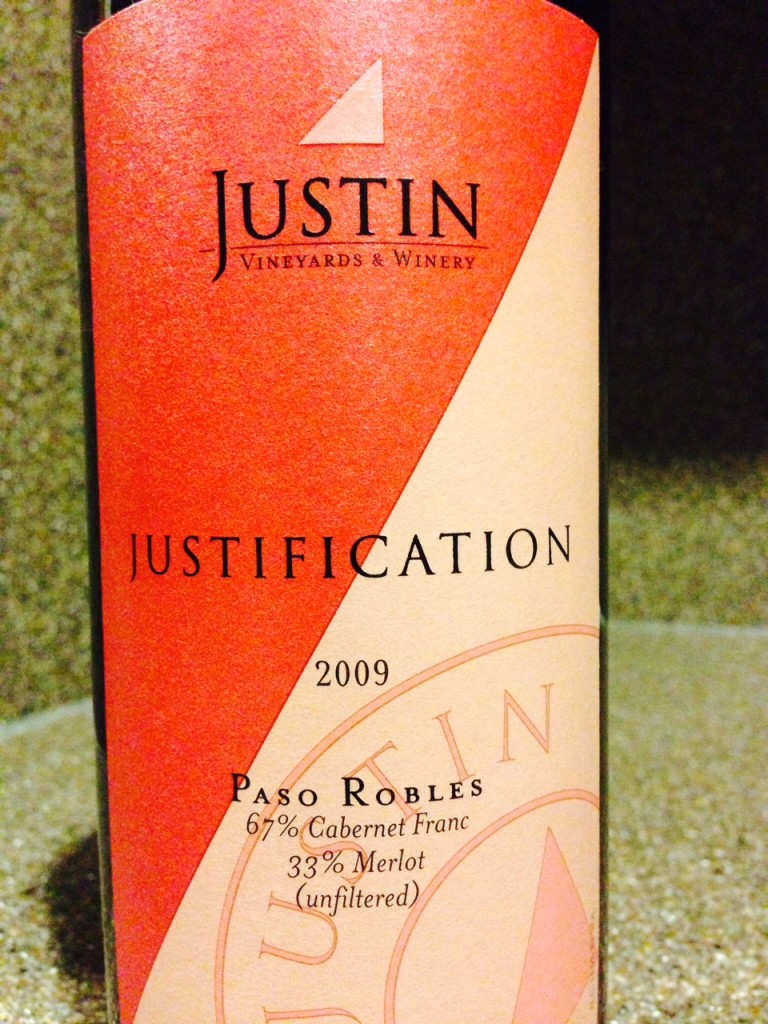 My tasting notes follow:
Garnet color with dark cherry, mixed berry, and a hint of spiced cassis aromas. On the palate, it's medium-bodied, fruit forward and supple with well-integrated tannins, and dark cherry, blueberry, tobacco and vanilla flavors. Medium-long finish.  To find this wine, click here.
Rating: A-: Love this wine.  Wish I had more!
Pair with: Moussaka, Vegetarian Lasagna, or Veal Chops with Portobello Mushrooms.
Sample purchased for review
Related posts you might enjoy:
Ratings Key:
(A+) – 98-100/Extraordinary
(A) – 94-97/Outstanding
(A-) – 90-93/Excellent
(B+) – 86-89/Very good
(B) – 80-85/Good
(C) – 70-79/Bleh
(D) – 50-69/#Fail
__________________________________________________________________
Martin Redmond is a Financial Executive by day, and a certified wine geek with latent foodie tendencies the rest of the time. In addition to the wine lifestyle and food he enjoys family, fitness and traveling. He likes to get thoughts of wine off his mind by sharing experiences on his ENOFYLZ Wine blog, which features wine reviews, wine country travel, and wine and food pairings.
Follow me on Twitter @martindredmond for all things wine, and since I'm a wino, with latent foodie tendencies, you'll also find food and wine pairings, and food related stuff! Become a fan and join ENOFYLZ Wine Blog on Facebook. Cheers!
This article is original to ENOFYLZ Wine Blog.com. Copyright 2014 ENOFYLZ Wine Blog. All rights reserved.
Spread the love!, Share this post