Every Thursday I feature a wine I particularly enjoy, whether it's something new and different, is a great value, or from a producer worth checking out.  For this week, my Wine Of The Week is the 2012 Merry Edwards Sauvignon Blanc.
The Winery
Merry Edwards, one of California's first female winemakers, began her career at Mount Eden Vineyards in the Santa Cruz Mountains in 1974.  In 1997, she co-founded  Merry Edwards Winery, a business venture allowing her to produce from select Pinot Noir grapes in Russian River Valley and Sonoma Coast, including, for the first time, her own vineyards: Meredith Estate, Coopersmith, Georganne, Sanchietti and Flax.
Last year, her 40th year as a winemaker, Merry is inducted into the Culinary Institute of America's Vintners Hall of Fame.
The Wine
My wife and I have visited the winery a few times.  While Merry Edwards is  known mostly for her single-vineyard Pinot Noirs, we always pick up a bottle or two of her Sauvignon Blanc.  It's a Sauvignon Blanc of unique character.
Here's what Merry Edwards Winery says about it..The rich core of this flavorful wine is fruit sourced from vines 25-35 years old. That 54% is complemented by 20% Sauvignon Musqué, which adds floral aromatics and depth not present in other types of Sauvignon Blanc. The remainder is the classic Shenandoah selection…prevalent throughout California.
The wine is fermented in barrel, and undergoes bâttonage, or stirring of lees, which gives the wine it's weight and texture.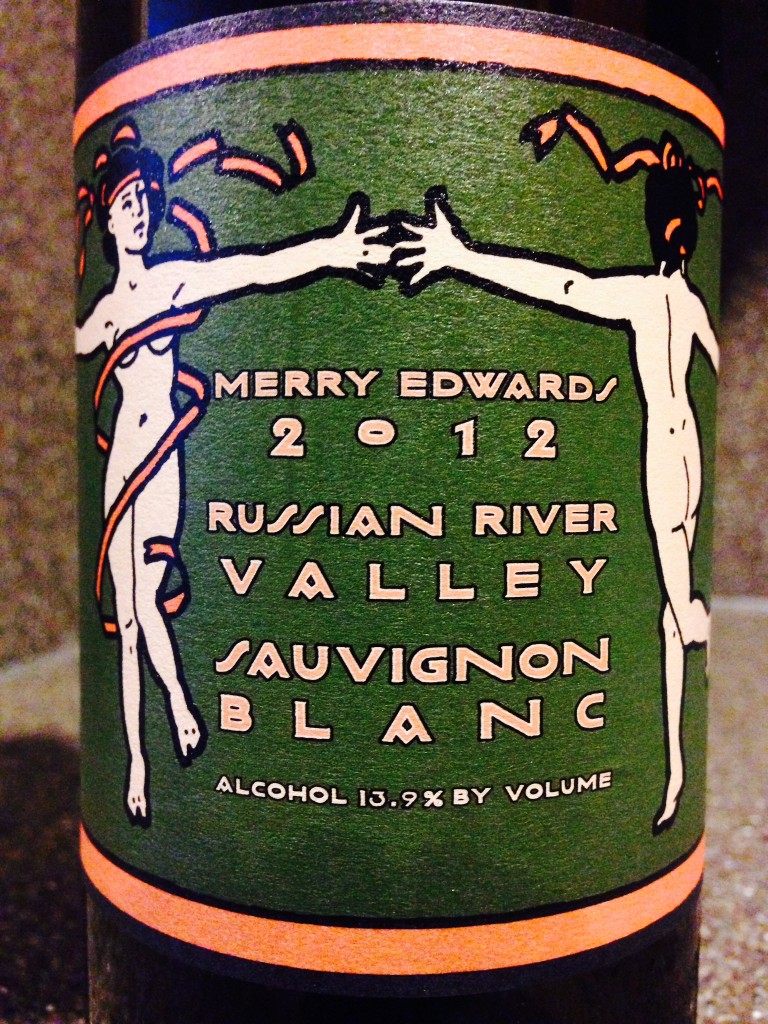 My tasting notes follow:
Pale green tinged straw color with peach, grapefruit, guava and a hint of wet stone aromas. On the palate, its medium-bodied, well structured, and fresh with great texture. It exhibits peach, grapefruit, guava and a hint of honey flavors. Long finish. 13.7% alcohol – $30
Rating: A- :
(A+) – 98-100/Extraordinary
(A) – 94-97/Outstanding
(A-) – 90-93/Excellent
(B+) – 86-89/Very good
(B) – 80-85/Good
(C) – 70-79/Bleh
(D) – 50-69/#Fail
__________________________________________________________________
Martin Redmond is a Financial Executive by day, and a certified wine geek with latent foodie tendencies the rest of the time. In addition to the wine lifestyle and food he enjoys family, fitness and traveling. He likes to get thoughts of wine off his mind by sharing experiences on his ENOFYLZ Wine blog, which features wine reviews, wine country travel, and wine and food pairings.
Follow me on Twitter @martindredmond for all things wine, and since I'm a wino, with latent foodie tendencies, you'll also find food and wine pairings, and food related stuff! Become a fan and join ENOFYLZ Wine Blog on Facebook. Cheers!
This article is original to ENOFYLZ Wine Blog.com. Copyright 2014 ENOFYLZ Wine Blog. All rights reserved.