My wife and I do more than our fair share of wine tasting.  We've hit all the major wine regions in California (and a few minor ones too;-), along with some tasting in Oregon and Spain.  From time to time we have a wine tasting experience that stands above the rest, and is everything we're looking for – great wine and commendable service in a relaxed unpretentious environment. It's those such experiences that are the focus of this "No Reservations" series.  Why "No Reservations"? Because I can honesty say I have "No Reservations"  about recommending the winery anyone who is looking for a great wine tasting experience.  The latest in this series features Tablas Creek Vineyard in Paso Robles.
My complete review of Tablas Creek Vineyard, including history, a recap of the tasting experience – including reviews of wines tasted may be found at the American Winery Guide's website.
Founded by the Perrins (Chateau de Beaucastel) and importer Robert Haas, Tablas Creek produces estate-grown, internationally recognized Rhone varietals and Chateauneuf-du-Pape style blends from grapes including Syrah, Mourvedre, Viognier and Roussanne.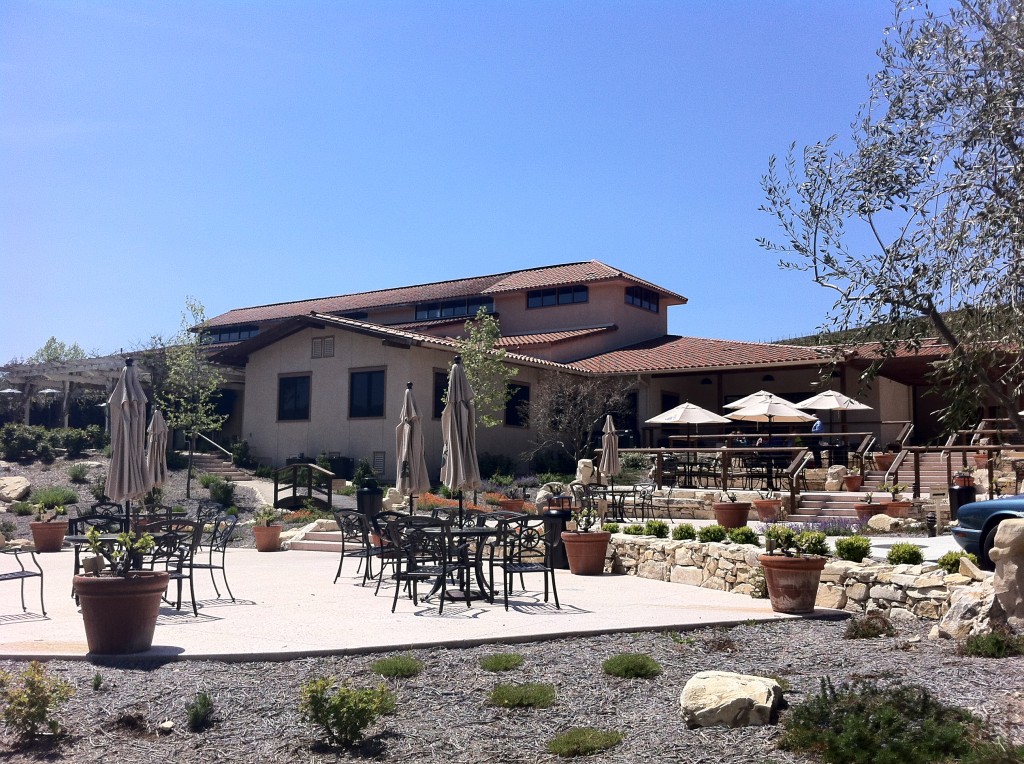 Tablas Creek is operated in much the same way as Chateau de Beaucastel, with a certified organic vineyard, an emphasis on wines of elegance and minerality, and an ongoing spirit of experimentation. However, for all its reliance on the expertise and experience of the French vineyard, Tablas Creek Vineyard is not trying to be a clone of its older cousin. According to Winemaker Neil Collins, "when people taste Beaucastel, they know it's Beaucastel. I would hope that people will taste Tablas Creek and know it's Tablas Creek."

 Haas and the Perrins knew the Rhone varietals they wanted to focus on: Mourvedre, Syrah, Grenache and Counoise for reds, and Roussanne, Marsanne, Viognier and Grenache Blanc for whites. However, they felt uneasy about the quality of Rhone grapevine stock available domestically and decided to import fresh cuttings of all eight varietals from Chateau de Beaucastel. The cuttings spent three years in a rigorous U.S.D.A. quarantine program before being released to the property in 1993. Over the next decade, Tablas Creek's grapevine nursery (the only on-site vine nursery of any vineyard in California) would provide millions of cuttings of high-quality Rhone varietals to Tablas Creek, and, eventually, hundreds of other producers around the West Coast.
My wife and I have been making an annual trip from our home in Northern California to the Central Coast for the last 4 years, and Tablas Creek is at the top of our list for wineries to visit.  Highly Recommended!
Related posts you might enjoy:
__________________________________________________________________
Martin Redmond is a Financial Executive by day, and a certified wine geek with latent foodie tendencies the rest of the time. In addition to the wine lifestyle and food he enjoys family, fitness and traveling. He likes to get thoughts of wine off his mind by sharing experiences on his ENOFYLZ Wine blog, which features wine reviews, wine country travel, and wine and food pairings.
Follow me on Twitter @martindredmond for all things wine, and since I'm a wino, with latent foodie tendencies, you'll also find food and wine pairings, and food related stuff! Become a fan and join ENOFYLZ Wine Blog on Facebook. Cheers!
This article is original to ENOFYLZ Wine Blog.com. Copyright 2014 ENOFYLZ Wine Blog. All rights reserved.