Last month I had the pleasure of participating in a virtual tasting (a group of tasters, tasting the same beverages, interact with a host and one another) hosted by SakéOne.
SakéOne is an importer of Japan's finest saké as well as America's premium saké company. For more than a decade, SakéOne has been crafting junmai ginjo (premium) quality saké at its state-of- the-art kura (brewery) in Forest Grove, the heart of the Willamette Valley: Oregon's craft beer-brewing and wine-making mecca.  SakéOne is focused on producing and importing saké that suits the American palate.
It was my second such tasting with SakéOne.  I did one last year that I never got around to blogging about, but that experience exponentially expanded by limited knowledge (and experience) with saké, and forever changed by perceptions about it.
Now it's time to share!
My casual observation is that saké consumption is on the rise.   I've seen more varieties on wine merchant's shelves, articles about saké bars, cocktails, and pairing saké with food.  And stats from Impact Databank, a leading source  of intelligence and data the adult beverage industry bear out my observation.  They report that saké consumption is steadily rising, reaching 2.55 million cases in 2011.
Here's a quick 411 on saké
Saké is not rice wine.
Saké is brewed like beer, but drinks more like fine wine
Saké is made with four ingredients: rice, koji (the natural mold that converts rice starches into sugars), specially selected yeasts and water.
Rice is to saké what grapes are to wine.  Just as fine wine starts with better grapes, premium saké begins with the better rice.
Saké is classified by styles (a grade, category,  or class). The style is largely determined by how much the rice is milled. In general, the more the rice used in brewing is milled before being used, the higher the grade of sake. For example, in the chart below, Ginjo, or Junmai Gingo is made with rice that has been milled ("polished", as the industry puts it) to remove at least the outer 40% of the original size of the grains. This means that each grain of rice is only 60% or less of its original size.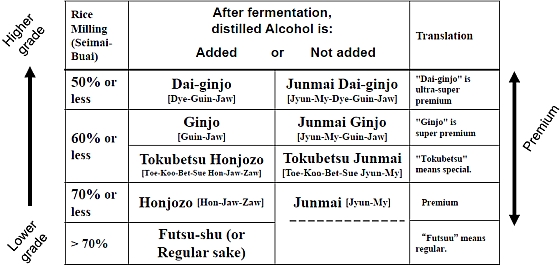 The Not So Good Stuff – About 75% of saké is the futsu-shu, ordinary saké style.  It's made from ordinary table rice, has various additives, and is commonly served heated (to mask the poor quality).
The Good Stuff – The top 25% of saké is considered premium. There are three primary styles of premium saké, Junmai (JOON-mai), Ginjo (GEEN-joe), and Daiginjo (die-GEEN-joe).

Alcohol levels

– Most sake is diluted with water after brewing to lower the alcohol content from 18-20% down to 14-16%, but undiluted ("Genshu") is not.  Therefore It's at least 18%.

How to Serve

– Saké is best served chilled in a stemmed wine glass for ultimate appreciation of aroma and taste—not in tiny square (masu), round (ochoko) cups or shot glasses. While serving saké in such vessels is customary, it is not the best for showcasing premium saké.

Handling

– All saké should be stored in the refrigerator at all times, both before and after opening the bottle.  It will keep for a least a month, usually longer.
 

Lifestyle Choices

 – Premium saké is free from additives and preservatives and is gluten-free and sulfite free. And virtually all is kosher.  There are also organic,and vegan options.
"Appreciating sake is like appreciating wine: look at the color, there is an initial bouquet, you can swirl it in your glass…But you also have to appreciate it as something new: leave your preconceptions behind." – Sylvain Huet
My first foray into the world of premium saké was an eye-opener!  I was pleasantly surprised how many similarities saké shares with my beloved vino. The tasting process is essentially the same, and premium saké is meant to be served chilled in a wine  glass.  Among other things, I also discovered:
Sake is made in the US, not only Japan
Lots of diversity of styles of saké  from dry to sweet, and from light to full-bodied.  There's even sparkling saké!
There are plenty of non-Japanese food pairing options
The sake, with which I was most familiar, the heated sake served up in Japanese restaurant is of poor quality
Note: SakéOne created this very helpful saké wheel infographic to help better understand the nuances in aroma and flavor profiles
It was a fantastic introduction that spurred me on to purchase more saké after the tasting, and begin exploring on my own!
My tasting notes, along with some fun food pairing recommendations follow: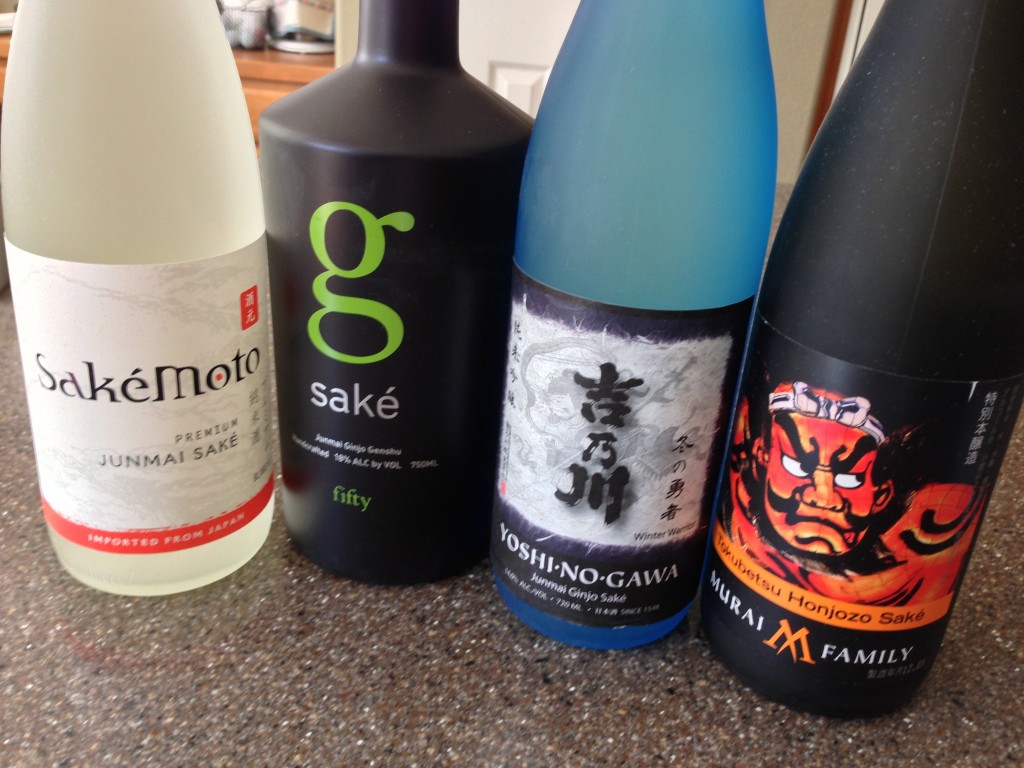 Murai Family Tokubetsu Honjozo – Japan, Tōhoku, Aomori
Style: Special Honjozo, polished to 60%.  Clear color with wildflower, anise seed and slightly earthy aromas. On the palate it's between light/medium-bodied, and smooth with a sense of umami and fruity pear and apple flavors. Medium finish.  15.5% alcohol. SRP – $25; Recommended
Yoshinogawa Winter Warrior – Japan, Chūbu, Niigata
Style: Junmai Ginjo. polished to 60%.  Clear with layered fresh tropical fruit, and floral aromas. On the palate, it's medium bodied, fresh and fruity with pear, melon and tropical fruit flavors that seem to intensify along the way. Long finish. 14% alcohol. SRP – $27; Highly recommended
SakéMoto Junmai – Japan, Kansai, Hyōgo; 
Style: Junmai, polished to 70%. Clear with upfront complex aromas of apple, spice, melon, and a hint of smokiness. On the palate it's light-bodied and fresh with fresh apple, pear, melon, and anise flavors. Medium long finish. Pair sashimi, prosciutto and melon or fish tacos. 14.7% alcohol. SRP – $11; Highly recommended
SakéOne G Fifty Junmai Ginjo Genshu – USA, Oregon
Style: Junmai Ginjo Genshu, polished to 50%, a Diaginjo grade. Clear color with green tinge and initially low-key aromas, followed by stronger aromas of pear, melon, pineapple,and spice aromas in the mouth. On the palate, it's full-bodied off-dry, with low-medium acidity and a great mouth feel that's smooth and ample with pear, melon, and spice flavors underscored by a bit of minerality. Medium-long finish. Pair with grilled meats, rich fish dishes, creamy pasta, or hard cheeses. 18% alcohol ; SRP – $25; Highly Recommended

The most recent tasting was done in conjunction with "White Day", which is Japan's answer to Valentine's day here.  SakéOne provided  300ml bottles of Momokawa Diamond, and Pearl sakés (both junmai ginjo grade), along with SakéMoto.  Additionally, I'd purchased their G Joy sake because I'd previously enjoyed the G Fifty so much I wanted to try the G Joy, another full-bodied Junmai Ginjo Genshu style sake.
The video from this online tasting, graphics dealing with saké terminology and the brewing process, as well as the participant's posts can be found here: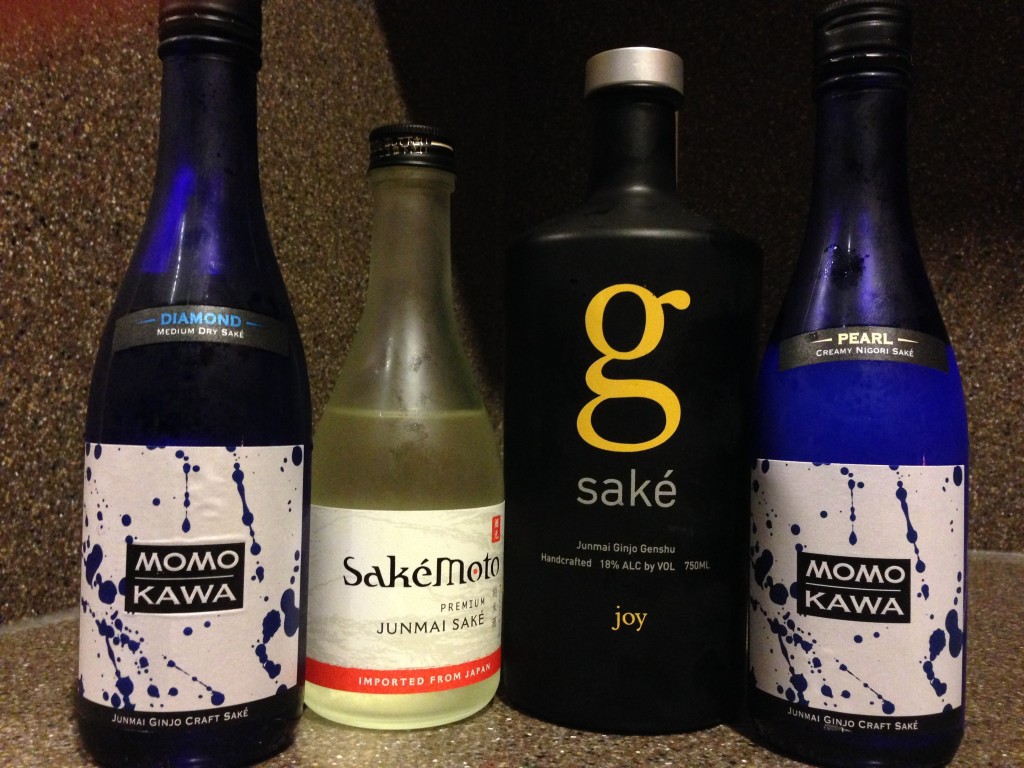 SakéOne Momokawa Diamond Medium Dry Junmai Ginjo – USA, Oregon; Style: Junmai Ginjo, polished to 60%. Clear color with apple, honeysuckle, and a hint of floral aromas. On the palate it's full-bodied with apple, mineral, and a bit of spice on the back palate. Medium finish. Pair with chilled kimchi or Italian pasta dishes. 14.8 % alcohol; SRP – $13; Recommended
SakéOne Momokawa Pearl Junmai Ginjo Nigori Genshu – USA, Oregon  Style: Junmai Ginjo Nigori Genshu, polished to 60%.  The color of skim milk with a lovely melange of creamy tropical fruit, (coconut, pineapple banana) sweet rice, and bit of earthy aromas. On the palate, medium-bodied with a mildly sweet, off-dry tropical fruit, and sweet rice flavors. Medium-long finish. Delicious with 75% cacao dark chocolate! Also consider pairing with spicy food like Thai or curries. 18% alcohol; SRP – $13; Recommended  
SakéOne G Joy Junmai Ginjo Genshu – USA, Oregon; Style: Junmai Ginjo Genshu, polished to 60%. Practically clear color with apple, melon, lychee aromas. On the palate, it's rich, and full-bodied with apple, pear, yellow plum and a bit of spice flavors. Medium-long finish. Pair with BBQ tri-tip, pepperoni pizza, or shrimp ceviche tostadas. 18% alcohol, SRP – $20;  

Highly recommended



It was another fun, very informative and enjoyable tasting. It was great to revisit the SakéMoto offering, and the Momokawa Nigori was the first sake of that style that I've really liked.  And I'll definitely be buying the G Joy again!
There you have it…
School's out…you've (hopefully) read my tasting notes…you've got some ideas for pairing saké with non-Japanese food….Now get out there and try some saké!  Head to your local store, wine shop or maybe purchase some online.
Think you don't like saké?  Think again. There is such a tremendous diversity of styles, that I bet you can find one you like.
Kanpai!
All sakés were provided as samples for review, except SakéOne G Joy, which I purchased for review.  Many thanks to SakéOne and Charles Communications Associates 
Related posts you may find interesting:
__________________________________________________________________
Martin Redmond is a Financial Executive by day, and a certified wine geek with latent foodie tendencies the rest of the time. In addition to the wine lifestyle and food he enjoys family, fitness and traveling. He likes to get thoughts of wine off his mind by sharing experiences on his ENOFYLZ Wine blog, which features wine reviews, wine country travel, and wine and food pairings.
Follow me on Twitter @martindredmond for all things wine, and since I'm a wino, with latent foodie tendencies, you'll also find food and wine pairings, and food related stuff! Become a fan and join ENOFYLZ Wine Blog on Facebook. Cheers!
This article is original to ENOFYLZ Wine Blog.com. Copyright 2014 ENOFYLZ Wine Blog. All rights reserved.