Every Thursday I feature a wine I particularly enjoy, whether it's something new and different, is a great value, or from a producer worth checking out.  For this week, my Wine Of The Week is the 2009 Gérard Bertrand Saint-Chinian Syrah/Mourvèdre, and it's a fantastic value!
I picked up this wine at my local Costco for $11.59.  I'd love to tell you I didn't expect much…But that simply wouldn't be true.  In my experience Costco does a fine job of stocking wines that over deliver for the price.  It also helped that I've had good experience with a few other wines from importer Gérard Betrand, a leading winemaker, producer and grower in the South of France.
He owns seven vineyards in the Languedoc-Roussillion region.  Betrand operates from the Château l'Hospitalet, a renowed 38 room hotel room/wine estate.  He produces a variety of wines for different markets.
This wine is sourced from fruit in the Saint-Chinian region of the Languedoc.  I50-50 blend of Syrah and Mourvèdre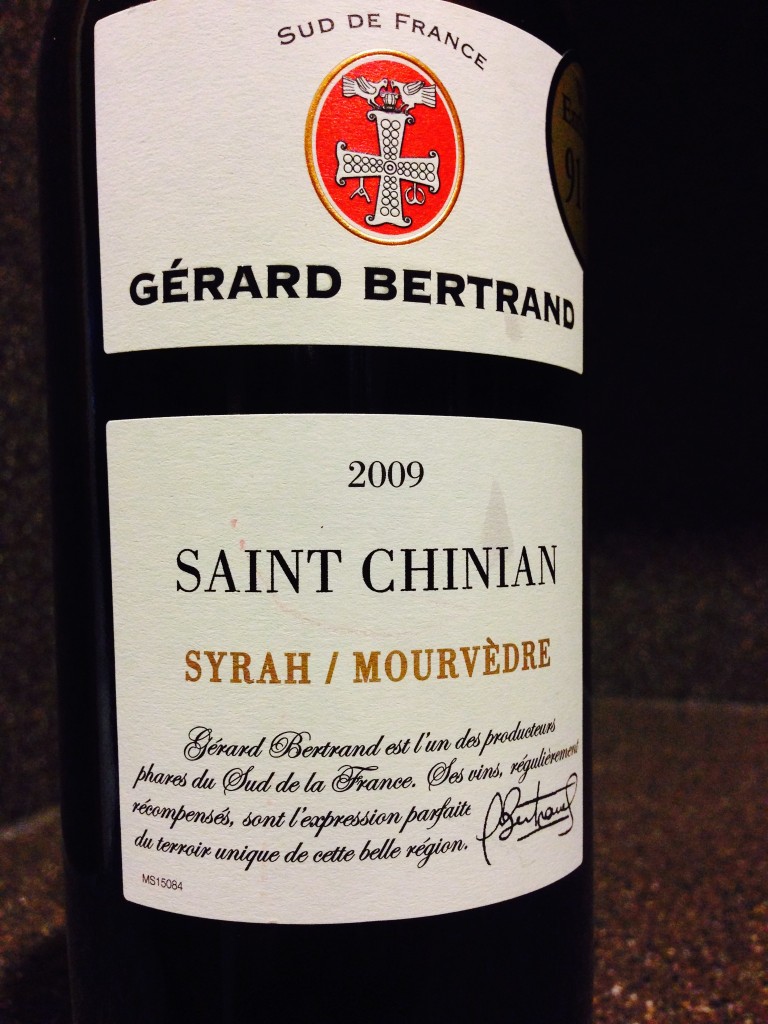 My tasting notes follow:
Opaque black red color with appealing black fruit, tobacco, spice, licorice, and a whiff of eucalyptus aromas. On the palate, it's medium-bodied, and fresh with a supple texture and dusty but well integrated tannins. It shows blackberry, black cherry, currant, spiced vanilla and a hint of bittersweet chocolate flavors. Lingering finish. 
Rating: A-  This wine is was $12 at Costco.  That's killer Quality/Price Ratio folks!  Simply put….this one is a repeat purchase for me!
(A+) – 98-100/Extraordinary
(A) – 94-97/Outstanding
(A-) – 90-93/Excellent
(B+) – 86-89/Very good
(B) – 80-85/Good
(C) – 70-79/Bleh
(D) – 50-69/#Fail
__________________________________________________________________
Martin Redmond is a Financial Executive by day, and a certified wine geek with latent foodie tendencies the rest of the time. In addition to the wine lifestyle and food he enjoys family, fitness and traveling. He likes to get thoughts of wine off his mind by sharing experiences on his ENOFYLZ Wine blog, which features wine reviews, wine country travel, and wine and food pairings.
Follow me on Twitter @martindredmond for all things wine, and since I'm a wino, with latent foodie tendencies, you'll also find food and wine pairings, and food related stuff! Become a fan and join ENOFYLZ Wine Blog on Facebook. Cheers!
This article is original to ENOFYLZ Wine Blog.com. Copyright 2014 ENOFYLZ Wine Blog. All rights reserved.
Spread the love!, Share this post