Every Thursday I feature a wine I particularly enjoy, whether it's something new and different, is a great value, or from a producer worth checking out.  This week's wine is the 2011 Quimay Pinot Noir.

I recently dropped into my local BevMo on a whim, and found this bottle of wine on sale for $17.95. Since retail is $29.95, and it was rated 95 points by Wilfred Wong (conflict of interest duly noted as Mr. Wong is BevMo's Cellar Master), I decided to make the bet.
It looks like Quimay (which means "blessed water" in the Patagonian native Mapuche language) wines are available exclusively at BevMo.  Alejandro Sejanovich, is the owner/winemaker/oenologist of Quimay.  Mr. Sejanovich is also the Vineyard Director for Bodega Catena Zapata.
The fruit for this wine is sourced from Neuquén region of Patagonia,  which is located in the southernmost part of Argentina. Patagonia is a desert region with a cool, dry climate, and viticulture is only possible near the rivers where meltwater from the Andes is abundant.  It's more well-known for dinosaurs, back-packing, and archaeological digs.
Despite being one of the world's least obvious places for growing wine grapes, Patagonia has proven itself well suited to producing red wine from Pinot Noir and Malbec grapes.
In addition to this wine, Quimay also produces a Chardonnay, and Malbec.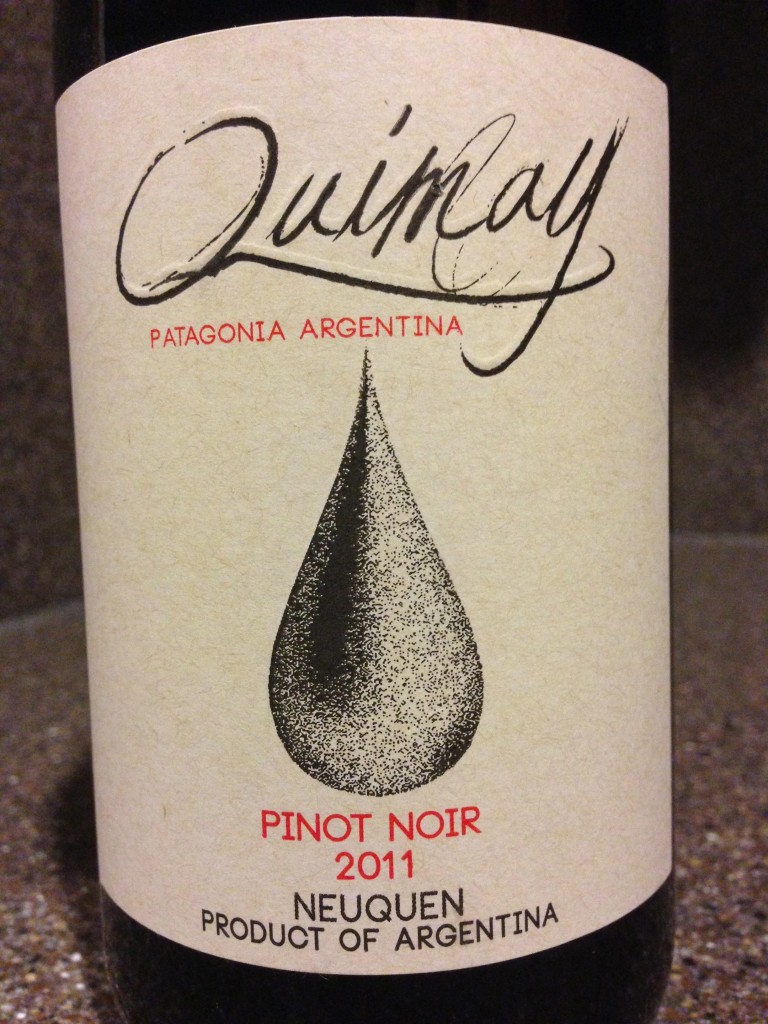 My tasting notes follow:
Garnet color with mushroom, and red fruit aromas. On the palate, it shows a smooth texture, medium acidity, and pomegranate, and spice flavors. Medium finish – 86pts  
Rating: B-: This is an interesting wine that offers good value, especially for Pinot Noir at $18 (though currently it's included in BevMo's 5 cent sale – so you get can get 2 bottles for $30…)
Pair with: Warm duck salad, grilled, or planked salmon, rare tuna steak, sautéed mushrooms or cheddar cheese.

(A+) – 98-100/Extraordinary
(A) – 94-97/Outstanding
(A-) – 90-93/Excellent
(B+) – 86-89/Very good
(B) – 80-85/Good
(C) – 70-79/Bleh
(D) – 50-69/#Fail
__________________________________________________________________
Martin Redmond is a Financial Executive by day, and a certified wine geek with latent foodie tendencies the rest of the time. In addition to the wine lifestyle and food he enjoys family, fitness and traveling. He likes to get thoughts of wine off his mind by sharing experiences on his ENOFYLZ Wine blog, which features wine reviews, wine country travel, and wine and food pairings.
Follow me on Twitter @martindredmond for all things wine, and since I'm a wino, with latent foodie tendencies, you'll also find food and wine pairings, and food related stuff! Become a fan and join ENOFYLZ Wine Blog on Facebook. Cheers!
This article is original to ENOFYLZ Wine Blog.com. Copyright 2014 ENOFYLZ Wine Blog. All rights reserved.