Every Thursday I feature a wine I particularly enjoy, whether it's something new and different, is a great value, or from a producer worth checking out.  This week's wine, the 2009 Viña Eguía Rioja Reserva is a great value!
The Winery
According to importer Quintessential Wines the Viña Eguía winery and vineyards were established in 1973 in Elciego and purchased by Father and Son, Jose and Julian Murua of Bodegas Muriel in 2010. Elciego is a town in the Rioja Alavesa, which borders the Spanish "Basque" region, and the language spoken there often includes Basque words, such as "Eguia" which means "truth." The brand is symbolized by an open hand over the label, which is in the shape of an open book, analogous to putting one's hand on a bible to swear to the truth of what one is saying.
The Wine
The fruit for this wine, which is 100% Tempranillo, were sourced from vines with a median age of 30 years from the Rioja Alavesa region, which along with Rioja Alta has a reputed for producing Rioja's finest grapes.
The wine is classified as a "Reserva".  Based on Spain's strict labeling laws that means a "Reserva" red wine must be aged for at least 3 years with at least 1 year in oak.  In the case of this wine,  it was aged 24 months in American and French oak barrels were it ages for 24 months, then aged an additional two years prior to release.
So how does Spain do it?  How is it possible to produce a wine aged for four years that sells for under $15? I'm not sure, but when I look for killer value, I look to Spain first!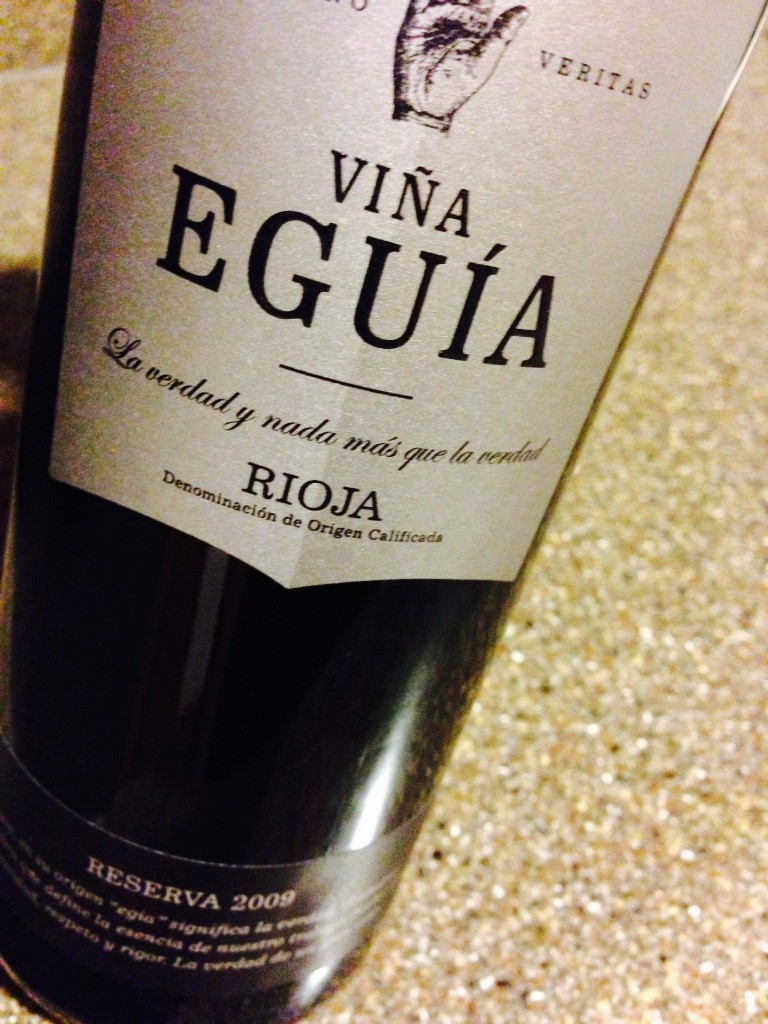 My tasting notes follow:
Dark ruby color with appealing red fruit, tobacco, vanilla and spice aromas. On the palate it's medium-bodied, and smooth with soft tannins, and good acidity. It shows fresh dark red cherry, vanilla,and spice flavors. Long finish. It's drinking well now, but will likely award cellaring an additional 2-3 years. Alcohol-13.5%; SRP-$15
Rating: B-:  This wine is the truth when it come to value! We picked up three bottles based solely on how much we enjoyed the 2007 vintage (and the fact it was on sale at Costco for $7.99!).  After opening up this one and tasting it, we went back the next day and bought three more!  Tip: Let it breathe 30 minutes or so to maximized enjoyment!
Pair with: Grilled lamb chops, Patatas a la Riojana, aged cheeses or a plate of wild mushrooms sauteed in Spanish olive oil.
(A+) – 98-100/Extraordinary
(A) – 94-97/Outstanding
(A-) – 90-93/Excellent
(B+) – 86-89/Very good
(B) – 80-85/Good
(C) – 70-79/Bleh
(D) – 50-69/#Fail
Other posts you might enjoy
__________________________________________________________________
Martin Redmond is a Financial Executive by day, and a certified wine geek with latent foodie tendencies the rest of the time. In addition to the wine lifestyle and food he enjoys family, fitness and traveling. He likes to get thoughts of wine off his mind by sharing experiences on his ENOFYLZ Wine blog, which features wine reviews, wine country travel, and wine and food pairings.
Follow me on Twitter @martindredmond for all things wine, and since I'm a wino, with latent foodie tendencies, you'll also find food and wine pairings, and food related stuff! Become a fan and join ENOFYLZ Wine Blog on Facebook. Cheers!
This article is original to ENOFYLZ Wine Blog.com. Copyright 2014 ENOFYLZ Wine Blog. All rights reserved.