Below is a photo of a slice Momofuku Milk Bar Crack Pie.
It's the best pie I've ever eaten.
What is a "Crack Pie"? It's described on the Momofuku website as a "toasted oat crust, gooey butter filling" (an understatement if there ever was one!).  It's been widely hyped as the most delicious and addictive sweet in NYC.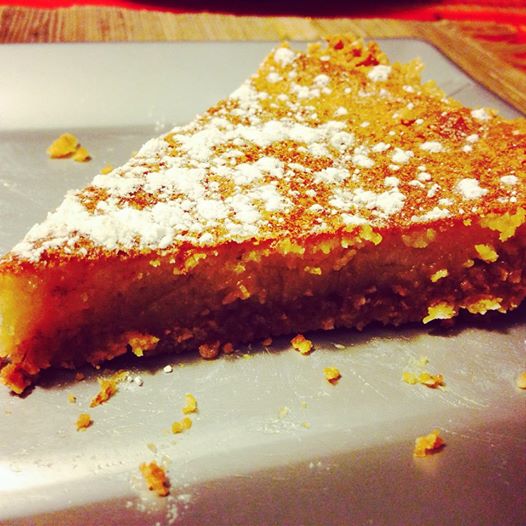 Not only is it the best pie I've ever eaten (at least so far), as I was making the pie it evoked warm, loving (and delicious) memories of a pie my grandmother, who we called "Grams" made for us when we were kids.  It was called "Butter Pie"  It's was pretty much a bunch of butter and sugar in a pie crust.  Sort of like a butter dumpling pie if you will…
Sadly Butter Pie seems to have gone to the grave with Grams.  I'm blessed to have such fond memories of Gram and that pie.  And I'd never a pie that delicious…until now.
Crack Pie reminds me a bit of Butter Pie…except it's more sophisticated, more textured and well…mo' better!
I made the pie as dessert for an "Open That Bottle Night" themed dinner my wife and I hosted for eight last weekend.
I don't recall exactly how the I found out this slice of heaven on earth, but as I was looking for a killer dessert that might pair well with a delightful bottle of sparkling dessert wine I've had in the fridge for a year, I came across this great blog post from Averie Cooks. If you want to make a Crack Pie, I highly recommend checking it out.
Crack Pie is a PITA to make but I'd do it again in a heartbeat I'm already planning to make it again!
Yeah…it's Crackish like that!
The bottle of wine below is (or more accurately was) a bottle of Törley Doux Sparkling Tokaji.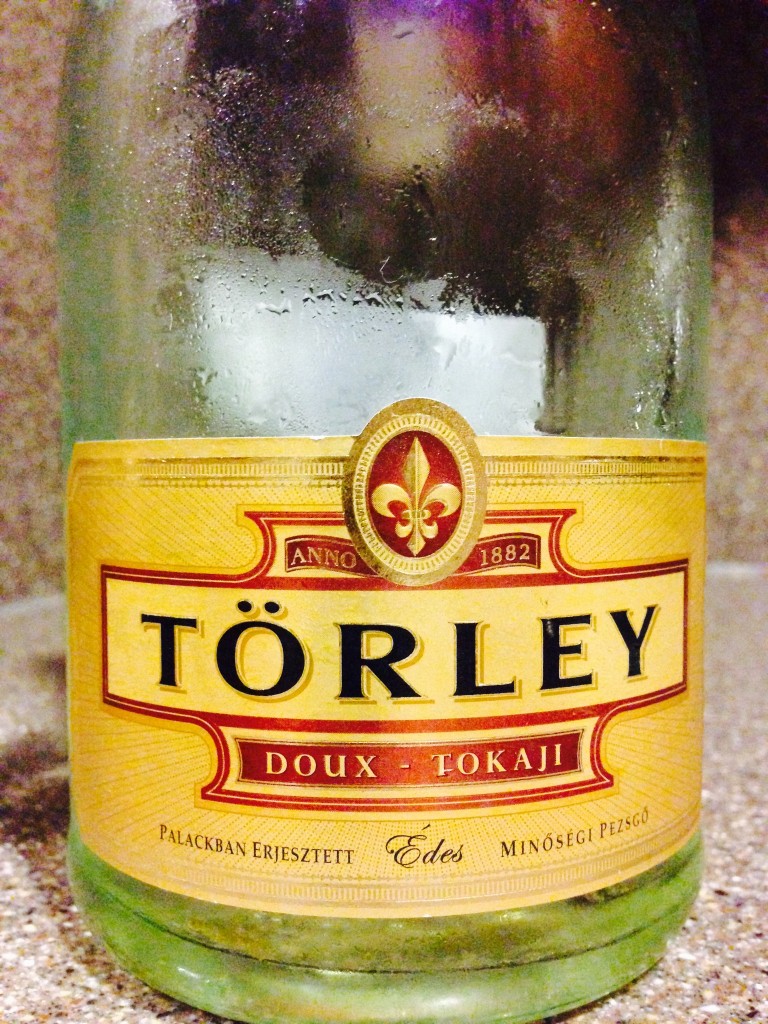 It's a  rare sparkling dessert wine from Tokaji in Hungary that is a blend of  Furmint and Hárslevelu, the two main grapes that comprise the famous Tokaji Aszú.
It's very good…here are my tasting notes…
Pale straw yellow color with lots of pin prick sized bubbles and brioche, apricot, mineral and vanilla aromas. On the palate, it's sweet, smokey, and complex  with a creamy mousse, and apricot, peach, honey and vanilla flavors. 11% alcohol
While the dessert wine is very good, it's not to dessert wines, what Crack Pie is to pie in my book.
But, the two together? 
A perfect pairing!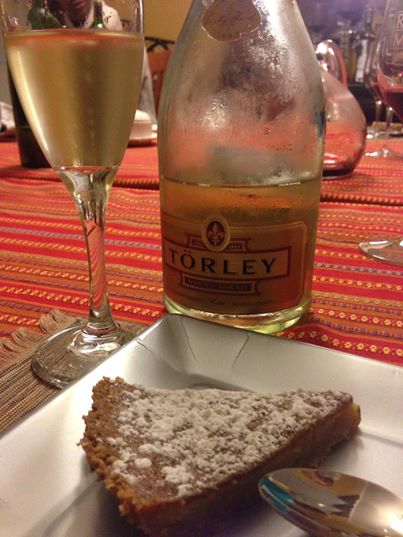 And what is a perfect pairing? It's when you:
Take a bite of food and chew
Take a sip of wine with the food together in your mouth
The two together do more than make each other better – they become a third even better thing!
Perfect pairings are rare.
This one was indescribably (almost) delicious.  When the wine and Crack Pie were in my mouth together the effervescence of the wine enhanced the richness of the Crack Pie by producing a slightly lighter even more creamy texture.  The moderate sweetness of the pie was slightly amplified, and the sweetness of the wine was moderated a bit.  And as the bubbles exploded in my mouth, it sent a new deliciousness to every corner of my mouth. And the flavors! Together the two together produced a sublime mild butterscotch-y flavor that neither possessed individually. 
Pairing tip: For desserts; make sure the wine is sweeter than the dessert.
I had a feeling the pairing would work. Though it was the first time that I'd Crack Pie, I've had the Sparking Tokaji before, and based on the ingredients in the recipe for the pie, I had a hunch it would be a good pairing. But not the perfect pairing it turned out to be!
Other great pairing recommendations for Crack Pie would be Tokaji, Sauterne, or Moscato.  But I think what this pairing to perfection was the bubbly factor.  Since, the Törley may be hard to find, consider Moscato d'Asti or Schramsberg Crémant Demi-sec.
Have you had Crack Pie?  What about pairing it with a dessert wine?