Every Thursday I feature a wine I particularly enjoy, whether it's something new and different, is a great value, or from a producer worth checking out.  Or for this week, an outstanding wine – the 2001 Joseph Phelps Insignia.
The Winery
In the late 1960's, Joseph Phelps was running one of the largest construction companies in the U.S., Hensel Phelps Construction Company, when he won the bid to build Souverain Winery (now Rutherford Hill) located a few miles outside of St. Helena. Enamored with the beautiful Napa Valley and contemplating a career change, in 1973 Joe bought the 600-acre Connolly cattle ranch in Spring Valley, and began planting vineyards and construction of a winery. The first harvest in 1973 yielded Cabernet Sauvignon, Pinot Noir and Johannisburg Riesling bottlings, all custom crushed at nearby wineries. The Joseph Phelps winery was completed in 1974 in time for harvest, crushing grapes for the first Insignia and the first Syrah bottlings.  Click here for more history.
Today, Joseph Phelps sources their fruit 100% from their estate vineyards.  Estate vineyards include the Spring Valley Home Ranch outside of St. Helena, Banca Dorada in Rutherford, Backus Vineyard in Oakville, Las Rocas and Barboza vineyards in Stags Leap, Yountville Vineyard in Oak Knoll, Suscol Vineyard in South Napa and beginning with the 2011 growing season, Larry Hyde & Sons Vineyard in Carneros.
The Wine
Insignia, the flagship wine of Joseph Phelps was first produced in 1974.  Four decades later it is recognized as one of the world's great wines. Thirty-one of thirty-seven vintages have been rated 90 or more points by various wine publications, including three perfect 100 point scores for the 1991, 1997 and 2002 vintages from Robert Parker's The Wine Advocate in Mr. Parker's Historical Tasting of Insignia report.
Insignia is the first proprietary Bordeaux-style blend produced in California.
The 2001 vintage is a blend of 89% Cabernet Sauvignon, 8% Petit Verdot, 3% Malbec primarily from estate-owned vineyards in Stags Leap and Rutherford, with additional fruit coming from independent growers. The grapes were harvested at an average 24.8° Brix, fermented in stainless steel tanks, then aged 22 months in 100% new French oak barrels. 13.9% alcohol
We opened this wine for this year's Open That Bottle Night was last Saturday.  Open That Bottle Night, created by former Wall Street Journal wine columnists Dorothy Gaiter and John Brecher, and is the one night a year that we are all encouraged to get out that bottle of wine that is so special that no occasion seems special enough to actually open it.
My wife and I hosted 3 other couples, each of whom brought along their own special bottle of wine.  I pulled out this bottle (which was a gift from my very generous boss) simply because it was an older vintage than the bottle I'd been considering for weeks.
We sat down to a wonderful dinner of Braised Boneless Beef Short Ribs.  The other reds we enjoyed were a mature Bordeaux – a 1986 Chateau Meyney, and the 2008 Silver Oak Napa Valley.
I decanted this bottle about 2 hours before dinner, and the Meyney was decanted for about 3 hours.
It wasn't even close.  This bottle "kicked ass and took names"!  It was the unanimous favorite!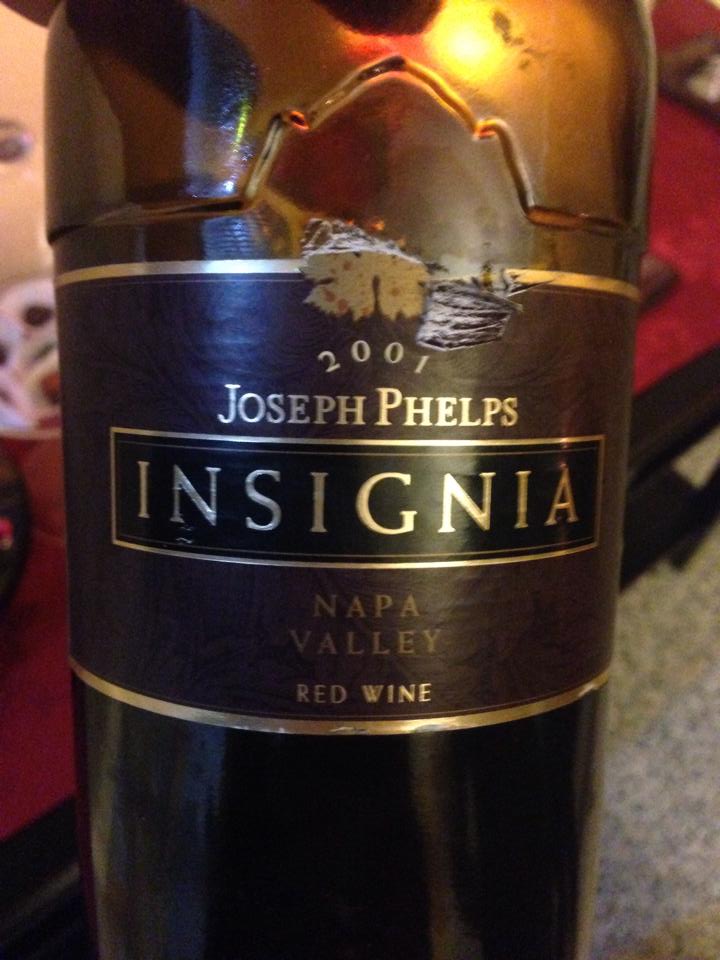 My tasting notes follow:
Nearly opaque garnet color with exuberant black cherry, blackberry, black currant, cedarwood, espresso aromas. On the palate, it's full-bodied, surprisingly fresh and well-balanced with silky sweet tannins. It shows ample mouth-filling fruit with waves of blackberry, cassis, espresso and a bit of mineral flavors. Long finish.
Rating: A:  A simply stunning bottle of wine that should reward further cellaring. In fact, my wife and I were still talking about its aromas, flavor, complexity and mouth feel 3 days later!
(A+) – 98-100/Extraordinary
(A) – 94-97/Outstanding
(A-) – 90-93/Excellent
(B+) – 86-89/Very good
(B) – 80-85/Good
(C) – 70-79/Bleh
(D) – 50-69/#Fail
Other posts you might enjoy
__________________________________________________________________
Martin Redmond is a Financial Executive by day, and a certified wine geek with latent foodie tendencies the rest of the time. In addition to the wine lifestyle and food he enjoys family, fitness and traveling. He likes to get thoughts of wine off his mind by sharing experiences on his ENOFYLZ Wine blog, which features wine reviews, wine country travel, and wine and food pairings.
Follow me on Twitter @martindredmond for all things wine, and since I'm a wino, with latent foodie tendencies, you'll also find food and wine pairings, and food related stuff! Become a fan and join ENOFYLZ Wine Blog on Facebook. Cheers!
This article is original to ENOFYLZ Wine Blog.com. Copyright 2014 ENOFYLZ Wine Blog. All rights reserved.