I love chili. There's just something about the combination of tomatoes, chili powder, peppers, and cumin and insert your favorite meat here that I adore.  While I've mostly enjoyed the aforementioned classic version of chili, I do enjoy a good chili adventure too!  And this week's recipes showcase the amazing diversity of what is essentially a humble classic American stew.  You can keep it simple, or you can dress it up. You can keep it classic or you can make it exotic.  And that's part of the appeal for me, it's so diverse!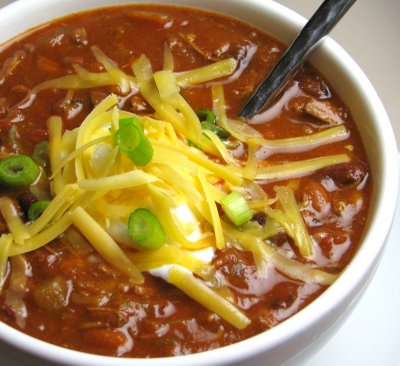 Now when it comes to which adult beverage to enjoy with a steaming hot bowl of piquant chili goodness, an ice-cold beer is top of mind for most.  I get that.  But setting aside my general preference for wine over beer, I prefer wine with chili for two reasons:
Carbonated beverages make me feel fuller sooner, and well…I'd just rather have more room for chili!
Depending on the heat level of the chili, I find that carbonated beverages intensify and prolong the burning effect of the capsaicin present in the peppers used in chili.
So then, what kind of wines pair best with chili? There are plenty of options, especially if you prefer red wines. Look for medium to full-bodied (but not too elegant) white, pink and red wines with ample fruit flavors, and moderate tannins.
For red wines, consider Zinfandel, Malbec, Syrah, Tempranillo, Grenache, Carmenere or Rhone-style red blends.  For white wines consider an off-dry German or Alsace Riesling, Viognier, Marsanne, or Chenin Blanc.  And don't forget Rosé, the oh so versatile pink wine that delightfully bridges the gap between red and white wines.
Consider red wine (served slightly chilled) for tomato based chili, and white wine for "white" and other non tomato-based chili.  A rosé will work with both!  For non-traditionally spiced chilis with an Asian, or Mexican spice profile, I'd recommend the Zinfandel, or red Rhone blend. The spicier the chili (heat-wise) the more fruit-forward and sweeter you want your wine to be.
One final note – No wine will pair well with a Texas five-alarm or other incendiary, eye-watering, nose-running bowl of red.  Opt instead for beer, a low-alcohol (around 10%) Nigori sake or a yogurt-based (the dairy will cool you off ) drink.
Here are 5 wines that will pair well with the diverse menu of chili offered for this week.  
Gnarly Head Old Vine Zinfandel – A old vine Zinfandel from the self-proclaimed "Zinfandel Capital of the World" – Lodi with a dark berry, plum, and spiced vanilla character (Around $10, find this wine) Pair this 
2011 Domingo Molina Hermanos Malbec-Tannat – A delicious Malbec from Argentina with a twist – it contains 30% Tannat (pronounced Ta-Not) which adds depth and length to this full-bodied delicious wine with a savory, plum, blackberry and licorice character (Around $15, find this wine)
 2010 E. Guigal Côtes du Rhône – A perennial top quality everyday Rhone blend of about 65% Syrah with the balance being Grenache, and Mourvedre with a brambly full-bodied mixed berry, plum, licorice, and spice character. (Around $15, find this wine)
2012 Cave de Tavel "Lauzeraies" Rosé – A blend of Grenache, Syrah, Cinsault, and Mourvedre this is a  classic French rosé with enough "weight" to stand up the bold  flavors and texture of chili. This is the wine to reach for if prefer to pair your chili with a chilled wine, but prefer red wine flavors. It shows layers of wild strawberries,cherry spice, citrus flavors with a subtle mineral undertone.(Around $13,find this wine)

Chateau Ste. Michelle Riesling – This is an off-dry (slightly sweet) Riesling from the Columbia Valley in Washington State with a citrus, peach and lime character. (Around $8, find this wine)
This week's #SundaySupper features a virtual chili cookoff, where YOU, get a chance to vote for your favorite recipe. A list of all the entries and links to them are below.  Voting begins at 8am Eastern time on Sunday, 2/23/14, and ends at midnight on Thursday, 2/27/14 (National Chili Day).  The winner receives a ticket to the Food and Wine Conference plus a $25 gift card.
Will YOU be a part of the #SundaySupper Chili Cook-Off judges panel this week? Voting is live at the Sunday Supper Movement Online Community Magazine starting now and concluding (fittingly) on February 27 – National Chili Day! Browse the submissions and cast your vote by clicking HERE!
Beef and Bison Chili
Pork Chili
Chicken, Duck, and Turkey Chili
Mixed (meat combo) Chili
Fish and Seafood Chili
Vegetarian Chili
Twist-on-Chili
Chili Cook-Off Voting at the Sunday Supper Movement Online Community Magazine
Join the #SundaySupper conversation on twitter on Sunday! We tweet throughout the day and share recipes from all over the world. Our weekly chat starts at 7:00 pm ET. Follow the #SundaySupper hashtag and remember to include it in your tweets to join in the chat. Check out our #SundaySupper Pinterest board for more fabulous recipes and food photos.
Would you like to join the Sunday Supper Movement? It's easy. You can sign up by clicking here: Sunday Supper Movement.