Every Thursday I feature a wine I particularly enjoy, whether it's something new and different, is a great value, or from a producer worth checking out.  For this week, my Wine Of The Week is the 2011 Tablas Creek Patelin de Tablas.
The Winery
Tablas Creek Vineyard ("TCV") is probably the best-known of all Paso Robles wineries specializing in Rhone style wines.  It is a partnership between Robert Haas, and the Perrin Family of Chateau de Beaucastel in the Chateauneuf du Pape region in France. What I find interesting about TCV is that they specifically chose to establish themselves in Paso Robles because of the similarities of the soil conditions and climate of Paso Robles to Chateauneuf du Pape.  They went as far as to import vines from Chateauneuf du Pape.  The vines were propagated and grafted in their on-site nursery and used to plant their 120 acre organic vineyard.  Check the full story here.
The Wine
Tablas Creek began producing the Patelin de Tablas line of wines in 2010. Patelin is French slang roughly translated as "country neighborhood".  In this case "neighborhood" refers to Tablas Creek sourcing fruit from neighboring trusted growers in the Paso Robles area  that take care of their vineyards and for the track records of the wines that these vineyards have produced.
According to TCV…Grapes for the Patelin de Tablas are sourced from four regions in Paso Robles. Three are limestone-rich: the warmer, higher-elevation Adelaida Hills near Tablas Creek, the cool, coastal-influenced Templeton Gap to our south, and the moderate, hilly El Pomar to our south-east.  These regions provide structured, mineral-laced fruit and excellent acidity.  We also source fruit from the warmer heartland of the Paso Robles AVA: the Estrella District, whose mixed sandy loam soils produce juicy, darkly-fruited Syrah. 
All varietals for the Patelin de Tablas were destemmed and fermented in open-top and closed stainless steel fermenters as well as 1500-gallon oak upright casks. Only native yeasts were used. After fermentation, the wines were racked and blended, aged in a mix of stainless steel and 1200-gallon oak foudres, and bottled in May 2012 
The wine is a blend of 52% Syrah, 29% Grenache, 18% Mourvèdre, and 1% Counoise.  It's  great example of the advantages of blends – The Syrah adds dark spice and meatiness, that is brightened by Grenache and Counoise, and the earthiness of Mourvedre.
13.7% Alcohol by Volume; 8,460 Cases Produced.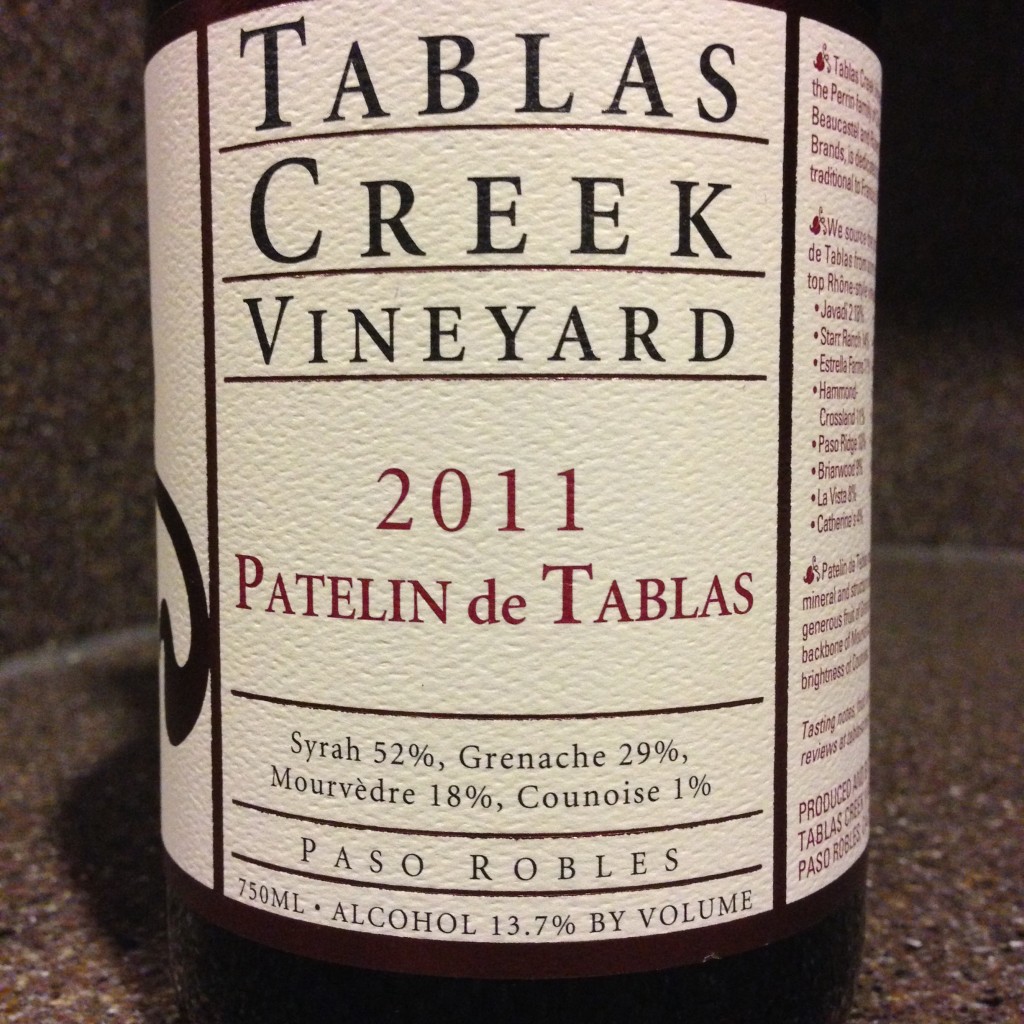 My tasting notes follow:
Dark ruby color with promising dark red fruit, peppery spice and a hint of damp earth aromas. On the palate, it's medium-bodied and smooth with bright cherry, spice, and mineral flavors. Polished mouthfeel, and very good length!
Rating: A-;  A beautiful wine that substantially over delivers for the price (SRP – $20, but can be found online for around $18; Find wine here), and is food friendly too!
Pair with: Charcuterie; Camembert,  or Comté cheese;  grilled meat, meaty stews and casseroles,  slow cooked roasts of pork or lamb, or Moroccan tagines.
Sample purchased for review
Ratings Key:
(A+) – 98-100/Extraordinary
(A) – 94-97/Outstanding
(A-) – 90-93/Excellent
(B+) – 86-89/Very good
(B) – 80-85/Good
(C) – 70-79/Bleh
(D) – 50-69/#Fail
Other posts you might enjoy
__________________________________________________________________
Martin Redmond is a Financial Executive by day, and a certified wine geek with latent foodie tendencies the rest of the time. In addition to the wine lifestyle and food he enjoys family, fitness and traveling. He likes to get thoughts of wine off his mind by sharing experiences on his ENOFYLZ Wine blog, which features wine reviews, wine country travel, and wine and food pairings.
Follow me on Twitter @martindredmond for all things wine, and since I'm a wino, with latent foodie tendencies, you'll also find food and wine pairings, and food related stuff! Become a fan and join ENOFYLZ Wine Blog on Facebook. Cheers!
This article is original to ENOFYLZ Wine Blog.com. Copyright 2014 ENOFYLZ Wine Blog. All rights reserved.