I recently (ok – it was a couple of weeks ago) had the pleasure of attending the 2014 ZAP "Zinfandel Experience Trade and Media tasting, which was held at Rock Wall Wine Company.  It was my third consecutive year attending the event.  It's hosted by the Zinfandel Advocates & Producers ("ZAP"), which billed the event as "All New"  because it was held at a new location and had a new format.
Another new thing about the event was that ZAP referred to it as an "experience" rather than a "festival" as it has been referred to in the past.
We chose to name the event Experience rather than Festival to carry forward the intention of our guests receiving a more interactive and significant, value-added opportunity from their participation
The pre-event Trade and Media tasting consisted of two parts – a Trade/Media Tasting Seminar, and the Trade/Media Tasting.  The main event was held Jan 23-25.
The seminar was held in the Geodesic Dome at Rock Wall.  And when I sat down at my table…
What to my heart's delight did appear?
But six shiny wine glasses…filled with Bedrock, Carlisle and Turley my dear!!  To wit…
2009 Bedrock Wine Co. Zinfandel O Brother! Bedrock Vineyard
2011 Bedrock Wine Co. Bedrock Heritage Wine
2009 Carlisle Zinfandel Papera Ranch (N/A)
2011 Carlisle Zinfandel Bedrock Vineyard (N/A)
2009 Turley Zinfandel Zampatti Vineyard
2011 Turley Zinfandel Rattlesnake Ridge
Note: my scores for each wine are may be found below in as all were among my favorites:
Yup..the ZAP folks could give a lesson or two on how to run a seminar – Sip some great wines while listening to three of the best winemakers California has to offer chop it up about all things Zinfandel!
The wines, which were essentially an ice-breaker, were from the 2009 and 2011 vintages and initially the discussion was around the differences between the two vintages.  But it quickly took off in a more interesting directions.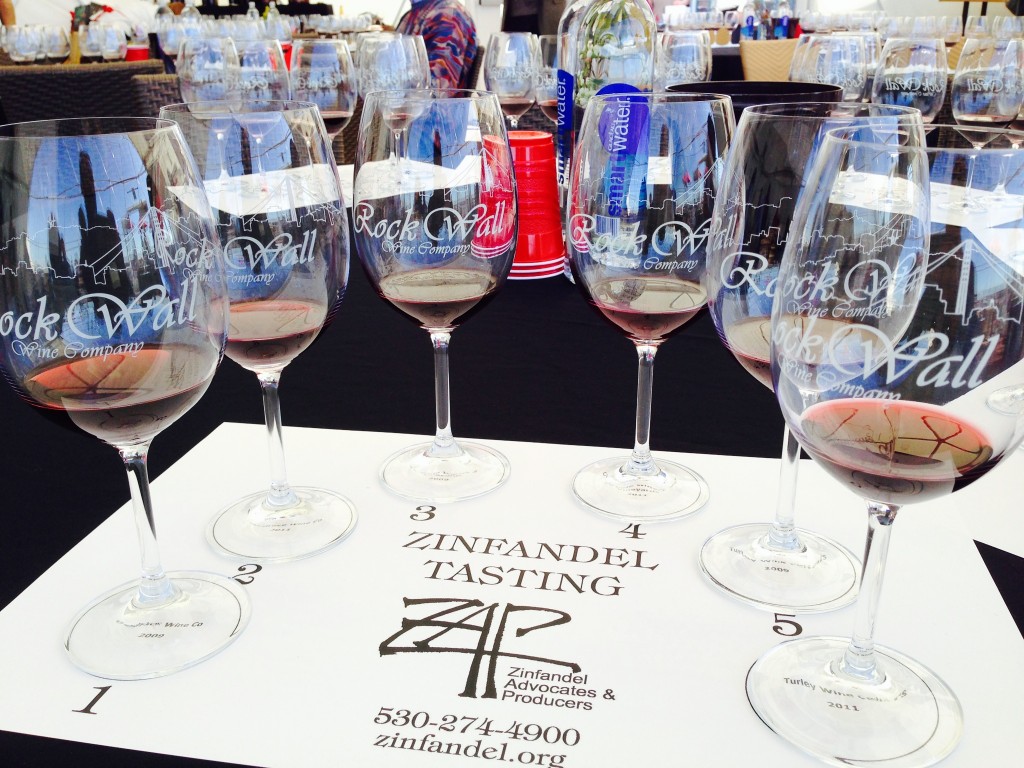 The official topic for the Trade Tasting Seminar was "Zinfandel's Renaissance – California's quintessential wine is growing beyond its cult status and entering the big time" (or as Tim Fish of the Wine Spectator, who expertly moderated the panel put it – "Taking it up a notch".
The panel featured winemakers Morgan Twain-Peterson (Bedrock Wine Co.), Mike Officer (Carlisle Winery and Vineyards), and Tegan Passalacqua (Turley Wine Cellars).   .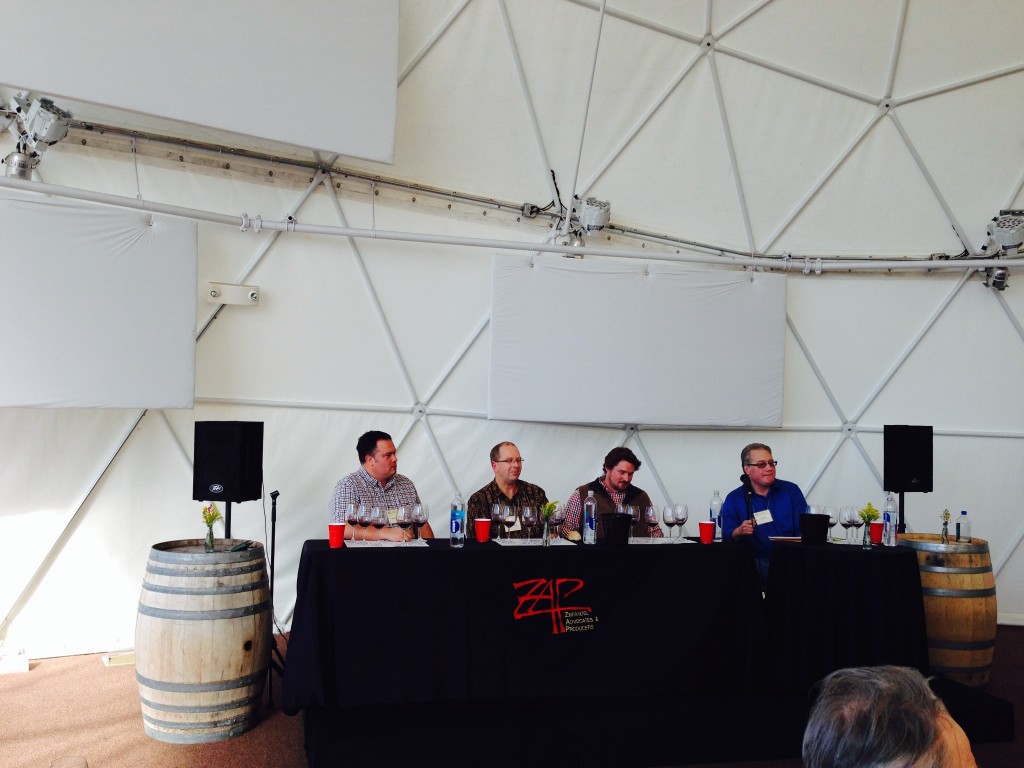 A variety of topics were discussed including stuff you would expect winemakers to talk about like vintage variation, cooperage, alcohol levels, pH, and the importance of farming, but some of the more interesting takeaways for me were:
The importance of differentiating between grape growing and wine growing (preferred) for quality fruit
Vintage variation as a good thing because specific vintages can take us back to events, and milestones in our lives, and that's part of what makes wines special for wine lovers – a bottle of wine can evoke memories of special times in our lives.
Zinfandel blends that include mixed black grapes make a more complete and complex wine
Zinfandel is getting better and better for a variety of reasons including 1.) the experience of winemakers with the grape, 2.) clonal selection
After the  seminar, which I thoroughly enjoyed, it was on to the tasting…
The tasting featured close to 100 wineries (and I'm sure there were even more on Saturday!).  It was a wonderful opportunity to explore (mostly) new releases, and chat with the winemakers about their wines.
By my count…there were nearly 250 wines available for tasting…Based on the sheer quantity of wines available, I decided to forego the detailed tasting notes this time around and simply score the wines. Doing so enabled me to taste more wines!
Initially, I targeted new (to me) wineries. That's one of the best things about attending a big tasting like this, discovering new wineries you otherwise would not get a chance to taste.  Of course, that which meant skipping some perennial top-notch producers like Dashe Cellars, Jeff Cohn Cellars, Ridge and Seghesio. But I always find some time at the end for "taster's choice" so I can get taste some favorites that are just too good to pass up!
I tasted 67 wines, including many new (to me) wineries, several of which made my list of favorites.  My All-Stars (at least 3 wines I rated at least 90 points were Bedrock Wine Company, Brown Estate,  and Chase Cellars) My complete list  of my favorite wines ( rated at least 90 points)  follows:
2011 Accademia dei Racemi Zinfandel Primitivo di Manduria Sinfarosa ($25) – 90

2010 Ancient Oak Cellars Zinfandel Pagnano Vineyard ($32) – 90

2009 J. Baldwin Wines Zinfandel Rattlesnake Ridge Vineyard (N/A) – 90

2011 Beekeeper Cellars Zinfandel Madrone Spring ($65) – 92
2009 Bedrock Wine Co. Zinfandel O Brother! Bedrock Vineyard (N/A)- 91
2011 Bedrock Wine Co. Bedrock Heritage Wine (N.A) – 92
2012 Bedrock Wine Co. Zinfandel Old Vine ($25) – 91 

2012 Bedrock Wine Co. Heritage Wine Evangelho Vineyard ($35) – 92

2012 Bedrock Wine Co. Lorenzo's Heritage ($45) – 93

2012 Beltane Ranch Zinfandel ($44) – 90
2012 Robert Biale Zinfandel R.W. Moore Vineyard ($50) – 92
2012 Robert Biale Zinfandel Rocky Ridge ($50) – 93
2012 Brown Estate Zinfandel Chiles Valley ($42) – 92
2012 Brown Estate Chaos Theory ($40) – 91
2012 Brown Estate Zinfandel Rosemary's Block ($55) – 90
2009 Carlisle Zinfandel Papera Ranch (N/A) – 92
2011 Carlisle Zinfandel Bedrock Vineyard (N/A) – 91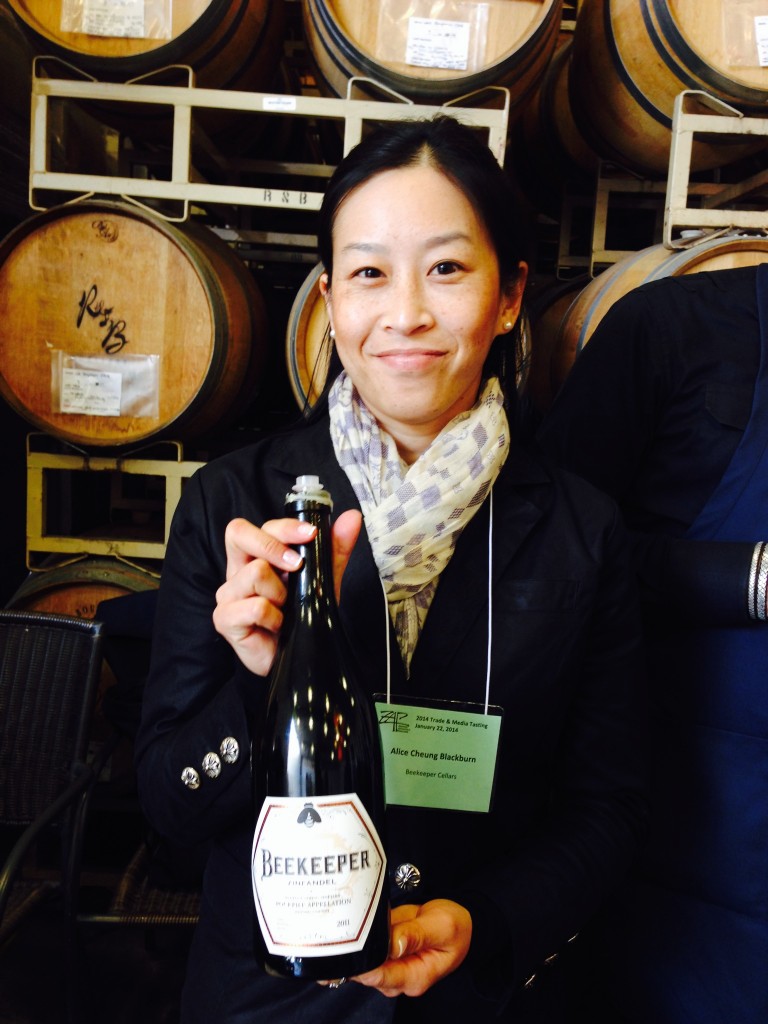 2009 Chase Zinfandel Hayne Vineyard ($45) – 90
2010 Chase Zinfandel Hayne Vineyard (($45) – 90
2010 Chase Zinfandel Reserve Hayne Vineyard ($75) – 91
2009 Deering Zinfandel ($42) – 90
2011 Harney Lane Zinfandel Old Vine Lizzy James Vineyard ($35) – 90
2011 Ottimino Zinfandel Ottimino Vineyard ($32)- 90
2011 Ottimino Zinfandel Biglieri Vineyard ($34) – 91
2010 Carol Shelton Wines Zinfandel Rocky Reserve Rockpile Ridge Vineyard ($35) – 90
2009 Turley Zinfandel Zampatti Vineyard – 90
2011 Turley Zinfandel Rattlesnake Ridge – 91
Conclusion
It was a great afternoon!  I enjoyed the new venue, and the event was well run. Both the seminar and of course the tasting were fantastic.
My take on the state of Zinfandel?  The quality of wines made from America's heritage grape variety has never been better. Compared to prior tastings, I found more depth and sophistication across the board this year than in prior years.
Related posts you might like:
__________________________________________________________________
Martin Redmond is a Financial Executive by day, and a certified wine geek with latent foodie tendencies the rest of the time. In addition to the wine lifestyle and food he enjoys family, fitness and traveling. He likes to get thoughts of wine off his mind by sharing experiences on his ENOFYLZ Wine blog, which features wine reviews, wine country travel, and wine and food pairings.
Follow me on Twitter @martindredmond for all things wine, and since I'm a wino, with latent foodie tendencies, you'll also find food and wine pairings, and food related stuff! Become a fan and join ENOFYLZ Wine Blog on Facebook. Cheers!
This article is original to ENOFYLZ Wine Blog.com. Copyright 2014 ENOFYLZ Wine Blog. All rights reserved.