Every Thursday I feature a wine I particularly enjoy, whether it's something new and different, is a great value, or from a producer worth checking out.  For this week, my Wine Of The Week is the 2010 Woodenhead Zinfandel Leras Ranches Bertoli.
The Winery
Woodenhead Vintners is owned by Nikolai Stez, and Zina Bower.  Nikolai grew up in the Russian River Valley, and was drawn to wine at an early age and began some home winemaking while still in college. His formal winemaking education consisted of attending the Horticulture and Viticulture program at Santa Rosa Junior College and attending a few classes at UC Davis. He began to seriously make garage wines in 1986 while being mentored at Williams Selyem.
He was assistant winemaker at Williams-Selyem before launching Woodenhead.  His domestic partner, Zina Bower, is equally passionate about wine, and is involved as well, handling the marketing and business side of Woodenhead. She also has a day job as business manager at Diamond Creek Vineyards in Napa Valley.
The name, "Woodenhead," was a name given to Nicolai by an old girlfriend who thought that he was very stubborn 
In addition to Zinfandel, Woodenhead produces amazing Pinot Nori, a French Colombard, and a unique French Colombard based sparkling wine. They aspire Burgundian style wines with California fruit. They produce approximately 4,000 case of wine annually.
I've visited Woodenhead a couple of times.  I've always really enjoyed the wines and inevitably end up purchasing some bottles.  The tasting room is located on River Road in Santa Rosa and is perched on a small hill that overlooks the Russian River Valley.  I have fond memories on sitting on the patio, sipping their wonderful wines and taking in the glorious view.
The Wine
The fruit for this wine was sourced from  the  Leras Ranch.  The vineyard, originally owned by the Bertoli Family, was planted sometime between the late 30's and early 40's, making it approximately 70 years old (I'd say that qualifies as "old vine"!)  Nick Leras is the current owner and both farms and manages the vineyard.
The vineyard is head-trained and completely dry-farmed and the soil is primarily dark clay loam.
The wine is aged in French oak, and is bottled unfiltered and unfined.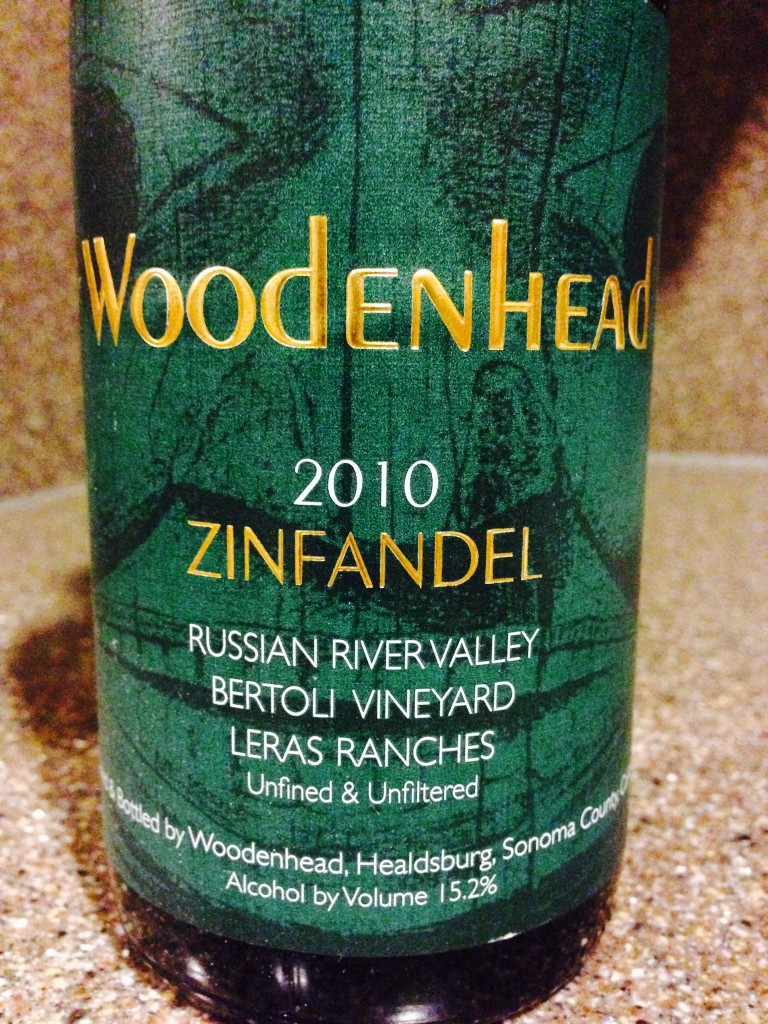 My tasting notes follow:
Deep violet color with lifted intoxicating aromas of balsamic vinegar, oriental spice, and mixed dark fruits. On the palate, it's medium-bodied, and balanced with a supple mouth feel. It shows blackberry, black cherry, plum and spice flavors. Medium-long finish. SRP; $30; 15.2% alcohol; 172 cases produced
Rating: A-; A truly lovely Zin….that I heartily recommend!
Pair with: Pulled pork, lamb chops, or chicken mole!
Sample purchased for review
Ratings Key:
(A+) – 98-100/Extraordinary
(A) – 94-97/Outstanding
(A-) – 90-93/Excellent
(B+) – 86-89/Very good
(B) – 80-85/Good
(C) – 70-79/Bleh
(D) – 50-69/#Fail
__________________________________________________________________
Martin Redmond is a Financial Executive by day, and a certified wine geek with latent foodie tendencies the rest of the time. In addition to the wine lifestyle and food he enjoys family, fitness and traveling. He likes to get thoughts of wine off his mind by sharing experiences on his ENOFYLZ Wine blog, which features wine reviews, wine country travel, and wine and food pairings.
Follow me on Twitter @martindredmond for all things wine, and since I'm a wino, with latent foodie tendencies, you'll also find food and wine pairings, and food related stuff! Become a fan and join ENOFYLZ Wine Blog on Facebook. Cheers!
This article is original to ENOFYLZ Wine Blog.com. Copyright 2014 ENOFYLZ Wine Blog. All rights reserved.