One of my favorite Bay Area food and wine events, the 8th annual Dark & Delicious Petite Sirah™ is coming to Alameda in February!  Dark & Delicious ("D&D") is the preeminent annual Petite Sirah event in the world.  It's put on each year by  P.S. I Love You, an association of Petite Sirah growers, producers and winemakers.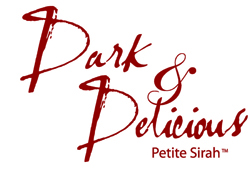 In a nutshell, it's 40+ wineries pouring Petite Sirah ("P.S."), collaborating with 25+ fabulous Napa and Bay Area restaurants and/or food caterers for a food and wine extravaganza.
For the uninitiated, here's a quick 411 on P.S.
Created by François Durif, it is the love child of a noble grape, Syrah, and an obscure peasant grape Peloursin in 1880
90% of the world's P.S. vineyards are in California
Produces big, masculine, typically ink-colored wines that tend to be tannic with moderate to high-acidity
Sometimes (increasingly it seems) referred to as Durif
What makes this event special for me is…
It's a"one-stop" tasting of P.S. from the finest producers throughout Cali.  It's a great chance to experience the diversity of P.S. both geographically, and stylistically.
It's a great opportunity to get to know P.S. as a food partner beyond the typical steak and BBQ because you get a chance to try all manner of gustatory delights from savory to sweet and everything in between.
It's offers great value! For the price of a couple of Napa Valley wine tastings, you can eat and drink (responsibly of course;-) to your heart's content.
It has the most evocatively appropriate name of all the wine events I attend…it put's a smile on my face whenever I think "Dark & Delicious"!
I've been the last several years and it's gotten better year. I expect this year will be the best yet! The foodie in me has already circled Hella Lumpia, Gators Back Porch BBQ, and A Fork Full of Earth Organic Catering as a few of the new food purveyors to check out this year!
The event web site has a list of the wineries pouring this year. And the list of food vendors signed up so far for this year is more impressive than ever.  

P.S. I Love You Dark and Delicious Tasting
February 21th, 2014
6:00 p.m. to 9:00 p.m.
The Rock Wall Wine Company
2301 Monarch Street
Alameda, CA 94501 (map)
Tickets are $65 per person (free parking).  There are also discount tickets available ($55) for group of 6+.  The more the merrier!
The event has sold out in the past so put some pep in your step!  For more details and tickets click here.
If you do decide to go, I recommend you:
Wear dark clothes
Don't wear perfume/cologne
Since there's plenty of food, grab a bite when you (they'll be plenty of food
And SPIT!
Related posts you might enjoy:
Follow me on Twitter @martindredmond for all things wine, and since I'm a wino, with latent foodie tendencies, you'll also find food and wine pairings, and food related stuff! Become a fan and join ENOFYLZ Wine Blog on Facebook. Cheers!
This article is original to ENOFYLZ Wine Blog.com. Copyright 2014 ENOFYLZ Wine Blog. All rights reserved.