I was pretty excited when I saw this week's #SundaySupper tapas theme.  That's because my wife and I recently returned from a 17-day trip to Spain! Our itinerary included visits to Barcelona, La Rioja (Spain's most renown wine country), San Sebastian, Madrid, Toledo, Sevilla, and Granada.  One of the highlights of our trip, of course was Spain's food – especially the tapas, which we ate almost daily!  We were very impressed by the integrity and freshness of the ingredients in most of the food we enjoyed.
The notion of perfect and delicious little bar snack has now taken wing from its humble beginnings, developing into a worldwide gastronomic delight perceptively different from the usual restaurant experience..while still maintaining the feel of convivial food
We did our most serious tapéo (tapas hopping) in Barcelona, and San Sebastian.  But the cacophony of clanking glasses, fast paced chatter and the shuffling of tiny plates filled the atmosphere in every tapas bar we visited.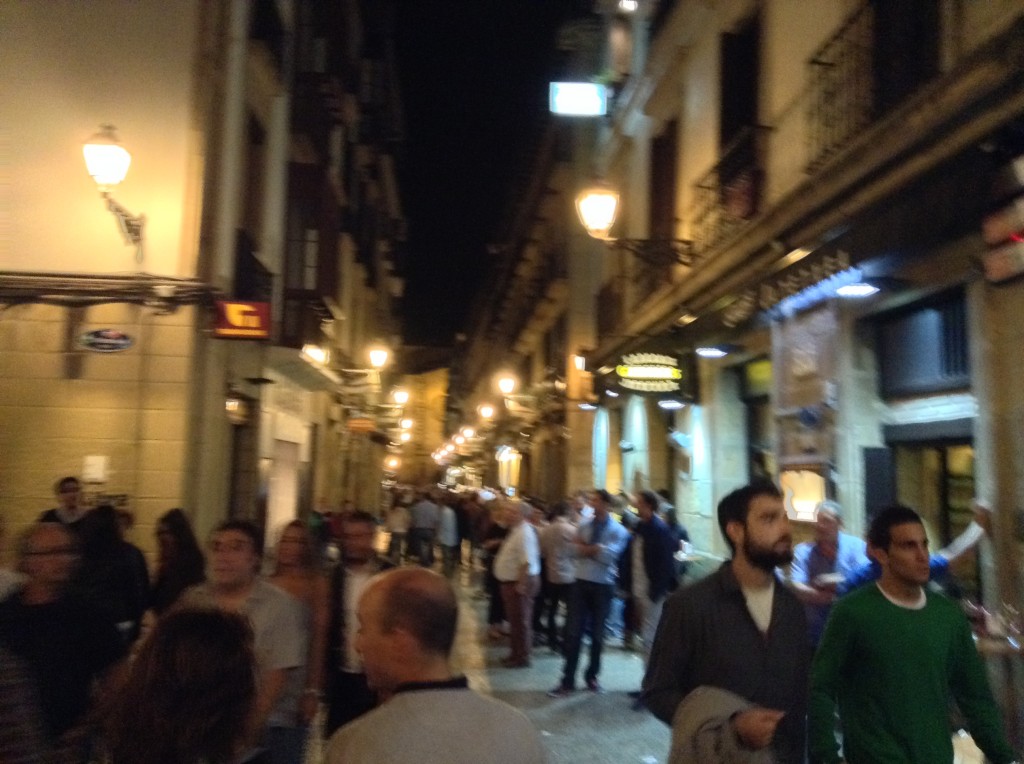 Each experience was unique and memorable in its own way.  For example, the experience in Haro, the wine capital of Spain, had a much more intimate feel than Barcelona, which was, as one would expect, was more frenetic.  Some of the tapas were the same from place to place, but we also enjoyed some regional specialties.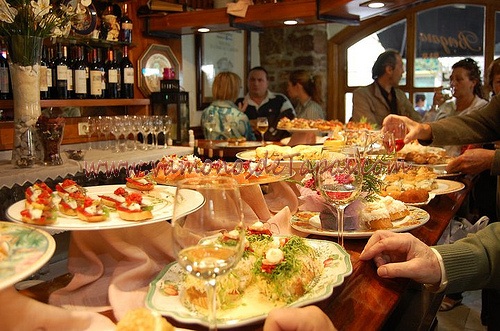 The gastronomic highlight of the trip for me was San Sebastian (which has a well deserved reputation for being the culinary capital of Spain)!  It's the most famous city in the Basque Country, and the local word for tapas is pintxos. 
Check out some of the tasty tapas we enjoyed in Spain…
This slideshow requires JavaScript.
Pairing Wines with Tapas
I'm a big proponent of the wine and food pairing guideline that says 'what grows together, goes together".  In other words, pair tapas with Spanish wines.  The wide gamut of Spanish wines are naturally well-suited to the broad spectrum of Spanish foods.  My recommendations include many well know Spanish wines that are great with tapas, including Cava, Albariño, and Rioja, as well as the lesser well-known, but no less fantastic with tapas, Txacholi (Chacoli).
Another classic, but unsung hero of Spanish wine worthy of your consideration is Sherry.  Despite, the belief that Sherry country is where tapas were first created, Sherry remains mostly underappreciated, and misunderstood. It's not just the libation of old ladies.  For example, relatively few people understand that Sherry ranges in style from bone dry to rich and very sweet (Here's a great primer on Sherry).  Fortunately Sherry is becoming more popular outside of Spain because of its food friendly nature and exceptional quality/price ratio.  I count myself among those who believe that Sherry is their quintessential accompaniment.  Not sure about giving Sherry a try?  Try a half-bottle!
Tip: Since tapas are "small plates, you may find yourself ordering a wide assortment.  Consider ordering your tapas in two waves – those that work with white wine (Cava, Spanish white wines, or Sherry), then order tapas that work with red wines (meats, or mushroom based ones).
Check out the mouth-watering assortment of amazing tapas at the #SundaySupper virtual tapas bar and my wine pairing recommendations! :
Pair these dishes with Cava, the Spanish equivalent of champagne, made mostly in Catalunya by the same exacting standards as in France.  It has a wonderful palate-refreshing qualities also make it ideal with broad range of Spanish tapas.  Look for  El Xamfra Mercat Brut Cava.  It has an intriguing floral, stone fruit, citrus, and toasted nut character
Try this dishes with a slightly sweet Cava.  Look for Segura Viudas ARIA Extra Dry. It shows off-dry tropical fruit, apple, pear, honey and a bit of citrus flavors with crisp palate cleansing acidity and effervescence.
Pair these dishes with a Fino Sherry.  Fino is a light-bodied, very dry type of Sherry that is excellent with olives, almonds, ham, and chips and dips.  One of my favorites is Valdespino "Inocente" Fino. It has a complex, elegant, chalk, aromatic herb, and salted almond character.  These dishes will also work with the El Xamfra Cava.
Pair these dishes with an Amontillado Sherry. It's an off-dry medium-bodied style Sherry with a richer, nuttier character than Fino.  Look for the Lustau Amontillado "Los Arcos" Solera Reserva. It has an off-dry edge, and an almond paste, date, spiced orange, slightly honeyed character. These dishes will also work well with the recommended Rioja below.
Pair these dishes with a Rosé.  Spain make some fine Rosé.  Most are Tempranillo and/or Grenache based.  But check out the 2012 Raventos i Blanc "La Rosa". It's made of Pinot Noir, and has a lovely, dry tangy mixed red berry and watermelon character.
Pair these dishes with an Albariño, the racy, refreshing white wine originating from the small wine region of Rias Baixas (ree-ahs-buy-shuss).  Look for the 2011 Condes de Albarei Albariño.  It has expansive aromas, a silky texture, and peach, citrus, and mineral flavors.
Pair these dishes with a Txacholi, a slightly sparkling, very dry white wine with high acidity and low alcohol produced in Basque country. The wine is produced from an indigenous varietal of grape grown in vineyards that overlook the rugged Cantabrian coastline and are perfumed by the salty sea air. It's fantastic with seafood.  Look for  the 2012 Zudugarai "Amats" Getariako Txakolina.  It has a zippy, crisp, tart green apple, citrus and mineral character. 
Pair these dishes with Rioja, named for Spain's preeminent wine region.  The workhorse grape in Rioja is Tempranillo.  The supple, earthy, and often refined wines bring to mind Burgundy in some respect for me.  Look for the 2010 Bodegas Bilbainas "Viña Zaco". It shows perfumed floral, red fruit, and spiced vanilla aromas with ripe black cherry, plum, vanilla flavors supported by well-integrated tannins.  
Pair these desserts with an Oloroso Sherry, a denser richer style of Sherry.  Look for the Lustau East Indian Solera. It's a provocative sweet creamy Sherry with a toffee, fig, caramel, raisin, and baking spice  (cinnamon and clove) character. 
What's your favorite wine to enjoy with tapas? Salud!
Join the #SundaySupper conversation on twitter on Sunday! We tweet throughout the day and share recipes from all over the world. Our weekly chat starts at 7:00 pm ET. Follow the #SundaySupper hashtag and remember to include it in your tweets to join in the chat. Check out our#SundaySupper Pinterest board for more fabulous recipes and food photos. Would you like to join the Sunday Supper Movement? It's easy! You can sign up by clicking here: Sunday Supper Movement.