Every Thursday I feature a wine I particularly enjoy, whether it's something new and different, is a great value, or from a producer worth checking out.  For this week, my Wine Of The Week is the 2001 La Rioja Alta Rioja Viña Ardanza Reserva Especial.

The Winery
La Rioja Alta is one of the most renowned producers of traditional Rioja wine. Their history dates back to 1890 when it was founded as the Sociedad Vinicola De La Rioja Alta by five viticultural family's from both Basque and Rioja regions of Spain.  No long thereafter the name was changed to La Rioja Alta.
The company owns two wineries with the original building located in Haro.  The second, modern winemaking facility was built in 1996 at Labastida just 1.5km to the north-east.   The estate covers 360 hectares of vines with parcels in much of the best parts of the Rioja Alta subregion of Rioja.  The estate is planted primarily to Tempranillo, along with small amounts of Graciano and Mazuelo, along with 63 hectares of Garnacha (Grenache) vines in the Rioja Baja subregion.
The winery has its own cooperage producing barrels from oak imported from America and dried for two years.
The Wine
The Viña Ardanza Reserva has been elaborated by La Rioja Alta since 1942! it is named after one of the founding families. It is only produced in the best years, and  the 2001 vintage was rated "Excellent" by Rioja Control Board.  La Rioja Alta thought so highly of this wine that it called it Reserva Especial, only the third time one of its wines has earned that designation, along with 1964 and 1973.
The wine is made up of 80% Tempranillo from thirty year old vines from their vineyard in Fuenmayor, and 20% Garnacha coming from very old, goblet-pruned vines 600 meters above sea level in Rioja Baja. The Tempranillo spends 36 months in American oak. The Garnacha spends 'only' 30 months in oak to preserve its freshness.  The  components are blended and bottled. The wine receives a further four years  of  bottle aging. Aging wines this long in American is virtually unheard of!
You can find this wine here.  The wine was produced in 2002, or 2003 the current release is the 2004.  I'm definitely going to check that out.  I'm also going to seek out some other wines from the monster 2001 vintage!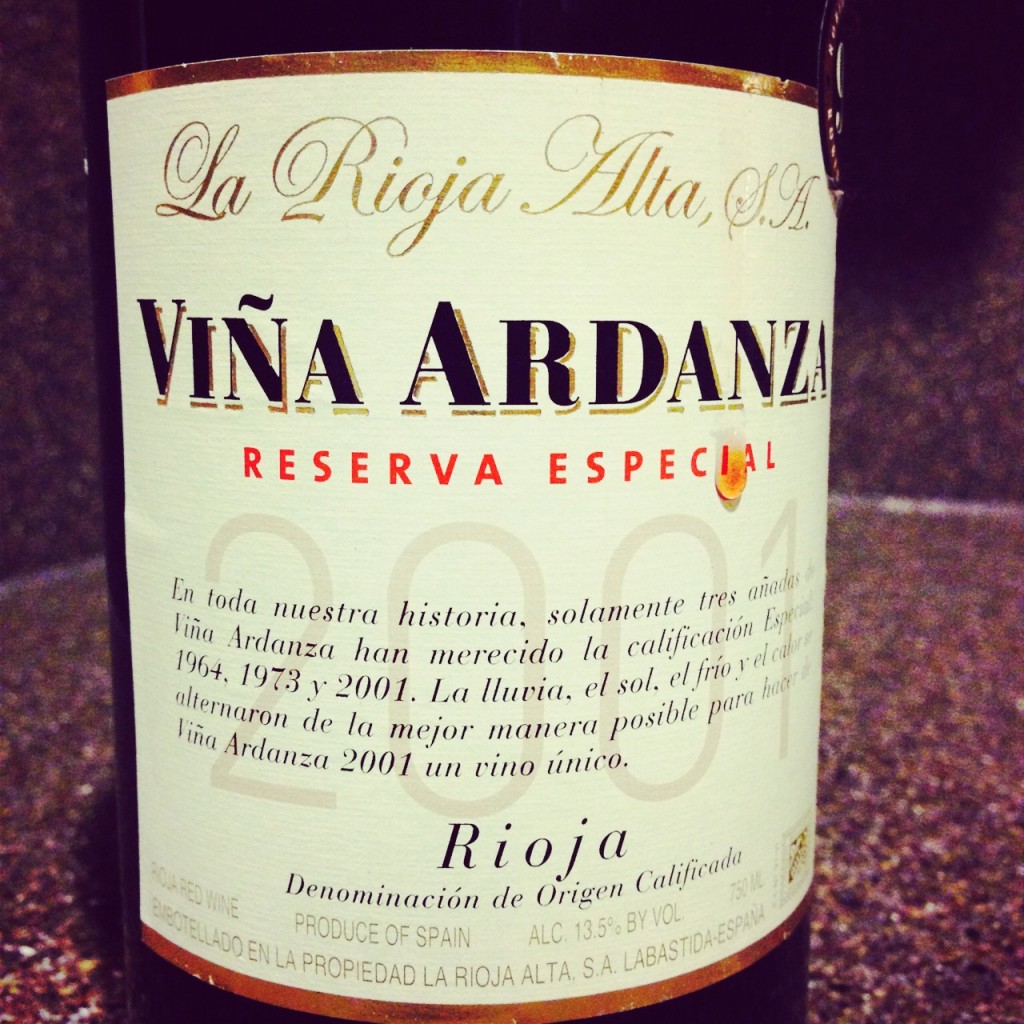 My tasting notes follow:
Dark brick garnet color with intriguing earthy, leather, smoke, dried red fruit, fresh meat, vanilla, cedar wood and spice aromas. On the palate, it's light-medium bodied,  wonderfully complex, balanced and fresh with a silky texture, smooth well-integrated tannins and tart-ish cherry, vanilla, spice oak, and leather flavors. Long finish, clean finish.  13.5% alcohol.
Rating: A-; Great value in a mature Rioja at $30, and a superb example of traditional Rioja wine.  If you're looking to drink aged wines that won't break the bank look to Rioja!
Pair with: An excellent wine to accompany charcoal-grilled meat, roasts, small game, medium-aged cheeses, Iberian cured sausages, etc.
Sample purchased for review
Ratings Key:
(A+) – 98-100/Extraordinary
(A) – 94-97/Outstanding
(A-) – 90-93/Excellent
(B+) – 86-89/Very good
(B) – 80-85/Good
(C) – 70-79/Bleh
(D) – 50-69/#Fail
Follow me on Twitter @martindredmond for all things wine, and since I'm a wino, with latent foodie tendencies, you'll also find food and wine pairings, and food related stuff! Become a fan and join ENOFYLZ Wine Blog on Facebook. Cheers!
This article is original to ENOFYLZ Wine Blog.com. Copyright 2014 ENOFYLZ Wine Blog. All rights reserved.