I recently received an interesting wine sample from Castello di Amorosa.  The sample included their flagship Super Tuscan – La Castellana, along with three 2012 barrel samples, and a pipette.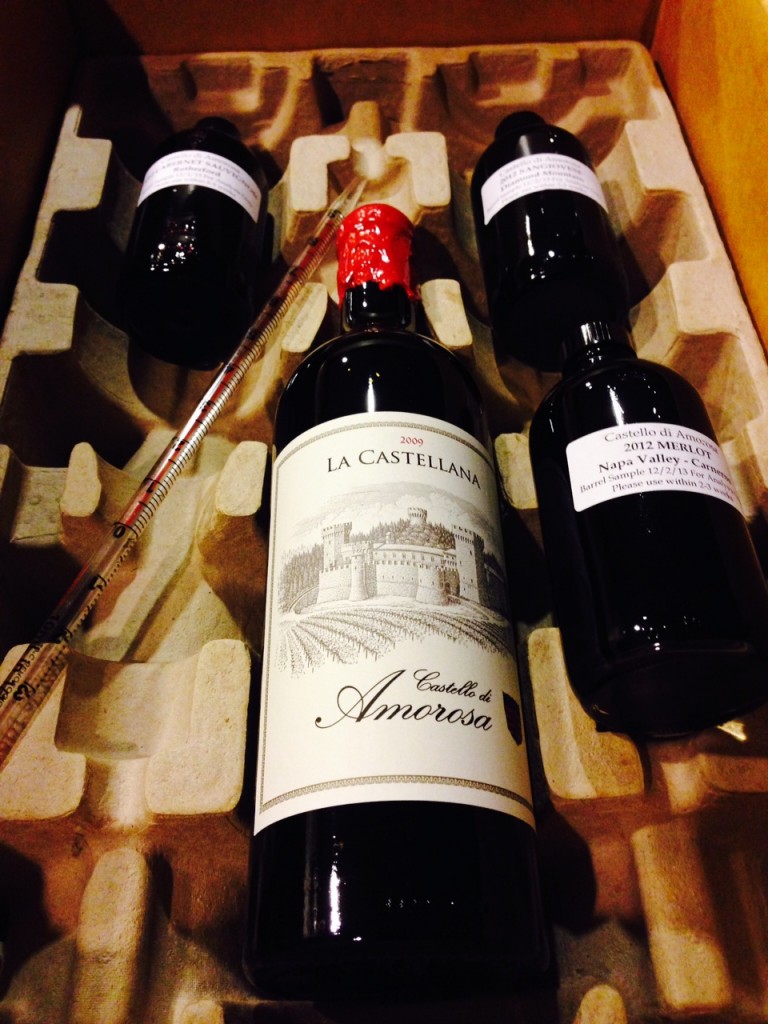 I featured the prior 2008 vintage of La Castellan as my Wine of the Week last year, so I'm pretty stoked about trying the 2009!  In the meanwhile, my wife and I eagerly welcomed the chance to create our Super Tuscan blend from the three barrel sample provided by Castello di Amorosa!
If you're not familiar with a Super-Tuscan, simply put, it's a blend of Sangiovese and Bordeaux grape varieties (primarily Cabernet Sauvignon, and Merlot).  There are generally two kinds – those that are dominated by Sangiovese, or those dominated by Cabernet Sauvignon (for story behind how the term "Super Tuscan" was created as told by Sebastiano Rosa  of Sassicaia fame, click here).
The term "Super Tuscan" describes any Tuscan red wine that does not adhere to traditional blending laws for the region
The three 2012 barrel samples, all sourced from the Napa Valley, were Rutherford Cabernet Sauvignon, Carneros Merlot, and Diamond Mountain.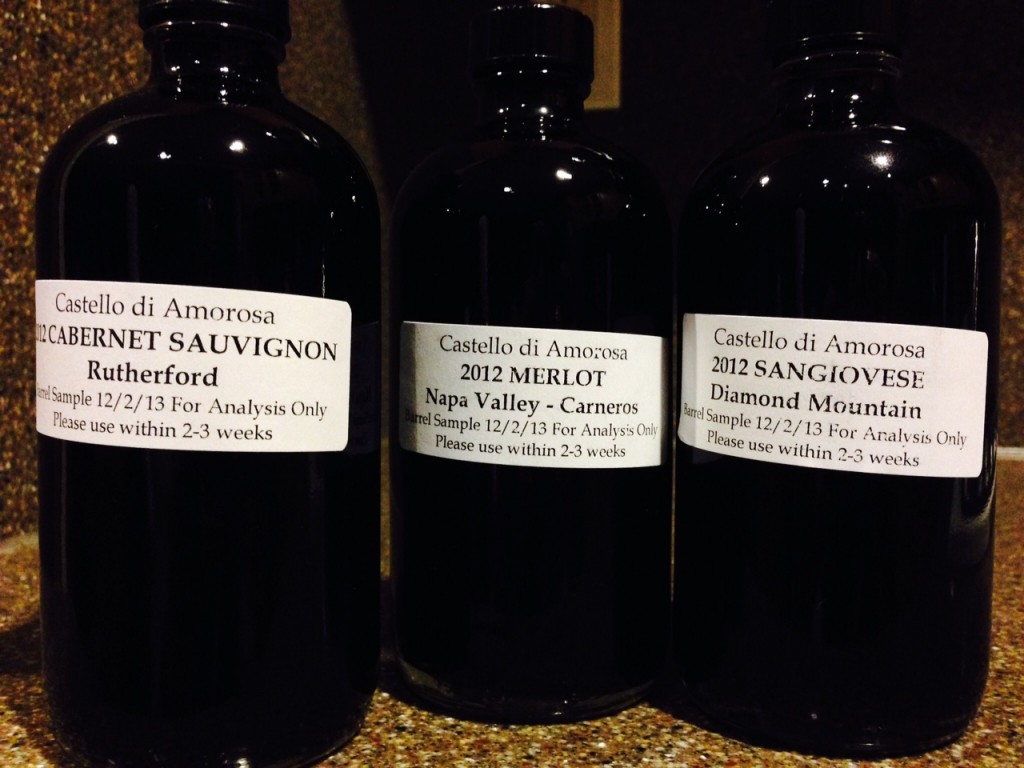 The first thing I did was taste the wines individually before we started our "blending trials" at "Castello di Redmond", so I could get a sense of what each wine would add to the blend.  Here are my quick notes on each:
2012 Rutherford Cabernet Sauvignon – Muted red fruit and vanilla aromas; fruity dark cherry, red currant, and a bit of vanilla flavors. along with some . A bit tannic, fine length and the most pronounced flavor profile especially on the front and mid palate. I got a sense of some Rutherford dust too!
2012 Carneros Merlot – Fresh with black and blue fruit aromas.  Less fruity and surprisingly more tannic than the Cab with a slightly bitter taste on the back palate; plumper than the Sangiovese
2012 Diamond Mountain Sangiovese – Most aromatic of the three with red fruit, leather and earth aromas; Medium+ acidity; candied cherry flavor. My favorite of the three wines on a standalone basis.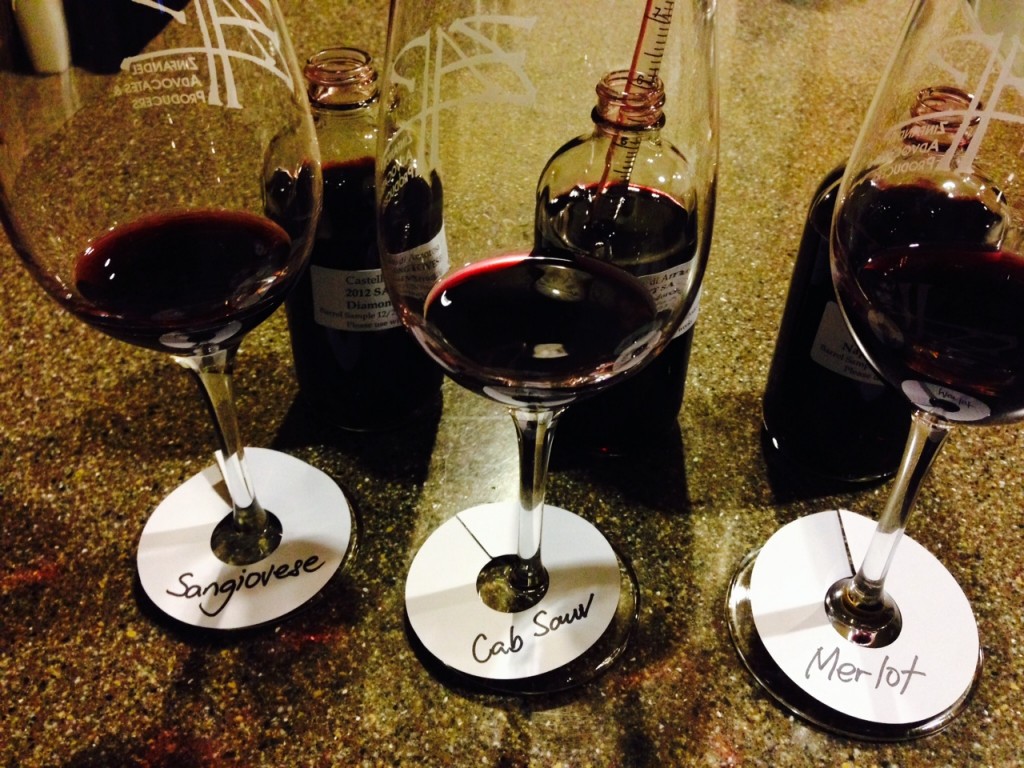 After tasting through the wines individually, we got busy blending!
The first thing I have to say is that controlling the exact amount of wine released from the pipette can be tricky!  Once I got that down, we created four blends:
70% Sangiovese/20% Cab/10% Merlot – Cherry, vanilla, earth aromas that echoed on the palate; medium+ acidity, dusty tannins and fine length. 
80% Cab/10%Sangiovese/10% Merlot – Cassis, cherry, earth aromas that echoed on the palate; medium acidity, fine length; less vanilla aroma/flavor than #1
One-third each Cab, Merlot and Sangiovese – Earth, cherry, and vanilla aromas, that echo on the palate; slightly hot on the nose, shortest finish and mid-palate lacking.
50% Sangiovese/25% each Cab and Merlot – Fruitier, and more tannic than both #1 and #2, cassis, cherry, oak aromas; medium+ acidity, cherry, cassis flavors, shorter finish than #1 and #2
The results
Blend #1 edged out blend #2 for top honors. Initially, my wife favored #2, but eventually came around to saying #1 was her favorite.  Wine number #4 was third and #3 was our least favorite.
My takeaways
Blending is can be big fun (um…once you get control of the pipette;-), but I came away from the experience with a new-found appreciation for the discipline and rigor involved with blending. Like some many other aspects of winemaking, It's part science, part art.
The benefits of blending we readily apparent to me.  The sample wines blended together tasted better than they did individually.  The blended wines also seemed more balanced.  At least that was the case with blends #1, and #2 for me.  Not so much for #3 and #4.  While still enjoyable, I didn't find those blends as enjoyable as the Sangiovese or Cab individually.
And finally, from the "actions speak louder than words" perspective, after our blending trials we had some leftovers of all three wines.  The first to disappear was the Sangiovese!
Wine provided as a sample for review.  Many thanks to Castello di Amorosa
Related post you might enjoy:
Follow me on Twitter @martindredmond for all things wine, and since I'm a wino, with latent foodie tendencies, you'll also find food and wine pairings, and food related stuff!  Become a fan and join ENOFYLZ Wine Blog on Facebook. Cheers!
This article is original to ENOFYLZ Wine Blog.com. Copyright 2014 ENOFYLZ Wine Blog. All rights reserved.