Every Thursday I feature a wine I particularly enjoy, whether it's something new and different, is a great value, or from a producer worth checking out.  For this week, my Wine Of The Week is the 2011 Yorkville Cellars Sémillon Late Harvest.
The Winery

Yorkville Cellars is located in Yorkville, California in Mendocino County. Yorkville's claim to fame is two-fold.  They are the only winery I know where all 8 of the Bordeaux varietals are estate grown and then offered as separate varietal wines. And their two vineyards are both certified organic – the oldest of which has been certified organic since 1986. 
My wife and I have visited Anderson Valley three times over the last several years and we make sure drop in at Yorkville Cellars each time because we enjoy the wines.  It's fun to try varietal bottlings of the lesser known Bordeaux varietals like Carmenere, or Petite Verdot, but our favorite has been their best red Richard the Lion-Heart. On our last visit, we tried a delightful Sweet Malbec.  I highly recommend stopping by Yorkville Cellars if you've visiting Anderson Valley. The wines are wonderful and fairly priced, and you'll enjoy their diverse offerings.
The Wine
The 100% estate grown grapes for this wine are sourced from Yorkville Cellars' Randle Hill Vineyard, which is planted to Sauvignon Blanc and Semillon, and located behind its tasting room.  The vineyard dates back to 1982, and was expanded in 1989.
 In more than two decades we've been lucky enough only twice to have the right late fall mix of damp fog as well as sufficient warmth to promote the growth of "noble rot."
The wine is made from Sauvignon Blanc and Semillon grapes that have been affected  by Botrytis cinerea, also known as noble rot.  Botrytis cinerea is a benevolent fungus that infects ripe grapes under the right conditions.
The fruit was picked in November (thus the term "late harvest") cluster by cluster and even berry by berry.  Because the grapes are like raisins with very little liquid, only a couple of barrels of juice were produced. The brix (measurement of sugar content) was 45 degrees, and that's a lot of sugar to convert to alcohol.  Since the winery is very cold in November, fermentation was helped  along by keeping the barrels tucked under electric blankets!
The wine is in a 375ml (half) bottle, is 13% alcohol,and was barrel aged for 8 months. SRP is $34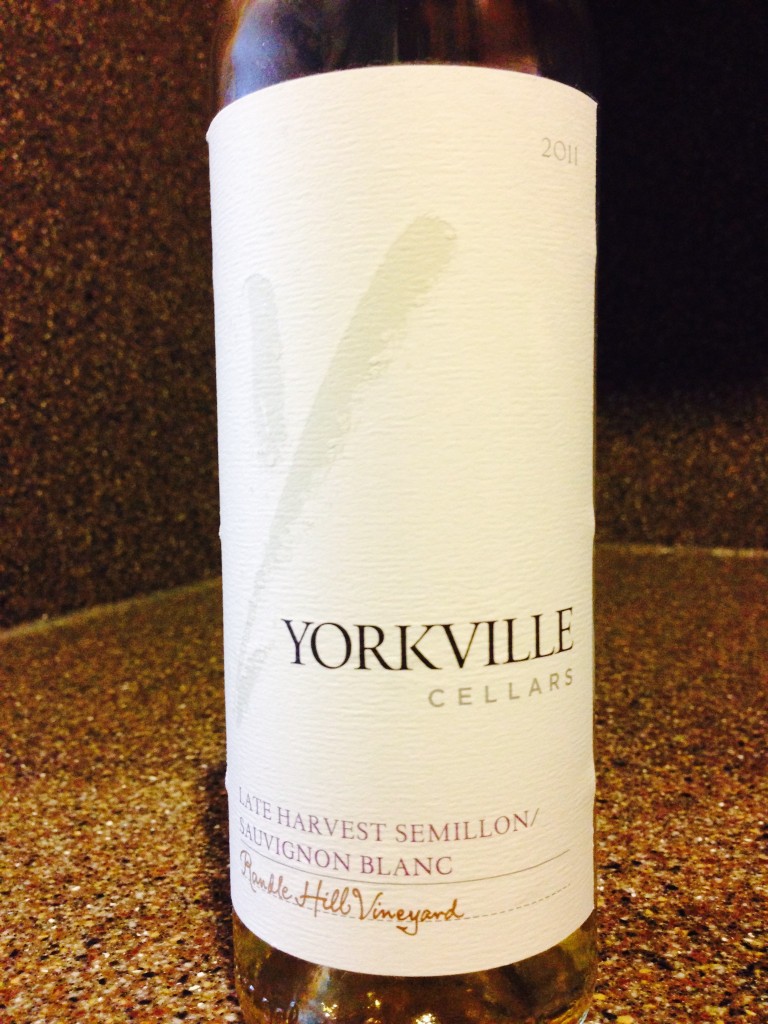 My tasting notes follow:
Golden yellow color with honey, baked peach, apricot aromas. On the palate it's viscous, with a vibrant acidity which keeps it from being cloying. It shows lush, peach, apricot, and honey flavors and a long finish.
Rating:  A- : This is an outstanding Sauterne style dessert wine!
Pair with: We paired this with pumpkin pie and it was a killer pairing! Consider pairing with fruit tarts such as apple or pear, duck liver, and blue cheeses like Roquefort, Stilton, Gorgonzola and Cambozola
Sample provided by winery
Ratings Key:
(A+) – 98-100/Extraordinary
(A) – 94-97/Outstanding
(A-) – 90-93/Excellent
(B+) – 86-89/Very good
(B) – 80-85/Good
(C) – 70-79/Bleh
(D) – 50-69/#Fail
Follow me on Twitter @martindredmond for all things wine, and since I'm a wino, with latent foodie tendencies, you'll also find food and wine pairings, and food related stuff!  Become a fan and join ENOFYLZ Wine Blog on Facebook. Cheers!
This article is original to ENOFYLZ Wine Blog.com. Copyright 2013 ENOFYLZ Wine Blog. All rights reserved.