I'm on the prowl for some good (actually very good) everyday wines.  Mostly to keep me from drinking wines I want to age longer (lately I've been dipping into the good stuff a little too much!)  I figure I put together a case of affordable everyday wines and share it with you!
What am I looking for?
Something for $10 or less, and since virtually all the wine I drink is with food, it's got to be food friendly.  
I picked up the 2010 Celler de Capcanes "Mas Donis" Barrica from K&L Wine Merchants last week.  It's custom cuvee made for wine importer Eric Solomon.
By the way, this is the third such custom cuvee put together for Solomon that's been a winner in my book.  I don't think that's a coincidence – Solomon has a knack for wonderful every day wines that dramatically over deliver for the price.
[Overview of  Spanish Wines]
The wine is produced by Celler de Capcanes, which is located southwest of Barcelona in the Priorato hills. The winery also makes Kosher and organic wines,
It's a blend of 85% Garnacha (70-year-old vines) and 15% Syrah (30-year-old vines) aged nine months in new and older American and French oak.  The Syrah adds some nice depth and acidity.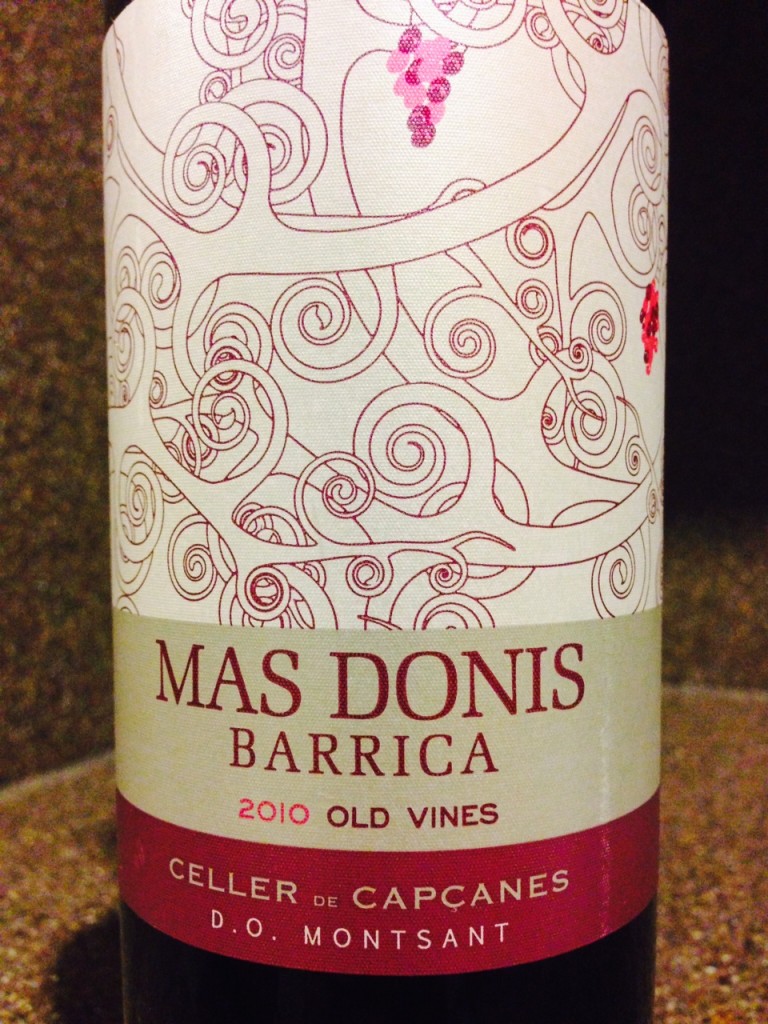 My tasting notes follow:
Dark ruby color with promising spiced rose petal, mixed berry, and mineral aromas. On the palate, it's medium-bodied, and vibrant with supple tannins, and raspberry, cherry blackberry spice and mineral flavors. Medium-long finish. 14% alcohol.
Rating: B+: This is a great everyday wine! If you can manage to hang on to a bottle until the warm weather returns, this is the type of wine that will take a chill nicely.  Will buy more!
Related posts you might enjoy:
Ratings Key:
(A+) – 98-100/Extraordinary
(A) – 94-97/Outstanding
(A-) – 90-93/Excellent
(B+) – 86-89/Very good
(B) – 80-85/Good
(C) – 70-79/Bleh
(D) – 50-69/#Fail
Follow me on Twitter @martindredmond for all things wine, and since I'm a wino, with latent foodie tendencies, you'll also find food and wine pairings, and food related stuff! Become a fan and join ENOFYLZ Wine Blog on Facebook. Cheers!
This article is original to ENOFYLZ Wine Blog.com. Copyright 2013 ENOFYLZ Wine Blog. All rights reserved.