The Angle 33 Wine Thermal is a great way to store, chill, and serve wine.
I received this product as a sample several months ago and used it almost daily all summer long to keep my wines at the appropriate serving temperature.
I didn't stop using it after summer though.  Serving whites and rosé chilled to maximize enjoyment is top of mind for most folks, especially when the weather is warm.  But it's just as important to serve red wines at "cellar" temperature to maximize your enjoyment.  This thermal works great for that too.  So, it's great to use year-round to keep your reds, white, and pink wines at the appropriate serving temperature.

What it is:
The Angle 33 Wine Thermal is made of concrete (Click here to see how it's made).  It  utilizes the laws of thermal mass—not ice—to sustain wine temperature. The concrete is sealed so it does not sweat or get wet on the sides and bottom.  It has a cork bottom to protect tables and countertops from scratches.  The thermal is chilled in the refrigerator so ice is never used.  Keep it mind since it's made of concrete, it weighs 5 to 6 pounds so it's hefty.
If you're looking to buy American, you'll be glad to know they are hand-crafted in Missoula, Montana.
How to use it:
For best results, place your thermal in the fridge for 30 to 35 minutes and then place an already chilled bottle of white, or pink wine in it. You may also chill in the freezer, but do not store it in the freezer on a long-term basis, as this may damage the appearance of the thermal.
It works well with red wine too since it does a great job of sustaining temperature for an hour and a half to two hours.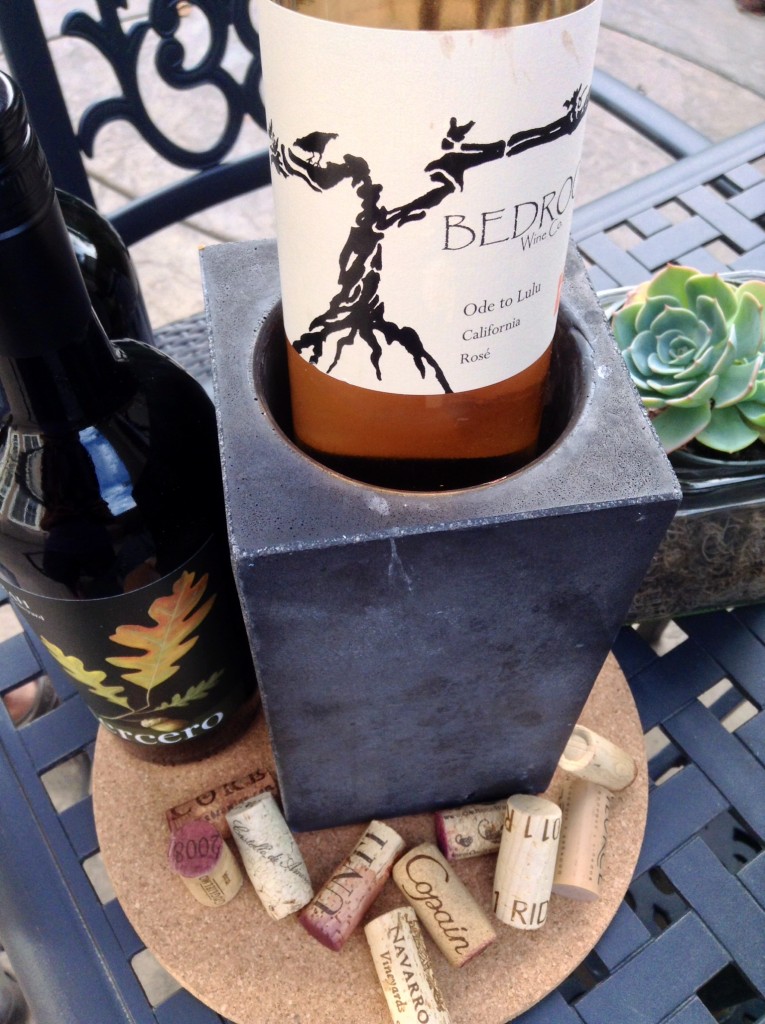 Why I love it:
It works very well.  In my experience they keep red, white, and pink wines, as well as champagne at the optimal serving temperature longer than anything else I've used.  It maintained the serving temperature of my white and pink wines for at least an hour if I chilled the thermal in the refrigerator.  Longer if I chilled in the freezer.
Its sleek, clean, contemporary design looks great on your table or bar.  Additionally, the bottle of wine presents well and is protected in the thermal too.
Maintains wine's temperature without the sloppy ice bucket mess, or bottle wrap condensation.
Environmentally friendly and virtually indestructible.
It's available in may colors including; Butter, Mineral, Pepper, Plum, and Tobacco.
The price for the Standard and Pinot (larger bottles) models are $64.99, the Champagne model, which also holds magnums is $69.99.  This would make a great holiday gift for the wine lover on your list!
Like this post?  Sharing is caring!