My wife and I usually make it a point to drink sparkling wine on a weekly basis.  It's typically Friday night…thus "T.G.I.F. Bubbly"  It's a celebration of sort, to the end of the work week.  We switched it up a bit this week, because we always have a sparkling wine for Thanksgiving.  We chose the 2012 Yorkville Cellars Sparkling Petit Verdot Brut Rosé for this week's sparkling wine. 

The Winery

Yorkville Cellars is located in Yorkville, California in Mendocino County. Yorkville's claim to fame is two-fold.  They are the only winery I know where all 8 of the Bordeaux varietals are estate grown and then offered as separate varietal wines. And their two vineyards are both certified organic – the oldest of which has been certified organic since 1986. 
My wife and I have visited Anderson Valley three times over the last several years and we make sure drop in at Yorkville Cellars each time because we enjoy the wines.  It's fun to try varietal bottlings of the lesser known Bordeaux varietals like Carmenere, or Petite Verdot, but our favorite has been their best red Richard the Lion-Heart. On our last visit, we tried a delightful Sweet Malbec.  I highly recommend stopping by Yorkville Cellars if you've visiting Anderson Valley. The wines are wonderful and fairly priced, and you'll enjoy their diverse offerings.
The Wine
The 100% estate grown grapes for this wine are sourced from Yorkville Cellars' Rennie Vineyard, which is located in front of its tasting room. The vineyard is certified organic, and planted to six of the main red grapes originating in Bordeaux, France: Cabernet Sauvignon, Merlot, Cabernet Franc, Carmenere, Malbec and Petit Verdot.  The vineyard was planted in 1990.
The wine is a blend of 87% Petit Verdot, and 13% Cabernet Franc.   Sparkling Rosé produced from primarily Petit Verdot (or other Bordeaux grape varieties for that matter) is scarce.  Petit Verdot is an aromatic grape, and in this wine it add some intriguing aromas not typically found in sparkling wine.  When young Petit Verdot has aromas that can be likened to banana, but in this wine it also seems to adds other intriguing aromas.  I'd recommend trying it in a red wine glass rather than a sparkling wine flute to get the full impact of the aromas.
The wine is produced using traditional method (Methode Champenoise) whereby  the wine undergoes a second fermentation in the bottle.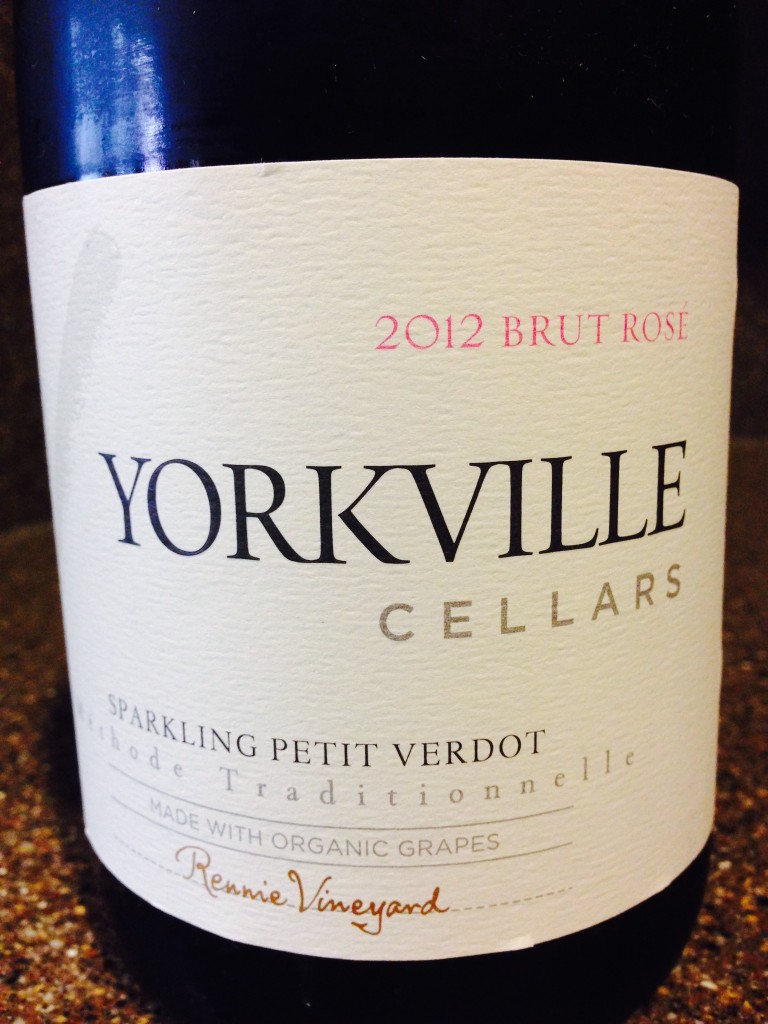 My tasting notes follow:
Appealing pink color with an orange hue and tiny beads of bubbles. It shows captivating strawberry, raspberry, banana, and a kiss of tropical aromas. On the palate, it has a creamy mousse, and approaches off-dry with tart raspberry, strawberry, and ruby grapefruit flavors. Lingering finish. – (89 pts)
Rating:  B+ : This wine has an intriguing aromatics, and is very food friendly.  
Pair with: We really enjoyed this with our Thanksgiving meal.  It's a very food-friendly bubbly that  seamlessly adapted to the diverse spices, textures, and taste we enjoyed from appetizers through the main course.  Snag some for the upcoming holidays!
The Wine Geek Stuff:
Sample provided by winery
Ratings Key:
(A+) – 98-100/Extraordinary
(A) – 94-97/Outstanding
(A-) – 90-93/Excellent
(B+) – 86-89/Very good
(B) – 80-85/Good
(C) – 70-79/Bleh
(D) – 50-69/#Fail
Follow me on Twitter @martindredmond for all things wine, and since I'm a wino, with latent foodie tendencies, you'll also find food and wine pairings, and food related stuff!  Become a fan and join ENOFYLZ Wine Blog on Facebook. Cheers! This article is original to ENOFYLZ Wine Blog.com. Copyright 2013 ENOFYLZ Wine Blog. All rights reserved.