Every Thursday I feature a wine I particularly enjoy, whether it's something new and different, is a great value, or from a producer worth checking out.  For this week, my Wine Of The Week is the 2010 Carlisle Zinfandel Old Vines.
Winery
Carlisle Winery & Vineyards is a small Sonoma County based winery  based in Santa Rosa. According their website they specialize in the..
…production of old-vine, vineyard designated Zinfandels and red Rhone varieties (Syrah, Grenache, Mourvèdre, and Petite Sirah).
Mike Officer is the Owner/Winemaker.  He caught the wine "bug" early – at age 19 – when he tasted a late-harvest Riesling (It seems like we all start with sweet wines doesn't it?) After graduating from college, he worked in software development for five years, but realized that was not his passion.  He knew the answer would involve wine, but he wasn't sure in what capacity.
He decided to try winemaking,  starting with making 5 gallons of Zinfandel in his kitchen.  Some years later, he  and his wife Kendall found themselves making 300 cases of "garage" wine.  They decided to jump in with both feet and established Carlisle Winery & Vineyards in 1998.  They've focused on old-vine Zinfandel, and red Rhône blends, until the 2010 vintage, when they made their first white wines.
In addition to their own estate vineyard, they source grapes from Sonoma County, primarily the Russian River, and Dry Creek AVAs.  Officer always been a fan of old-vine vineyards.   In fact, of the 16 vineyard sources listed on their website, half ( Gold Mine Ranch, Martinelli Road Vineyard, Montafi Ranch, Pagani Ranch Vineyard, Papera Ranch, Rossi Ranch Vineyard, Saitone Ranch, and Two Acres) are considered historic vineyards by the Historic Vineyard Society .
 The Wine
The fruit for this wine is sourced 50% from the Montafi Ranch vineyard, and 50% from the Carlisle Vineyard.  Under normal circumstances, Carlisle would have produced separate bottlings from each vineyard, but a late August heat spike damaged 80% of the crop.  Rather than making less of each bottling, Carlisle decided to blend the fruit from the two vineyards.
The Carlisle Vineyard was planted in 1927.  And the Montafi Ranch vineyard was planted in 1926. As was typical at the time, both vineyards are field blends consisting of predominantly Zinfandel, but also interspersed with other grape varieties like Petite Sirah, Alicante Bouschet, Syrah, and Grand Noir de la Calmette.
The wine was aged in 30% new french oak.  It was bottled unfiltered and unfined.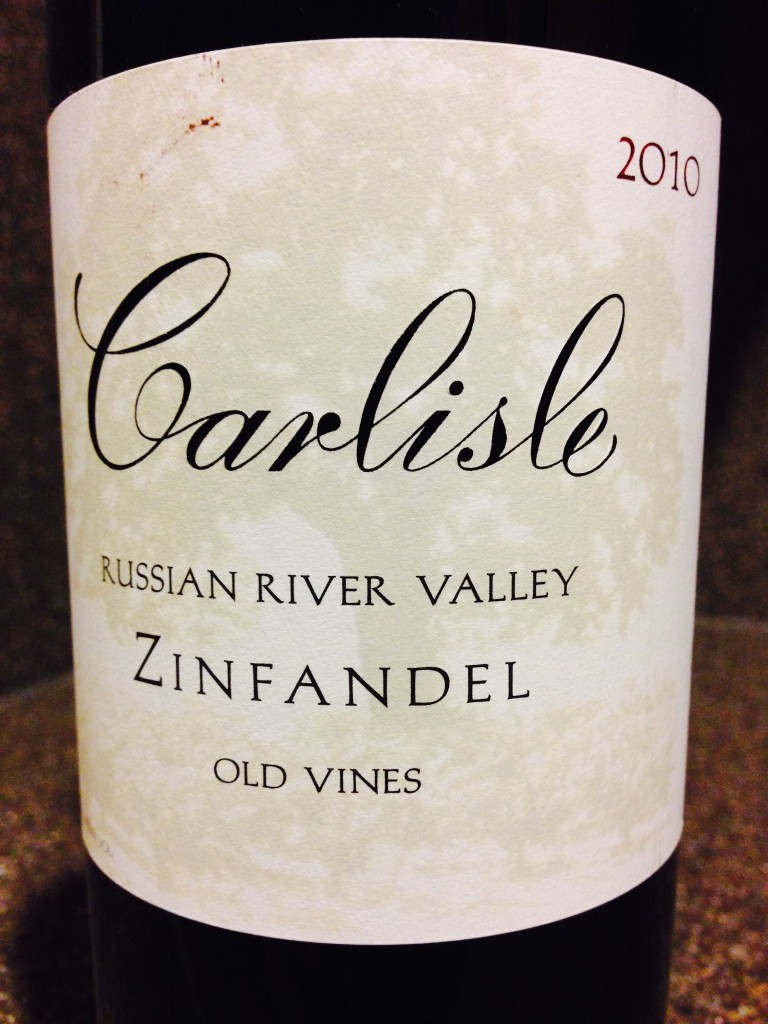 My tasting notes follow:
Opaque ruby color with lovely briary, perfumed kirsch, baked black and blue fruit, and baking spice aromas.  On the palate it's approaches full-bodied, and is balanced and fresh with a supple mouth feel.  It shows an intense core of blackberry, blueberry, and cherry and black raspberry, and spice flavors. Long finish.  SRP – $45; 15.9% alcohol; 270 cases produced
Rating: A-: This is an outstanding Zinfandel
Pair with: A full-bodied wine such as this would pair well with robust dishes such as roast lamb, meat stews, hearty pastas, or barbequed dishes.  This Zinfandel is more food friendly than most because of its lively acidity!
Carlisle wines are available via a mailing list.  The mailing list is currently closed, but if you would like to be added to the waiting list, click here.  You may also >>Find this wine<<.
Sample purchased for review
Ratings Key:
(A+) – 98-100/Extraordinary
(A) – 94-97/Outstanding
(A-) – 90-93/Excellent
(B+) – 86-89/Very good
(B) – 80-85/Good
(C) – 70-79/Bleh
(D) – 50-69/#Fail
Follow me on Twitter @martindredmond for all things wine, and since I'm a wino, with latent foodie tendencies, you'll also find food and wine pairings, and food related stuff! Become a fan and join ENOFYLZ Wine Blog on Facebook. Cheers!
This article is original to ENOFYLZ Wine Blog.com. Copyright 2013 ENOFYLZ Wine Blog. All rights reserved.