Squash.  More specifically, Winter Squash. That's what this week's #Sunday Supper theme is all about.  Honesty, I had no idea you could do so much with winter squash! Though I must confess my squash repertoire is limited to an occasional foray into butternut squash (mostly store-bought salads and occasionally soup), and pumpkin pie.  But after seeing these amazing recipes, and learning about the superfood qualities of squash, I'll be eating more squash!
In fact, now that I think of it, my office is hosting a "Potluck and Culinary Challenge" next week, and with these recipes at my disposal, I feel as if I have an unfair advantage!  Well you know what they say…."All is fair in love, war and culinary challenges";-)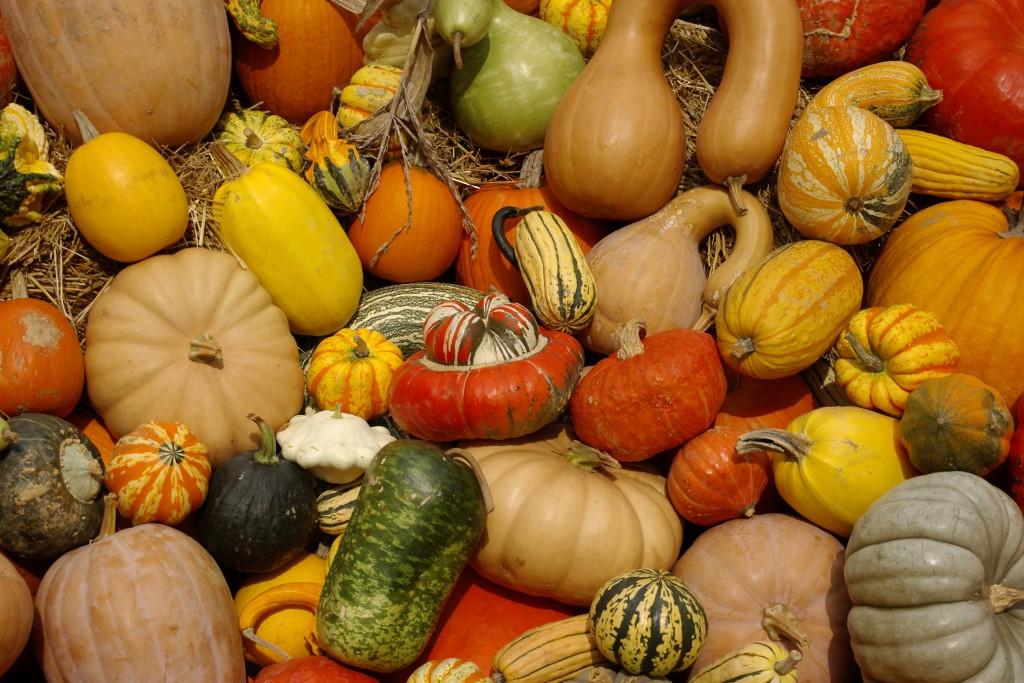 Wine Pairing Tips:
This week theme gives me an opportunity to present two key wine and food pairing principles:
Pair the wine and foods of equal "weight" – Pair full-bodied, hearty dishes with full-bodied wines (red, white and sparkling). In other words, try to keep the mouth-weight profile of the wine and food in balance.  The wine and the dish should be equal partner with neither overwhelming the other.
Pair to the prominent element of the dish – Identify the dominant element of the dish; more often it is the sauce, seasonings or cooking method, rather than the main ingredient. This week's theme is a great example.  Squash may be prepared in a myriad of ways. In and of itself squash has a mild flavor profile. Which is why it's so versatile.  But once it's part of a dish with a stronger ingredient profile such as lasagna, chili,or perhaps an ethic dish, you'll need to pair the wine to the stronger ingredient profile of the sauce or condiment. Likewise the roasted squash has a different flavor profile than fresh.
`Check out the amazing array of sweet and savory recipes the #SundaySupper family of food bloggers for this week and my wine pairing recommendations.
Pair these breakfasts and breads with the 2011 Innocent Bystander Pink Moscato.  It's a blend of Gordo Muscat and Black Muscat from the Yarra Valley in Australia.  It's only 5.5% alcohol and it has a red berry, strawberry, peach, and zesty citrus character.  It's a fun and fizzy quaff that is moderately sweet but not cloying.
Pair these appetizers, starters, and condiments with a glass of bubbly. One of my favorites is  La Marca Prosecco.  It shows apple, peach and honeysuckle aromas followed by fresh, fruity apple, citrus flavors. 
Pair these dishes with a Riesling.  Look for the 2011 Columbia Crest Two Vines Riesling.  It's distinctly off-dry with pear, peach, and citrus aromas, followed by stone fruit, mild orange and nuanced honey flavors rounded out with a crisp refreshing acidity.

Pair these dishes with Gruner Vetliner from Austria – another under-appreciated food friendly wine.  I recommend the 2011 Stadlmann Gruner Veltliner.  The Stadlmann family has been making wine since 1780, and this one shows an appealing green apple, stone-fruit, white pepper and spice character. 
Pair these dishes with Chardonnay.  Look for the 2011 Franciscan Estate Napa Valley Chardonnay. It's moderately oaked, and medium-bodied with an appealing lemon cream, pear, apple and citrus character.
Pair these dishes with Pinot Noir.  I recommend the 2012 Belle Glos Meiomi Pinot Noir. It shows a supple texture and an enticing plum, tart cherry, cranberry, and spiced vanilla character.  
Pair these starters, main  and side dishes with Cabernet Franc, an under-appreciated food pairing partner.  Look for the 2010 Dr. Konstantin Frank Cabernet Franc. It's produced in the New York's Finger Lakes region, a wine region that's definitely on the rise!  It's medium-bodied and smooth with nicely balanced red cherry, blueberry fruit flavors accompanied by savory spice and herb notes.  
Pair these starters, main  and side dishes with a red Rhône blend. I picked up a bottle of 2011 M Chapoutier Bila-Haut Les Vignes from Costco recently and drinks about it's $10 price tag. It's a blend of Syrah, Grenache and Carignan that  has a delightful black cherry, red currant, blackberry, and mineral character.  
Pair these dishes with Tempranillo from the Rioja region of Spain.  I like the 2010 Vina Zaco Tempranillo.  It's produced by one of Spain's oldest wineries, Bodegas Bilbainas.  It opens with perfumed floral, licorice, black cherry and spiced vanilla aromas that follow onto the palate with soft juicy tannins.  
Pair these dishes with Zinfandel.   Look for the 2012 Cline Cellars Lodi Zinfandel.  Cline Cellar is one of America's consistently good value wine producers and this Zinfandel is a great example.  The fruit is sourced from Lodi, California – the self-proclaimed Zinfandel capital of the world.  It has an easy drinking plum, blackberry,  and spiced vanilla character. 
Pair these dishes with Chianti from Italy.  A perennial favorite of mine is the 2009 Marchesi de Frescobaldi Nipozzano Chianti Rufina Riserva. It shows a mouth-filling dried red fruit, sweet spice, and dried herb character with a very satisfying finish. 
Pair these desserts with Törley Doux Sparkling Tokaji. It's a rare sparkling Tokaji, a wine produced in Hungary from a blend of blend of Furmint and Hárslevelű grape varieties.  It's layered and concentrated with an intriguing dried citrus, tropical fruit, wildflowers, and honey character. 
Join the #SundaySupper conversation on twitter on Sunday! We tweet throughout the day and share recipes from all over the world. Our weekly chat starts at 7:00 pm ET.  Follow the #SundaySupper hashtag and remember to include it in your tweets to join in the chat. Check out our #SundaySupper Pinterest board for more fabulous recipes and food photos.
Would you like to join the Sunday Supper Movement? It's easy. You can sign up by clicking here: Sunday Supper Movement.