Every Thursday I feature a wine I particularly enjoy, whether it's something new and different, is a great value, or from a producer worth checking out.  For this week, my Wine of the Week is the 2011 Calvente Moscatel Guindalera.  It's another wine we enjoyed on our recent trip to Spain.
The Winery
Horacio Calvente, owner/winemaker of Bodegas Horacio Calvente is a native of the Andalucia region, not far from Granada.  He hails from a farming family, and used a successful fruit business as a springboard to pursue his dream of making wine.
For Horacio nursing the plots back to health was simply a matter of the hard work of pruning, tilling the land and clearing invading brush.
It's cliché to say that "The best wine is made in the vineyard".  In actuality, the best wine starts in the vineyard.  And Horacio Calvente, with his farming  background, and passion for identifying and reviving old-vine mountain vineyards in the Sierra Nevada Mountains of Granada make him ideally suited to producing great fruit from what was once neglected plots of old-vine Moscatel (Muscat of Alexandria) – a variety of Muscat has strong historical and cultural ties to the region. So, reviving the vineyard also brings a sense of cultural pride to Calvente.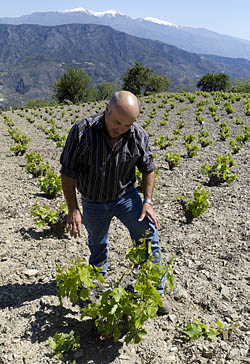 Bodegas Horacio Calvente started very modestly.  His first vintage in 1992 yielded just 700 bottles of white wine.  He learned with each harvest, continually improving his techniques for elaborating wine and investing in state of the art equipment.  These days the winery produce about 5,000 cases of both white and red wines.
The Wine
If you're like I was, a dry Moscatel will come as a bit of a surprise.  Nowadays virtually all of Spain's Moscatel de Alejandria  is used for blending, and typically ends up fortified dessert wine.
"The wine has a powerful and focused fruit expression… where a most harmonious balance is crowned on the finish by the characteristic bitterness of dry-fermented Moscatel." 1001 wines To try before you Die.
This wine is made from 100% Moscatel de Alejandría (a.k.a. Muscat de Alexandria), sourced from the eponymous La Guindalera vineyard. The vineyard's bush vines are between 50-120 years old. The vines, at 1,073 metes (3,500 ft), bake during the day, but the temperature drops drastically at night.  That diurnal temperature variation results in the grapes preserving their natural acidity and brightness of flavors.  Add to that old-vine intensity, and you've got some great fruit!
Once perfectly ripe, the fruit is hand-picked and brought down the mountain by mule. The fruit is fermented in stainless steel, and undergoes battonage to add texture to the wine.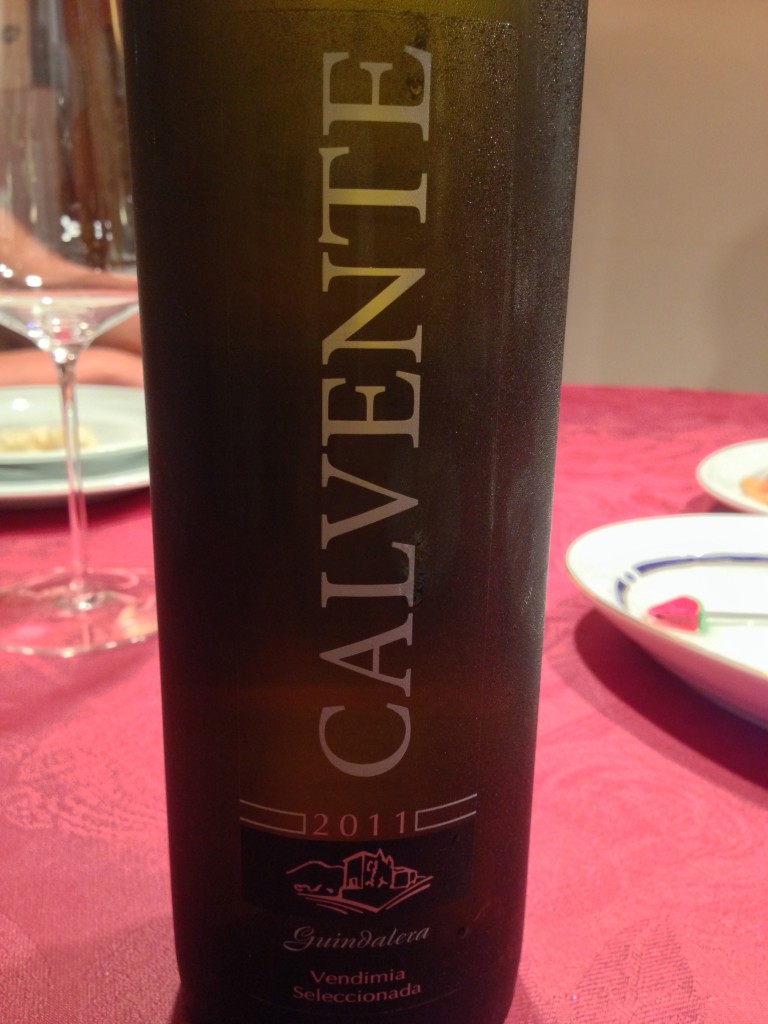 My tasting notes follow:
Pale yellow-green color with stone fruits, lanolin, mineral, and a bit of floral aromas. On the palate, it's medium-bodied, fresh, expressive and silky smooth with peach, apricot, citrus, mineral and spice flavors. Medium finish. It spice notes remind me a bit of Gewürztraminer, but with better acidity. 12.5% alcohol.
Pair with: We enjoyed this wine twice while in Spain. The first time we enjoyed it with Mojama – Spanish dry-cured tuna fillet and Spanish Marcona almonds.  The second time we enjoyed it with Japanese food.  It's definitely a food friendly wine!
>>Find this wine<<
Ratings Key:
(A+) – 98-100/Extraordinary
(A) – 94-97/Outstanding
(A-) – 90-93/Excellent
(B+) – 86-89/Very good
(B) – 80-85/Good
(C) – 70-79/Bleh
(D) – 50-69/#Fail
Follow me on Twitter @martindredmond for all things wine, and since I'm a wino, with latent foodie tendencies, you'll also find food and wine pairings, and food related stuff! Become a fan and join ENOFYLZ Wine Blog on Facebook. Cheers!