Every Thursday I feature a wine I particularly enjoy, whether it's something new and different, is a great value, or from a producer worth checking out.  For this week, my Wine of the Week is the 2009 Tablas Creek Roussanne.
The Winery
Tablas Creek Vineyard ("TCV") is probably the best-known of all Paso Robles wineries specializing in Rhone style wines.  It is a partnership between Robert Haas, and the Perrin Family of Chateau de Beaucastel in the Chateauneuf du Pape region in France. What I find interesting about TCV is that they specifically chose to establish themselves in Paso Robles because of the similarities of the soil conditions and climate of Paso Robles to Chateauneuf du Pape.  They went as far as to import vines from Chateauneuf du Pape.  The vines were propagated and grafted in their on-site nursery and used to plant their 120 acre organic vineyard.  Check the full story here.
The Wine
So you've never heard of Roussanne?  Most casual wine drinkers have not.  It's a white Rhône grape variety that gets its name from its from the French word "roux", which means russet, and is a fitting description of its reddish-gold skins at harvest time.
It's a tough grape to grow.  It's prone to uneven ripening, irregular yields, has little resistance to powdery mildew and rot, and is easily damaged by wind and drought. By selecting and propagating only the least problematic clones, vintners preserved Roussanne for two primary reasons: unique aroma and bracing acidity.
It's most often blended with the other primary white Rhône grape variety Marsanne.  In fact, it's more so used as a blending grape than a varietal bottling such as this wine.
Typical aromas and flavors suggest honey, floral, herbal tea, and stone fruit.
Here's what Tablas Creek says about production of this wine..The Roussanne grapes were whole cluster pressed, and fermented using native yeasts half in stainless steel and half in small French oak barrels. The wine was left on its lees for 6 months, and allowed to complete malolactic fermentation. After fermentation the wines were blended, and bottled in August 2010.
Tablas Creek has done a varietal bottling of Roussanne since 2002.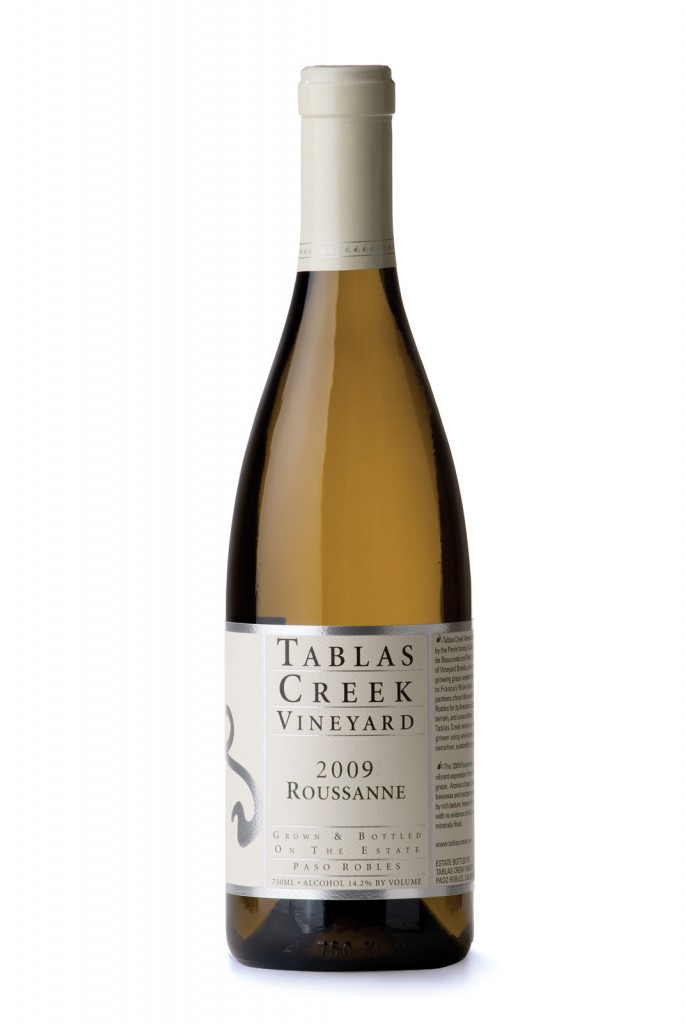 My tasting notes follow:
Rich yellow golden color with pear, honeysuckle, mineral, and a bit of lanolin aromas. On the palate it's very smooth, and harmonious with pear, nectarine, mineral and a spice undertone with lingering finish
Rating: A-: Wonderful wine! We picked up a couple of bottles on our most recent trip to Paso Robles. This one was so good it didn't make it home! 
Pair with: We enjoyed pairing this with seafood pasta with a cream sauce.  It will also pair well with other rich seafood such as lobster, crab, sea bass or salmon. I also bet it would pair well with my seafood gumbo!
Sample purchased for review
Ratings Key:
(A+) – 98-100/Extraordinary
(A) – 94-97/Outstanding
(A-) – 90-93/Excellent
(B+) – 86-89/Very good
(B) – 80-85/Good
(C) – 70-79/Bleh
(D) – 50-69/#Fail
Follow me on Twitter @martindredmond for all things wine, and since I'm a wino, with latent foodie tendencies, you'll also find food and wine pairings, and food related stuff! Become a fan and join ENOFYLZ Wine Blog on Facebook. Cheers!