Every Thursday I feature a wine I particularly enjoy, whether it's something new and different, is a great value, or from a producer worth checking out.  For this week, my Wine Of The Week is the 2009 Old World Winery Fulton Folderol.
The Winery
Old World Winery ("OWW") is a Fulton (just north of the city limits of Santa Rosa) based winery owned by Darek Trowbridge, who is also the winemaker.   Darek hails from the Martinelli family, who grow grapes locally in the Russian River Valley.
I was introduced to Old World Winery when I attended a Santa Rose Wine Trail ("SRWT") "Eat, Sip and Be Merry" event late last year.  SRWT is a collection of eleven wineries and three restaurants on the north side of town in Santa Rosa.  It was a fun event that gave me a chance to try some new wineries (and revisit a few old favorites).
We make all of our wines using only native yeasts and add nothing to the wine other than minimal amounts of sulphur. 
OWW is located in a quaint tasting room.  They have an interesting line-up of wines, that includes field blends, a blend of grapes native to Portugal, and Abouriou.
Our tasting with Darek, which was fun and informative,  was the most personal tasting of the day.  It's always a plus in my book when you have the opportunity to taste wine with the person who made the wine.
We enjoyed all the wines, but the Fulton Foderol was our hands down favorite!
The Wine
This wine is an interesting blend of 50% Zinfandel from Carraro Vineyard in Dry Creek Valley, and 50% Abouriou from Sheri Martinelli Vineyard in Russian River Valley.
If you're like me, Abouriou is a grape you've never heard of.  I assuage my guilt over not being familiar with the grape when I realized there are over 1,300 varieties covered in Wine Grapes by MW Jancis Robinson, MW Julia Harding, and Dr. Jose Vouillamoz – there's bound to be a few with which I'm unfamiliar.
It's an obscure grape variety with only four acres remaining in California (and the US, I'd bet), and Darek tends to the last remaining vineyard of head-trained, 80-year-old Abouriou vines on his family's ranch in Sonoma's Russian River Valley.   The vineyard has been biodynamically farmed since 2009.  In addition to this wine, OWW also produces a stand-alone varietal bottling of Abouriou.
The grape has a reputation for being low in acid, deeply colored, spicy and tannic.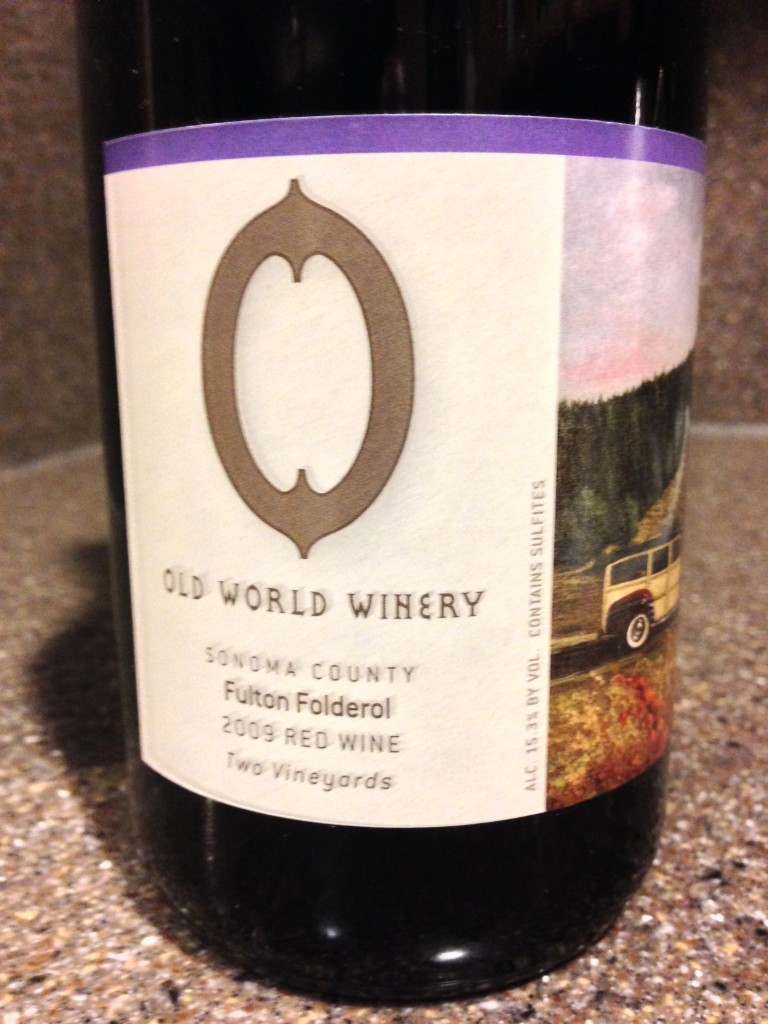 My tasting notes follow:
Opaque violet color with cherry liqueur, raspberry, pepper, and gobs of spice aromas. On the palate, it's medium-bodied, and ripe but with medium-acidity, dusty tannins and red currant, black cherry, pepper, mineral and spice flavor and a lingering finish.  15.4% alcohol | SRP – $35
Rating:  B+: This is a straight up delicious wine and well-made wine!
Pair with: Lasagna, Beef (or Venison) Stew, Chili, or Grilled Sausages
Sample purchased for review 
Ratings Key:
(A+) – 98-100/Extraordinary
(A) – 94-97/Outstanding
(A-) – 90-93/Excellent
(B+) – 87-89/Very good
(B) – 80-86/Good
(C) – 70-79/Bleh
(D) – 50-69/#Fail
Follow me on Twitter @martindredmond for all things wine, and since I'm a wino, with latent foodie tendencies, you'll also find food and wine pairings, and food related stuff!
Become a fan and join ENOFYLZ Wine Blog on Facebook. Cheers! This article is original to ENOFYLZ Wine Blog.com. Copyright 2013 ENOFYLZ Wine Blog. All rights reserved.